AECOM (ACM) to Provide Project Management Services to GOAA
The demand for AECOM's ACM technical, advisory and program management capabilities is increasing on the back of an improving funding environment, highlighted by the recent passing of the federal infrastructure bill in the United States. This is evident from the recent contract by the Greater Orlando Aviation Authority (GOAA) to provide program and project management services.

Under the contract, AECOM will carry out program, project and construction management, including program controls, development of master program schedules, budget review, funding support, design management, project monitoring, quality assurance, risk management, design scopes and contract administration.
With this contract, AECOM expects to support GOAA's goal of customer service, foster economic development through expansion, leverage federal and state funding, facilitate safety and security and being fiscally responsible.

Drew Jeter, chief executive of AECOM's global Program Management business, said, "Leveraging our Think and Act Globally strategy, we're proud to deploy innovations and best practices honed from our extensive aviation experience at cutting-edge facilities around the world and look forward to bringing this expertise to bear at one of the nation's fastest-growing airports."
Strong Backlog: A Boon
AECOM currently has good visibility of strong backlog and pipelines for the upcoming quarters. Contracted backlog, one of the best leading indicators for future growth, increased by 17% in the third quarter of fiscal 2022, and the total backlog increased from $39.69 billion reported in the prior-year quarter (including 10% growth in the design business) to $41.1 billion at the fiscal third-quarter end.

The company's net service revenues or NSR — defined as revenues excluding subcontractor and other direct costs — have been benefiting from strength across core transportation, water and environment markets. NSR for the third quarter of fiscal 2022 increased 6%, marking the sixth consecutive quarter accelerating organic growth.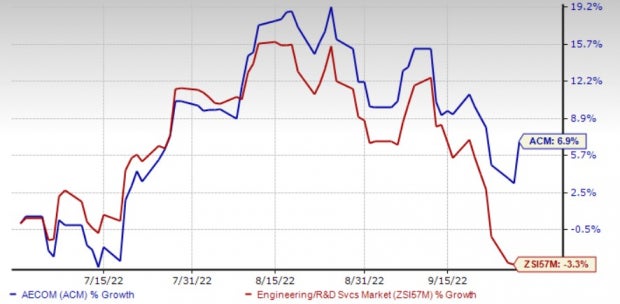 Image Source: Zacks Investment Research
AECOM shares have gained 6.9% over the past three months, outperforming the Zacks Engineering - R and D Services industry's 3.3% decline. The company's performance demonstrates that it has been outgrowing the industry organically and capturing market share.
AECOM currently carries a Zacks Rank #2 (Buy). You can see the complete list of today's Zacks #1 Rank (Strong Buy) stocks here.
Other Stocks to Consider in the Construction Sector
Arcosa, Inc. ACA, currently sporting a Zacks Rank #1, is a manufacturer of infrastructure-related products and services, serving construction, energy and transportation markets.
ACA's expected earnings growth rate for 2022 is 19.7%. The Zacks Consensus Estimate for current-year earnings has improved to $2.31 per share from $2.08 over the past 30 days.
United Rentals, Inc. URI, presently sporting a Zacks Rank #1, has been benefiting from a broad-based recovery of activity across its end markets served. Higher margins from rental revenues and used equipment sales are added benefits.
The Zacks Consensus Estimate for URI's 2022 earnings rose to $31.73 per share from $29.70 in the past 60 days. The estimated figure suggests 43.8% year-over-year growth.
Dycom Industries, Inc. DY is benefiting from the higher demand for network bandwidth and mobile broadband, extended geography, proficient program management and network planning services. Dycom expects considerable opportunities across a broad array of customers.
Dycom's, currently sports a Zacks Rank #1, earnings for fiscal 2023 are expected to grow 142.1%. The Zacks Consensus Estimate for DY's 2022 earnings rose to $3.68 per share from $3.37 in the past 30 days.
In the United States, the $1.2-TRILLION Infrastructure and Jobs Act marks a generational investment in America's infrastructure. This bill provides the much-needed long-term funding certainty across the company's strongest end markets, such as transit modernization, electrification, environmental remediation and climate resilience.
FREE Report: The Metaverse is Exploding! Don't You Want to Cash In?
Rising gas prices. The war in Ukraine. America's recession. Inflation. It's no wonder why the metaverse is so popular and growing every day. Becoming Spider Man and fighting Darth Vader is infinitely more appealing than spending over $5 per gallon at the pump. And that appeal is why the metaverse can provide such massive gains for investors. But do you know where to look? Do you know which metaverse stocks to buy and which to avoid? In a new FREE report from Zacks' leading stock specialist, we reveal how you could profit from the internet's next evolution. Even though the popularity of the metaverse is spreading like wildfire, investors like you can still get in on the ground floor and cash in. Don't miss your chance to get your piece of this innovative $30 trillion opportunity - FREE.
>>Yes, I want to know the top metaverse stocks for 2022>>
Want the latest recommendations from Zacks Investment Research? Today, you can download 7 Best Stocks for the Next 30 Days.
Click to get this free report
AECOM (ACM): Free Stock Analysis Report
United Rentals, Inc. (URI): Free Stock Analysis Report
Dycom Industries, Inc. (DY): Free Stock Analysis Report
Arcosa, Inc. (ACA): Free Stock Analysis Report
To read this article on Zacks.com click here.
Zacks Investment Research