Antero Midstream to Pay Off Borrowings with Notes Offering
Antero Midstream Corporation AM announced that its indirect wholly-owned affiliate, Antero Midstream Partners LP, priced senior unsecured notes that were offered to select investors.
The aggregate principal amount of the notes has been upsized to $650 million from $600 million. The company added that the notes, carrying an interest rate of 5.75%, have been priced at par and are likely to mature by 2028. Awaiting customary closing conditions, the notes offering is likely to consummate by Jun 28, 2019.
After subtracting some expenses and discounts, Antero Midstream expects net proceeds of $643 million from the private placement of the notes. The company added that it has outstanding borrowings under the credit facility, part of which will be paid off utilizing proceeds of the notes offering.
Based in Denver, CO, Antero Midstream, with interests in midstream infrastructures that includes gathering pipelines along with compression and fractionation facilities, is mainly focused to offer services to Antero Resources Corp. AR. Since Antero Resources is primarily involved in producing natural gas in prolific plays like the Marcellus and the Utica, the business scenario for Antero Midstream seems unattractive.
Antero Midstrm Price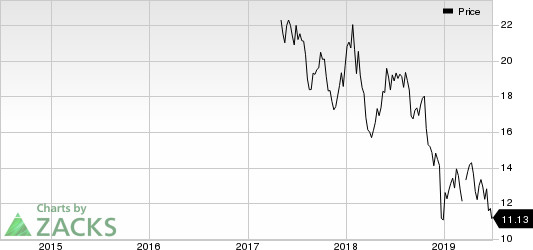 Overall, the ongoing trade war between Washington and Beijing is weighing on the global demand for clean energy. The declining natural gas price is also likely to deter Antero Resources to produce more volume of the commodity, which will eventually hurt demand for Antero Midstream's midstream assets.
As a result, the company currently carries a Zacks Rank #5 (Strong Sell). Some better-ranked players in the energy space are Chevron Corp. CVX and Helix Energy Solutions Group, Inc. HLX. Both stocks currently sport a Zacks Rank #1 (Strong Buy).You can see the complete list of today's Zacks #1 Rank stocks here.
Chevron has surpassed the Zacks Consensus Estimate for earnings in three of the past four quarters.
Helix Energy is likely to witness earnings growth of 47.4% through 2019.
Breakout Biotech Stocks with Triple-Digit Profit Potential
The biotech sector is projected to surge beyond $775 billion by 2024 as scientists develop treatments for thousands of diseases. They're also finding ways to edit the human genome to literally erase our vulnerability to these diseases.
Zacks has just released Century of Biology: 7 Biotech Stocks to Buy Right Now to help investors profit from 7 stocks poised for outperformance. Our recent biotech recommendations have produced gains of +98%, +119% and +164% in as little as 1 month. The stocks in this report could perform even better.
See these 7 breakthrough stocks now>>
Want the latest recommendations from Zacks Investment Research? Today, you can download 7 Best Stocks for the Next 30 Days.
Click to get this free report
Antero Midstrm (AM): Free Stock Analysis Report
Helix Energy Solutions Group, Inc. (HLX): Free Stock Analysis Report
Chevron Corporation (CVX): Free Stock Analysis Report
Antero Resources Corporation (AR): Free Stock Analysis Report
To read this article on Zacks.com click here.
Zacks Investment Research