Will Rigorous Regulatory Scrutiny Favor Facebook's Libra?
Facebook's FB recent announcement to launch cryptocurrency Libra and digital wallet Calibra in 2020 has rattled the banking sector worldwide.

The immense potential of Libra to decimate stability in the banking system has prompted action from central banks and regulators across the globe.

Regulators and central banks are expected to review Libra's risk to consumers and the existing financial infrastructure in the coming days.

The Senate Banking Committee is scheduled to hold a hearing related to Libra on Jul 16. Per MarketWatch, the House Financial Services committee plans to hold a hearing on Jul 17.

Facebook's Libra is expected to face close scrutiny from central banks in France, Germany, Australia and Indonesia. According to the Bank of England governor Mark Carney, cited by The Guardian, Libra will face tough regulatory inspection.

Why Are Banks Anxious About Libra?

The uneasiness is brewing from the fact that Libra has been promoted as an alternative to U.S. dollar for all financial dealings.

Facebook, Inc. Price and Consensus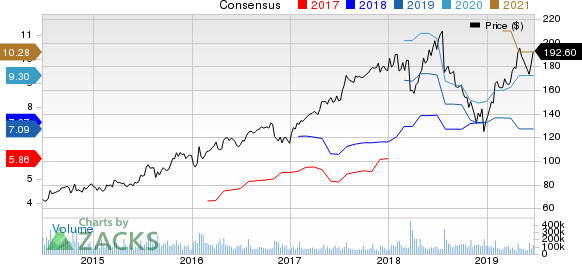 Libra is aimed to be a stablecoin, which means it is less volatile than other cryptocurrencies as it is backed by real assets, including a basket of bank deposits and short-term government securities.

Moreover, Libra is not wholly controlled by Facebook, which could've been a major hitch due to the social media giant's dubious reputation pertaining to user privacy.

Instead, Libra is governed by an association that apart from Facebook includes 28 founder members comprising technology companies, marketplaces, blockchain technology providers, venture capitalists and non-profit organizations.

Each of these organizations has put in $10 million to become a founding member. The monetary liability and the diversity of the group invigorate user as well as investor confidence.

Facebook hopes the Libra association to have 100 members prior to the launch, which will show unprecedented support for a cryptocurrency.

Regulation to Improve Consumer Confidence on Libra

Facebook's Libra is expected to hurt the revenue model of banks and financial institutions worldwide. Libra's low-fee transaction is most likely to encourage consumers to hold and use the digital currency.

Facebook is also expected to use Libra to penetrate the underbanked population in regions like South-East Asia, East Africa and Latin America. This will further limit opportunities for banks in the long haul.

Additionally, support from global companies like Mastercard, Visa, PayPal PYPL, Booking Holdings, eBay, Lyft, Spotify, Uber, Vodafone (these companies are also founder members) is expected to boost Libra's adoption.

Although regulation and scrutiny can act as hurdles, we believe intense scrutiny will improve consumer confidence in Libra.

Facebook's Opportunities Improve

Facebook along with tech companies like Apple AAPL, Amazon AMZN, Alibaba BABA, Alphabet's GOOGL Google, Square SQ and PayPal has been eyeing the banking and financial system for some time.

Although Apple, Amazon, Alibaba and Google enjoy first-mover's advantage through their respective offerings like Apple Pay, Amazon Pay, Alipay and Google Pay, their success has been limited. Moreover, Square and PayPal have been successful providers of payment solutions rather than full-fledged financial infrastructure.

Facebook's initiative can be a game changer as even if a fraction of the company's user base of 2.3 billion adopts the cryptocurrency, it will boost Libra's credibility to a massive extent when compared with digital currencies like bitcoin.

In fact, per the Bank for International Settlements (BIS), modest adoption of Libra will make private companies (in this case Facebook and the founding members) powerful enough to control monetary policies.

Moreover, Libra's success will open up a new source of revenues for Facebook. The company is significantly dependent on advertising revenues and is facing immense competition for ad dollars from the likes of Google, YouTube and Amazon.

Currently, Facebook has a Zacks Rank #3 (Hold). You can see the complete list of today's Zacks #1 Rank (Strong Buy) stocks here.
Looking for Stocks with Skyrocketing Upside?
Zacks has just released a Special Report on the booming investment opportunities of legal marijuana.
Ignited by new referendums and legislation, this industry is expected to blast from an already robust $6.7 billion to $20.2 billion in 2021. Early investors stand to make a killing, but you have to be ready to act and know just where to look.
See the pot trades we're targeting>>
Want the latest recommendations from Zacks Investment Research? Today, you can download 7 Best Stocks for the Next 30 Days.
Click to get this free report
Amazon.com, Inc. (AMZN): Free Stock Analysis Report
Alibaba Group Holding Limited (BABA): Free Stock Analysis Report
Facebook, Inc. (FB): Free Stock Analysis Report
Alphabet Inc. (GOOGL): Free Stock Analysis Report
Square, Inc. (SQ): Free Stock Analysis Report
PayPal Holdings, Inc. (PYPL): Free Stock Analysis Report
Apple Inc. (AAPL): Free Stock Analysis Report
To read this article on Zacks.com click here.
Zacks Investment Research