Lions Gate (LGF.A) Set to Rebrand Starzplay as Lionsgate+
Lions Gate Entertainment (LGF.A) recently announced that it is going to be rebranding Starzplay as Lionsgate+ in 35 countries outside the United States and Canada.

The new brand look with a graphics package, color palette and design elements is expected to bring a differentiated identity and build on the brand equity for Lionsgate.

Though Lions Gate retains its Starz brand in the United States and Canada along with Starzplay Arabia and south and southeast Asia's Lionsgate Play.
Strong Portfolio of Movies & Shows to Boost Subscriber Growth
Lionsgate benefits from the strong library of films and television titles that Starz has. Starz achieved a total global subscriber count of 37.3 million in first-quarter fiscal 2023, which grew 29% year over year. The company targets 50-60 million global subscribers by 2025.

Starz originals in 2022, like the sixth season of Outlander, released in May, the second season of P-Valley, released in June, and The Serpent Queen, released in September have gained a lot of traction from viewers.

The company has significantly ramped up its spending on premium content for Starz in fiscal 2023. Its upcoming series, Dangerous Liaisons, to be released in November, is also expected to add to it.
Lions Gate Entertainment Corp. Price and Consensus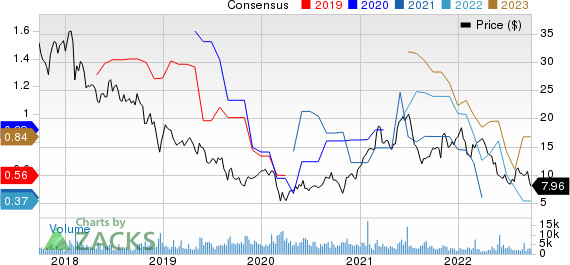 Lions Gate Entertainment Corp. price-consensus-chart | Lions Gate Entertainment Corp. Quote
Starz has also signed an agreement with Sony that allows the former to air Sony's popular films like Venom and Spider-Man: No Way Home and many others on its platform. It recently launched a deal with VIZIO in the United States, making Starz available to millions of VIZIO Smart TV users.

It also entered into a bundling deal with Disney in Latin America on the heels of recent partnerships with Canal Plus in France and Viaplay in the Nordic territories.

It also has long-term agreements with prominent Hollywood studios including Paramount, Warner Bros and Miramax, among others. These agreements further expand Starz's library and ensure constant availability of content, thereby driving Lionsgate's growth prospects.
What Lies Ahead for Lions Gate Entertainment?
However, the top and the bottom lines of Starz Network, as a segment of Lionsgate, showed a decline in first-quarter fiscal 2023. The revenues for the quarter were $381.2 million compared with $382.3 million of the previous year. It also booked a loss of $37 million in the quarter against the previous-year quarter's profit of $88.2 million.

The profitability has been hurt due to the rising cost of production, and increasing investments in content, marketing and partnerships. Lionsgate is also in talks to spin off Starz, which might further affect profitability.

The shares of Lions Gate Entertainment, which has a Zacks Rank #3 (Hold), have declined 52.2% year to date compared with the Zacks Consumer Discretionary Sector, which declined 40.7% in the same time frame.

The Starz content that is available on cable operators and satellite televisions, faces a significant threat from the ongoing cord-cutting. Along with this, competition from Netflix NFLX, Disney DIS and Apple AAPL does not bode well for the company.

Netflix has been losing subscribers for quite some time now. It lost nearly 970,000 paid subscribers in second-quarter 2022. However, Netflix is set to bring a cheaper ad-supported tier to attract new users and expects to add a million subscribers by the next quarter.

Disney is also expanding into international markets. Disney+, as of Jul 2, 2022, had 152.1 million paid subscribers compared with 116 million as of Jul 3, 2021. It is also following the footsteps of Netflix as it is about to launch an ad-supported tier from Dec 8, 2022.

Apple's streaming service, Apple TV+, is gaining recognition with the second season of Ted Lasso. It also won seven Emmy Awards this year. Apple TV+, at a much affordable rate of $4.99, is benefiting from quality content with its strong portfolio of original shows and movies.

You can see the complete list of today's Zacks #1 Rank (Strong Buy) stocks here.


FREE Report: The Metaverse is Exploding! Don't You Want to Cash In?
Rising gas prices. The war in Ukraine. America's recession. Inflation. It's no wonder why the metaverse is so popular and growing every day. Becoming Spider Man and fighting Darth Vader is infinitely more appealing than spending over $5 per gallon at the pump. And that appeal is why the metaverse can provide such massive gains for investors. But do you know where to look? Do you know which metaverse stocks to buy and which to avoid? In a new FREE report from Zacks' leading stock specialist, we reveal how you could profit from the internet's next evolution. Even though the popularity of the metaverse is spreading like wildfire, investors like you can still get in on the ground floor and cash in. Don't miss your chance to get your piece of this innovative $30 trillion opportunity - FREE.
>>Yes, I want to know the top metaverse stocks for 2022>>
Want the latest recommendations from Zacks Investment Research? Today, you can download 7 Best Stocks for the Next 30 Days.
Click to get this free report
Apple Inc. (AAPL): Free Stock Analysis Report
Netflix, Inc. (NFLX): Free Stock Analysis Report
The Walt Disney Company (DIS): Free Stock Analysis Report
Lions Gate Entertainment Corp. (LGF.A): Free Stock Analysis Report
To read this article on Zacks.com click here.
Zacks Investment Research