Yelp (YELP) Q4 Earnings Miss Estimates, Revenues Rise Y/Y
Yelp Inc.'s YELP fourth-quarter 2019 earnings of 24 cents per share missed the Zacks Consensus Estimate of 26 cents and declined 35% year over year.
Revenues of $269 million also lagged the Zacks Consensus Estimate of $273 million. However, the figure increased 10% year over year, driven by higher advertising revenues. Higher-than-anticipated seasonal reductions by SMB customers resulted in lower-than-guided growth.
Quarterly Details
Advertising revenues (95% of total revenues) increased 10% year over year to $259 million. The increase was driven by growth in the number of Paying advertising locations and higher advertising budgets from Multi-location customers. Paying advertising locations grew 4% year over year to 565K sites.
Yelp continues to benefit from its Home & Local services, boosted by revenues from 'Request-A-Quote,' which surged 70% year over year.
Transaction revenues were $3 million in the fourth quarter of 2019, down 12% from the year-ago quarter. Reduction in fees earned from Grubhub for processing credit card transactions related to Grubhub orders that originated on the platform has been a dampener.
Other services revenues rose 23% to $7 million, driven by growth of Yelp Reservations and Yelp Waitlist.
Cumulative reviews rose 16% year over year to 205 million. App unique devices climbed 8% year over year to 36 million on a monthly-average basis.
Yelp reported adjusted EBITDA of $61 million, up 15% year over year. Moreover, adjusted EBITDA margin expanded 100 basis points (bps) on a year-over-year basis to 23%, driven by controlled operating expenses.
Balance Sheet & Cash Flow
As of Dec 31, 2019, Yelp's cash, cash equivalents & marketable securities were $466 million, up from $417 million as of Sep 30, 2019.
Net cash flow from operating activities was $56 million compared with $51 million in the previous quarter.
Yelp Inc. Price, Consensus and EPS Surprise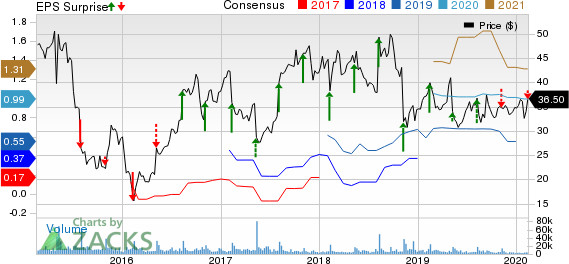 Yelp Inc. price-consensus-eps-surprise-chart | Yelp Inc. Quote
2019 Highlights
Net Revenues grew 8% year over year to $1 billion.
Multi-location channel revenue grew 22% while Self-serve channel revenue rose by 30% year over year.
Net Income was $41 million compared with $55 million in 2018, due to higher income taxes in 2019.
Adjusted EBITDA margin expanded 200 bps to 21% in 2019.
In 2019, the company repurchased a total of nearly 14 million shares for $481 million, which led to a 12% reduction in diluted shares outstanding by the end of the year.
The company generated 34% more ad clicks for Yelp advertisers. Average cost-per-click (CPC) was 18% lower than 2018.
Guidance
For the first quarter, Yelp expects revenues to increase in the 8-10% range year over year. Moreover, adjusted EBITDA margin is expected to drop 2 percentage points on a year-over-year basis.
The company expects to achieve 10-12% revenue growth in 2020.
Adjusted EBITDA margin is projected to improve 1-2 percentage points in 2020 to 22-23%.
Zacks Rank and Stocks to Consider
Yelp currently carries a Zacks Rank #4 (Sell).
A few better-ranked stocks in the broader technology sector are CEVA, Inc. CEVA , SYNNEX SNX and Silicon Motion Technology Corporation SIMO, all sporting a Zacks Rank #1 (Strong Buy) at present. You can see the complete list of today's Zacks #1 Rank stocks here.
Long-term earnings growth rate for CEVA, SYNNEX and Silicon Motion is currently pegged at 20%, 10.37% and 7%, respectively.
Looking for Stocks with Skyrocketing Upside?
Zacks has just released a Special Report on the booming investment opportunities of legal marijuana.
Ignited by new referendums and legislation, this industry is expected to blast from an already robust $6.7 billion to $20.2 billion in 2021. Early investors stand to make a killing, but you have to be ready to act and know just where to look.
See the pot trades we're targeting>>
Want the latest recommendations from Zacks Investment Research? Today, you can download 7 Best Stocks for the Next 30 Days.
Click to get this free report
SYNNEX Corporation (SNX): Free Stock Analysis Report
Yelp Inc. (YELP): Free Stock Analysis Report
Silicon Motion Technology Corporation (SIMO): Free Stock Analysis Report
CEVA, Inc. (CEVA): Free Stock Analysis Report
To read this article on Zacks.com click here.
Zacks Investment Research