Boeing (BA) Stock Looks Like a Strong Buy at Supersonic Highs
Boeing BA shares surged to a new all-time high Tuesday after the aerospace giant announced that it partnered with and invested in supersonic jet start-up Aerion. This came roughly a week after Boeing blew away Wall Street with impressive fourth-quarter results.
Supersonic Deal
Boeing said Tuesday that it partnered with Reno, Nevada-based Aerion to help push forward the next-generation of supersonic aircraft. BA is set to offer manufacturing, engineering, flight test resources, among other things, in order to bring Aerion's AS2 supersonic business jet to market.
The supersonic aircraft is designed to fly at speeds up to 1,000 miles per hour, or Mach 1.4—roughly 70% faster than current business jets. Boeing estimates that the AS2, which is slated for its first flight in 2023, will save approximately three hours on a transatlantic flight.
Terms of Boeing's deal were not disclosed, but investors were clearly happy that the firm is set to be a part of a new age of air travel and that it "made a significant investment" in Aerion. Shares of Boeing popped over 3.3% through late afternoon trading Tuesday to reach a brand new all-time high of $410.75 a share.
Fellow Dow components Intel INTC, Apple AAPL, Microsoft MSFT, United Technologies Corp UTX, Caterpillar CAT, and others all surged as well.
The chart below shows us how impressive of a run Boeing stock has been on recently compared to its peer group, which includes General Dynamics GD, Lockheed Martin LMT, Northrop Grumman NOC, and the S&P 500.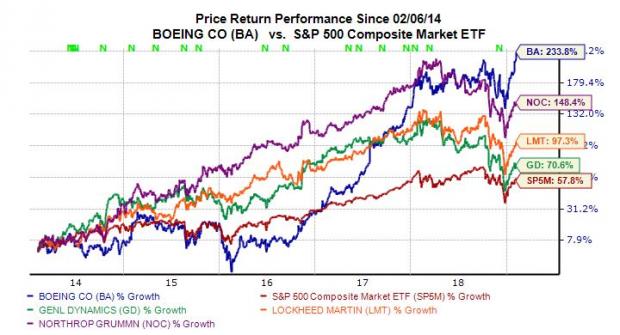 Outlook
Boeing is coming off record commercial jets deliveries, 806, last year, which topped European rival Airbus EADSY. The company expects to fly by that record in 2019, with guidance in the 895 to 905 range. Meanwhile, BA's Q4 revenues jumped 14% to help it post record full-year revenue of $101.13 billion. The firm also beat quarterly earnings estimates and has continued to see strong demand for its Dreamliner jets from the likes of American Airlines AAL and United Airlines UAL.
Looking ahead, Boeing's Q1 2019 revenues are projected to climb 6.5% to reach $24.91 billion, based on our Zacks Consensus Estimate. But we should remember that BA crushed top line Wall Street estimates last quarter by $1.7 billion. Boeing's full-year 2019 revenues are projected to pop 10% to reach $111.23 billion.
Earnings
On top of that, the aerospace company's adjusted Q1 earnings are expected to surge 14.8% to reach $4.18 a share. Plus, Boeing's fiscal 2019 earnings are expected to climb 20.4%, with fiscal 2020 projected to come in roughly 17% higher than our current year estimate. Investors should also note that Boeing has seen a ton of upward earnings estimate revisions within the last week for full-year 2019 and 2020.

Bottom Line
Along with its positive top and bottom-line outlook, BA is trading at 19.5X forward 12-month Zacks Consensus EPS estimates at the moment, which marks a discount compared to its year-long high of 25.5X and its one-year median of 21.7X. Boeing stock consistently trades at a slight premium compared to the Aerospace-Defense industry average, but its valuation picture is hardly stretched at the moment despite resting at a new all-time high.
Boeing is currently a Zacks Rank #1 (Strong Buy) based in large part on its earnings estimate revision activity. On top of that, Boeing is a dividend payer that upped its Q1 fiscal 2019 per share payout to $2.055, which marked a 20% jump from last year's $1.71 quarterly dividend.
Zacks' Top 10 Stocks for 2019

In addition to the stocks discussed above, would you like to know about our 10 finest buy-and-holds for the year?

Who wouldn't? Our annual Top 10s have beaten the market with amazing regularity. In 2018, while the market dropped -5.2%, the portfolio scored well into double-digits overall with individual stocks rising as high as +61.5%. And from 2012-2017, while the market boomed +126.3, Zacks' Top 10s reached an even more sensational +181.9%.

See Latest Stocks Today >>
Want the latest recommendations from Zacks Investment Research? Today, you can download 7 Best Stocks for the Next 30 Days.
Click to get this free report
United Continental Holdings, Inc. (UAL): Free Stock Analysis Report
American Airlines Group Inc. (AAL): Free Stock Analysis Report
General Dynamics Corporation (GD): Free Stock Analysis Report
Northrop Grumman Corporation (NOC): Free Stock Analysis Report
Lockheed Martin Corporation (LMT): Get Free Report
Airbus Group (EADSY): Get Free Report
The Boeing Company (BA): Get Free Report
Apple Inc. (AAPL): Free Stock Analysis Report
Microsoft Corporation (MSFT): Get Free Report
United Technologies Corporation (UTX): Get Free Report
Caterpillar Inc. (CAT): Get Free Report
Intel Corporation (INTC): Free Stock Analysis Report
To read this article on Zacks.com click here.
Zacks Investment Research