Cassava (SAVA) Rises on Late-Stage Alzheimer's Study Plans
Cassava Sciences, Inc. SAVA announced that it plans to initiate two large-scale phase III studies to evaluate its Alzheimer's disease ("AD") candidate, simufilam, in the second half of 2021. The company also announced that it will also initiate a six-month, double-blind, placebo-controlled study on patients who have completed at least one-year treatment in its ongoing open-label study.
Earlier this month, the company announced encouraging interim data from the open-label study of simufilam. Data demonstrated that treatment for six months with the candidate led to improvement in patients' cognition and behavior scores without any safety issues. Data from first interim analysis of the ongoing open-label study showed that treatment with simufilam for six months led to 10% mean improvement in cognition scores from baseline and 29% mean improvement in dementia-related behavior.
Based on the encouraging data, the company will increase the enrollment target to 150 from 100. The company plans to announce data from the second interim analysis of the open-label study once 50 patients complete one-year of treatment.
Meanwhile, the company has successfully completed an end-of-phase II meeting with the FDA whose details will be shared later in this quarter. Based on the meeting's progress, the company believes that FDA will likely give permission to initiate its late-stage AD studies on simufilam.
Shares of Cassava soared 35.4% on Feb 8, following the announcement of study plans. In fact, the company' shares have gained 669.9% in the past year against the industry' decrease of 2.1%.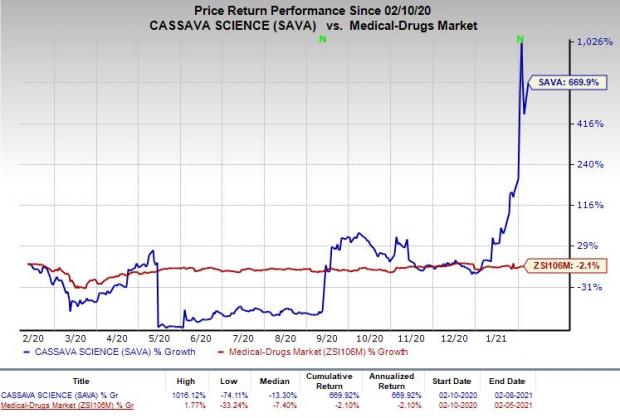 The planned two late-stage studies will evaluate simufilam in patients with mild-to-moderate Alzheimer's disease. One study will evaluate disease-modifying effects of the candidate, including slower rate of decline in cognition and daily function, in AD patients for 18 months. The other study will evaluate the candidate for symptomatic improvement, including improvement in cognition and daily function, over six months.
The planned double-blinded study — a Cognition Maintenance Study — on AD patients completing one-year treatment in the ongoing open-label study will evaluate effects of discontinuation of treatment. The study will administer simufilam to half of the selected patients and placebo to the other half. It will compare simufilam's effects on cognition and behavior in patients receiving the candidate versus those who discontinued drug treatment for six months.
Please note that the company had announced encouraging final results from a phase IIb study evaluating simufilam in patients with mild-to-moderate AD in September 2020. The data suggested that simufilam may be slowing disease progression in Alzheimer's patients. Additionally, AD patients treated with simufilam showed directional improvements in tests of remembering new information compared to patients on placebo.
The company believes that the candidate has potential to provide lasting treatment effects for AD patients. The candidate has strong potential as there are no approved drugs for treating AD.
Although several other players are developing treatment for this disease, there is no success yet. Last month, Biohaven BHVN announced that its AD candidate, troriluzole, failed to achieve statistical improvement on ADAS-Cog11 scale. Biogen BIIB is one of the leading players in the AD segment with multiple candidates for treating AD. Companies that have terminated their AD programs following years of failure include Pfizer PFE and Merck.
Cassava Sciences, Inc. Price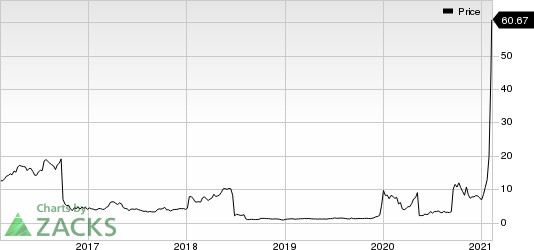 Zacks Rank
Cassava Sciences currently carries a Zacks Rank #3 (Hold). You can see the complete list of today's Zacks #1 Rank (Strong Buy) stocks here.
More Stock News: This Is Bigger than the iPhone!
It could become the mother of all technological revolutions. Apple sold a mere 1 billion iPhones in 10 years but a new breakthrough is expected to generate more than 77 billion devices by 2025, creating a $1.3 trillion market.
Zacks has just released a Special Report that spotlights this fast-emerging phenomenon and 4 tickers for taking advantage of it. If you don't buy now, you may kick yourself in 2022.
Click here for the 4 trades >>
Want the latest recommendations from Zacks Investment Research? Today, you can download 7 Best Stocks for the Next 30 Days.
Click to get this free report
Biogen Inc. (BIIB): Free Stock Analysis Report
Pfizer Inc. (PFE): Free Stock Analysis Report
Biohaven Pharmaceutical Holding Company Ltd. (BHVN): Free Stock Analysis Report
Cassava Sciences, Inc. (SAVA): Free Stock Analysis Report
To read this article on Zacks.com click here.
Zacks Investment Research