Kennametal (KMT) Q4 Earnings Beat Estimates, Decline Y/Y
Kennametal Inc. KMT reported mixed results for fourth-quarter fiscal 2020 (ended Jun 30, 2020). Its earnings in the quarter surpassed estimates by 25%, while sales lagged the same by 3.47%.

The machinery company's adjusted earnings in the reported quarter were 15 cents, surpassing the Zacks Consensus Estimate of 12 cents. However, the bottom line decreased 82.1% from the year-ago figure of 84 cents on weak sales and margin results.

For fiscal 2020, the company's adjusted earnings were 94 cents per share, below the previous year's $3.02. However, the fiscal year's earnings surpassed the Zacks Consensus Estimate of 91 cents.
Revenue Details
Kennametal generated revenues of $379.1 million, declining 37% year over year. While organic sales fell 33% in the quarter, forex woes had an impact of 2% and divestitures hurt results by 2%. The quarterly results suffered from the adverse impacts of the pandemic.

Kennametal's top line lagged the Zacks Consensus Estimate of $393 million.

On a geographical basis, the company generated revenues of $179.4 million from America operations, decreasing 41.8% year over year. Sales in Europe, the Middle East and Africa (EMEA) were down 36.6% to $110.3 million, while the same from the Asia Pacific dropped 26.8% to $89.4 million.

The company reports revenue results under three segments, including Industrial, WIDIA and Infrastructure. Its segmental performance for the fiscal fourth quarter is briefly discussed below:

Industrial revenues of $195.1 million were down 39% year over year. The results were adversely impacted by a 36% decline in organic revenues, a 2% impact from forex woes and a 1% negative impact from business days.

WIDIA revenues were $31.9 million, reflecting a decline of 35% year over year. The results were negatively impacted by an organic sales decline of 32%, forex woes of 2% and a negative impact of 1% from business days.

Infrastructure revenues totaled $152.1 million, declining 36% year over year. The results were affected by 2% from forex woes, a 29% decline in organic sales and a 4% adverse impact of divestitures. Also, business days' impact was a negative 1%.

For fiscal 2020, the company's revenues were $1,885.3 million, declining 21% year over year. While organic sales were down 18%, forex woes had an adverse impact of 2% and divestiture's impact was 1%.
Margin Profile
Kennametal's cost of goods sold in the reported quarter dipped 28.9% year over year to $277.6 million. It represented 73.2% of revenues compared with 64.6% in the year-ago quarter. Gross profit deteriorated 52.5% year over year to $101.5 million, wherein margin contracted 860 basis points (bps) to 26.8%. Operating expenses summed $68.2 million in the quarter under review, decreasing 41.3% year over year. As a percentage of revenues, operating expenses were 18% compared with 19.2% a year ago.

Adjusted operating income in the reported quarter slumped 64.9% year over year to $33.5 million. Notably, the downside is caused by a decline in organic sales, lower absorption of costs (including fixed and volume-related labor costs) and restructuring charges. However, the adverse impacts were partly offset by the benefits of simplification/modernization actions, gains from cost-reduction actions, and a fall in variable compensation and raw material costs. Adjusted operating margin slipped 700 bps to 8.8%.

Adjusted effective tax rate was 51.2% in the quarter, up from 21% in the prior-year quarter.
Balance Sheet and Cash Flow
Exiting the fiscal fourth quarter, Kennametal had cash and cash equivalents of $606.7 million, increasing from $85.2 million at the end of the last reported quarter. Long-term debt and capital leases inched up 0.1% sequentially to $594.1 million.

In fiscal 2020, the company generated net cash of $223.7 million from operating activities, declining 25.5% from the previous year. Capital invested in purchasing property, plant and equipment came in at $244.2 million, above $212.3 million reported in fiscal 2019. Free cash outflow was $17.8 million against an inflow of $11.2 million in fiscal 2019.

Concurrent with the earnings release, the company announced that its board of directors approved the payment of a quarterly cash dividend of 20 cents per share to its shareholders of record as of Aug 11, 2020. The dividend will be paid out on Aug 25.
Restructuring Actions
The company noted that it will cease operations in its Johnson City, TN-based manufacturing facility by the end of fiscal 2021 (ending June 2021). The action is part of the footprint rationalization initiative under its ongoing restructuring program for fiscal 2021.

The company predicts annualized savings of $65-$75 million from its restructuring actions in fiscal 2021, higher than $25-$30 million mentioned previously. Pre-tax charges in the year will be $90-$100 million, higher than $55-$60 million stated earlier.

In addition, restructuring actions for fiscal 2020 resulted in savings of $33 million and pre-tax expenses of $54 million.
Outlook
In the quarters ahead, Kennametal anticipates gaining from simplification/modernization activities, solid product offerings and cost-reduction actions. However, end-market challenges will likely persist due to the coronavirus outbreak.

The company noted that it will combine the results of its Industrial and WIDIA segments into a new segment — Metal Cutting. The other segment, Infrastructure, retains its structure. This change is effective Jul 1, 2020.

The company refrained from issuing financial projections for fiscal 2021 due to the uncertainties related to the pandemic. However, it did mention that capital spending will be $110-$130 million in fiscal 2021.
Kennametal Inc. Price, Consensus and EPS Surprise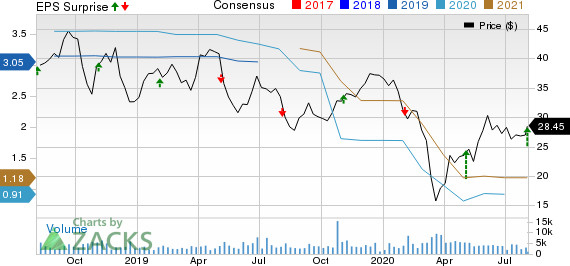 Kennametal Inc. price-consensus-eps-surprise-chart | Kennametal Inc. Quote
Zacks Rank & Other Stocks to Consider
With a market capitalization of $2.2 billion, Kennametal currently carries a Zacks Rank #2 (Buy).

Some other top-ranked stocks in the Zacks Industrial Products sector are Altra Industrial Motion Corp. AIMC, Chart Industries, Inc. GTLS and Graco Inc. GGG. All these stocks currently sport a Zacks Rank #1 (Strong Buy). You can see the complete list of today's Zacks #1 Rank stocks here.

In the past 60 days, earnings estimates for these companies improved for the current year. Further, earnings surprise for the last reported quarter was 76.47% for Altra Industrial, 46.51% for Chart Industries and 37.04% for Graco.
Biggest Tech Breakthrough in a Generation
Be among the early investors in the new type of device that experts say could impact society as much as the discovery of electricity. Current technology will soon be outdated and replaced by these new devices. In the process, it's expected to create 22 million jobs and generate $12.3 trillion in activity.

A select few stocks could skyrocket the most as rollout accelerates for this new tech. Early investors could see gains similar to buying Microsoft in the 1990s. Zacks' just-released special report reveals 8 stocks to watch. The report is only available for a limited time.

See 8 breakthrough stocks now>>
Want the latest recommendations from Zacks Investment Research? Today, you can download 7 Best Stocks for the Next 30 Days.
Click to get this free report
Graco Inc. (GGG): Free Stock Analysis Report
Chart Industries, Inc. (GTLS): Free Stock Analysis Report
Kennametal Inc. (KMT): Free Stock Analysis Report
Altra Industrial Motion Corp. (AIMC): Free Stock Analysis Report
To read this article on Zacks.com click here.
Zacks Investment Research