DTE Energy's (DTE) MIGreenPower Adds New Customer in Detroit
DTE Energy Company DTE recently revealed that the international highway tunnel, which goes by the name of Detroit-Windsor has enrolled in its MIGreenPower renewable energy program. This will add further impetus to MIGreenPower customers' enrollment of more than 1.8 million megawatt-hours of clean energy in the program to date.

Being part of MIGreenPower, the Detroit-Windsor Tunnel aims at attributing 10% of its electricity use to renewable energy, a move expected to boost its ultimate goal of achieving a zero-carbon target by 2030.
A Brief on MIGreenPower Program
DTE Energy's MIGreenPower program is among the top three voluntary renewable energy programs in the United States. Notably, MIGreenPower offers simple and affordable renewable energy programs to eligible electric customers, thereby supporting the company's wind and solar projects.
With the latest transaction Detroit-Windsor Tunnel adds to MIGreenPower's 46,000 residential and 450 business customers.
DTE Energy's Path to Net-Zero Emission
DTE Energy, in September 2019, announced its plans of achieving zero carbon emission by 2050 for DTE Electric. In June 2020, the company took a major step toward building a clean-energy future for Michigan by expanding its net-zero carbon emission goal to include DTE Gas. DTE Energy aims to achieve its emission reduction target by retiring coal-fired power plants and replacing the production by adding thousands of megawatts of wind and solar power.
To this end, the company's expanding voluntary renewable energy programs like MIGreenPower are also expected to help it achieve its renewable target.
Utilities' Adoption of Renewable Energy
To mitigate the deadly effects of climate change, in the United States, utilities are increasingly adopting renewable energy sources to produce electricity. Per the latest forecast made by the U.S. Energy Information Administration (EIA), electricity generation from renewable energy sources is expected to rise from 20% in 2021 to 23% in 2022 and 24% in 2023, primarily driven by projected additions to the wind- and solar-energy-generating capacity.

Apart from DTE Energy, other utilities have pledged net-zero carbon emissions to achieve a carbon-free environment.

For instance, Duke Energy DUK aims to reach its target of net-zero carbon emissions from electric generation by 2050. DUK lowered its carbon emissions by more than 40% from 2005 to 2020.

Duke Energy boasts a long-term earnings growth rate of 5.3%. DUK came up with a four-quarter average earnings surprise of 2.29%.

Likewise, American Electric Power's AEP intermediate goal is an 80% reduction from 2000 CO2 emission levels from its generating facilities by 2030. The long-term goal is net-zero CO2 emissions from its generating facilities by 2050. Moreover, its 2022-2026 capital investment forecast includes $9.9 billion in a regulated renewables plan.

American Electric boasts a long-term earnings growth rate of 5.7%. AEP came up with a four-quarter average earnings surprise of 1.61%.

Ameren Corporation AEE targets to expand its renewables portfolio by adding 3,100 megawatts (MWs) of renewable generation by the end of 2030 and a total of 5,400 MWs of renewable generation by 2040. Apart from investing in renewable projects, Ameren is also closing its coal-fired plants to reduce carbon dioxide emissions and promote green energy.

Ameren boasts a long-term earnings growth rate of 7.5%. AEE came up with a four-quarter average earnings surprise of 6.65%.
Price Performance & Zacks Rank
DTE Energy, a Zacks Rank #3 (Hold) company, has lost 2.5% in the past year against the industry's 7.2% growth. You can see the complete list of today's Zacks #1 Rank (Strong Buy) stocks here.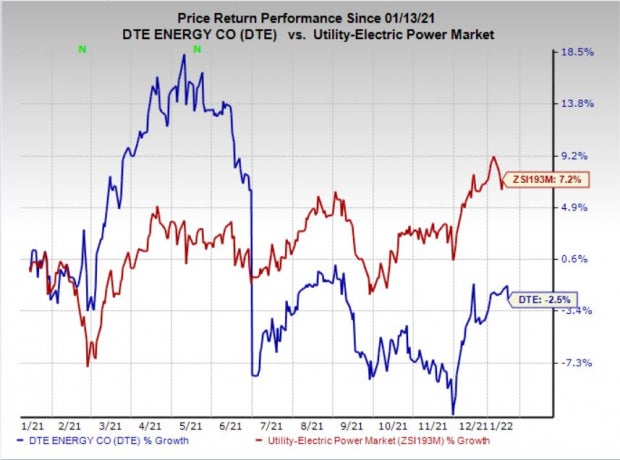 Image Source: Zacks Investment Research
Breakout Biotech Stocks with Triple-Digit Profit Potential
The biotech sector is projected to surge beyond $2.4 trillion by 2028 as scientists develop treatments for thousands of diseases. They're also finding ways to edit the human genome to literally erase our vulnerability to these diseases.
Zacks has just released Century of Biology: 7 Biotech Stocks to Buy Right Now to help investors profit from 7 stocks poised for outperformance. Recommendations from previous editions of this report have produced gains of +205%, +258% and +477%. The stocks in this report could perform even better.
See these 7 breakthrough stocks now >>
Want the latest recommendations from Zacks Investment Research? Today, you can download 7 Best Stocks for the Next 30 Days.
Click to get this free report
Ameren Corporation (AEE): Free Stock Analysis Report
Duke Energy Corporation (DUK): Free Stock Analysis Report
DTE Energy Company (DTE): Free Stock Analysis Report
American Electric Power Company, Inc. (AEP): Free Stock Analysis Report
To read this article on Zacks.com click here.
Zacks Investment Research