Target Q2 Preview: Rebound Quarter Inbound?
With earnings season in high gear, we receive quarterly reports from companies daily. Just this morning, we had Walmart WMT unveil its Q2 results, and the reaction was stellar, with WMT shares soaring.
Now that we have a quarterly report from a big-time retailer, we can use the results to help us get an idea of what to expect from Target's TGT quarterly report, which drops on Wednesday, August 17th, before the market open.
Let's take a closer look at Walmart's quarterly results before getting into how Target shapes up heading into its quarterly print.
Walmart Q2
Walmart reported quarterly EPS of $1.77, beating the Zacks Consensus EPS Estimate of $1.60 by a double-digit 10.6% and reflecting a year-over-year decline of a marginal 0.5%.
In addition, the company generated a mighty $153 billion in quarterly revenue, good enough to pencil in an 8.4% year-over-year uptick. Top-line growth was partially driven by inflation. Below is a chart illustrating the company's revenue on an annual basis.


Image Source: Zacks Investment Research
Consolidated operating income was $6.9 billion, reflecting a decrease of 6.8%. However, Walmart U.S. eCommerce sales grew by 12%.
Undoubtedly major positives, Sam's Club comparable sales increased 9.5%, and overall membership income increased 8.9%, with member count at an all-time high.
Furthermore, the company maintained its outlook for the second half of the year; adjusted earnings per share are expected to decline 9% to 11%. For the full year, the retailer expects Walmart U.S. comparable sales growth, excluding fuel, of roughly 4%.
Doug McMillon, President and CEO, said, "The actions we've taken to improve inventory levels in the U.S., along with a heavier mix of sales in grocery, put pressure on profit margin for Q2 and our outlook for the year."
Now, let's take a look at Target.
Target
Share Performance & Valuation: Target shares have extensively outperformed its Zacks Retail and Wholesale Sector over the last month, tacking on a stellar 21% in value. Buyers have been out in full force as of late.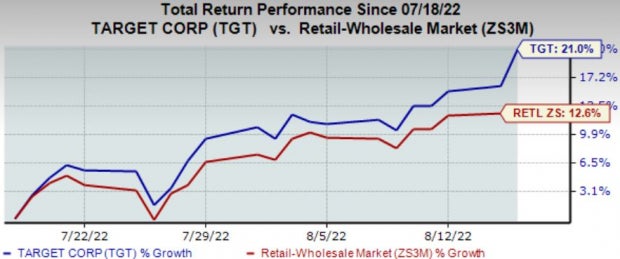 Image Source: Zacks Investment Research
In addition, Target shares carry solid valuation levels, further bolstered by its Style Score of a B for Value. TGT's 20.5X forward earnings multiple is well above its five-year median of 16.5X but represents a 23% discount relative to its Zacks Sector.


Image Source: Zacks Investment Research
Quarterly Estimates: Analysts have been bearish for the quarter to be reported, with two downwards estimate revisions hitting the tape over the last 60 days. Still, the Zacks Consensus EPS Estimate of $0.71 reflects a steep 80% drop in earnings year-over-year.


Image Source: Zacks Investment Research
However, the company's top-line looks to register some growth – the Zacks Consensus Sales Estimate for the quarter sits at $26.2 billion, penciling in a modest 4% Y/Y uptick.
Quarterly Performance: Target has consistently reported bottom-line results above expectations, exceeding the Zacks Consensus EPS Estimate in nine of its previous ten quarters. However, the company's one EPS miss over the timeframe came in its latest quarter.
Top-line results have also been remarkable – Target has recorded eight top-line beats over its last ten quarters. Below is a chart illustrating the company's revenue on a quarterly basis.


Image Source: Zacks Investment Research
Putting Everything Together
Investors clearly liked what they saw from Walmart's WMT quarterly print, with shares soaring in today's trading session. Still, the company revealed that margin compression has massively affected results.
In addition, the company stood still with its guidance for the back half of 2022. In response to WMT's print, Target shares found some buyers today as well.
Target's quarterly projections reveal the same scenario occurring – margin compression. Earnings are forecasted to plunge, but revenue looks to register modest growth.
Heading into the quarterly print, Target TGT carries a Zacks Rank #3 (Hold) with an Earnings ESP Score of -7.9%.
Want the latest recommendations from Zacks Investment Research? Today, you can download 7 Best Stocks for the Next 30 Days.
Click to get this free report
Target Corporation (TGT): Free Stock Analysis Report
Walmart Inc. (WMT): Free Stock Analysis Report
To read this article on Zacks.com click here.
Zacks Investment Research