Foot Locker (FL) Beats on Q4 Earnings, Down on Soft Sales
Shares of Foot Locker, Inc. FL dropped 8.8% during the trading hours on Feb 26 despite a bottom-line beat in fourth-quarter fiscal 2020. We note that the company's top line missed the Zacks Consensus Estimate and declined year over year. Markedly, the company witnessed top-line headwinds owing to pandemic-related store closures across Europe and Canada, and inventory delay on congestion at the domestic ports. Moreover, comparable-store sales (comps) declined 2.7% year over year, mainly owing to pandemic-induced store closures and backlog at the U.S. ports with lower traffic in the company's largest global tourist markets. These limitations weighed on investors' sentiments.

Nonetheless, management is impressed with bottom-line performance. Richard Johnson, Chairman and CEO, said, "Despite the challenging macro backdrop of COVID-related store closures and supply chain congestion, we delivered strong bottom-line results in the fourth quarter." We note that the company's bottom line comfortably surpassed the Zacks Consensus Estimate, marking the third straight beat.

A robust product pipeline, impressive holiday campaign and solid customer demand aided results. The company experienced strong full price sell-through, healthy margins and improved inventory productivity in the reported quarter. Moreover, its digital business acted as a catalyst through the fourth quarter, witnessing double-digit growth with strength across the board. It saw digital increase in triple-digits across the regions heavily affected by store closures. In addition, Asia Pacific was the company's fastest-growing geography globally, backed by robust growth in Australia and New Zealand.

Currently, above 10% of the company's store fleet is temporarily shut on COVID-19 restrictions. However, management believes that strength in the company's financial position will help it navigate the macro challenges. Given the pandemic uncertainties, management did not provide fiscal 2021 guidance.
Q4 Metrics
The athletic shoes and apparel retailer posted adjusted earnings of $1.55 per share, which outshone the Zacks Consensus Estimate of $1.36. However, the bottom line fell 4.9% year over year.

Foot Locker, Inc. Price, Consensus and EPS Surprise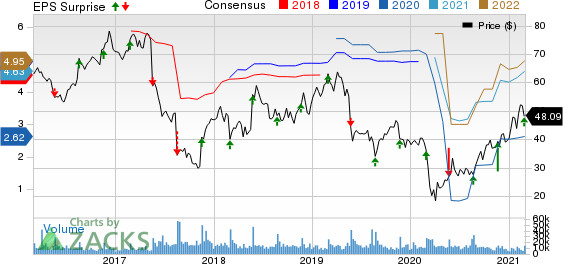 Foot Locker, Inc. price-consensus-eps-surprise-chart | Foot Locker, Inc. Quote
On a GAAP basis, the company reported earnings of $1.17 a share compared with $1.27 recorded in the prior-year period.

Total sales of $2,189 million fell 1.4% year over year and missed the consensus estimate of $2,278 million. Excluding the foreign-currency fluctuation impact, total sales dropped 3%. Although overall comps declined in the quarter, several of the company's divisions comped positive during the reported quarter. Following a low double-digit drop in November, comps were modestly positive in December and January, thus ending the fiscal year on a solid note.

Foot Locker's gross-margin rate expanded 160 basis points (bps) to 33.1% owing to solid product demand and reduced promotional activity on fresh inventory. We note that merchandise margin remained flat year over year buoyed by a significant reduction in markdowns, offset by increased freight expense and a rise in penetration of digital sales. In fact, the latter hurt gross margin by roughly 90 bps.

However, SG&A expense rate de-levered by 160 bps to 21%. Lower sales coupled with about $4 million of PPE costs and 100 bps of incremental bonus expense in comparison to the last year hurt the metric. The decline was slightly offset by government subsidies of roughly $9 million.
Store Update
During the reported quarter, Foot Locker opened 19 outlets, remodeled or relocated 39 stores, and shuttered 53 outlets. As of Jan 30, 2021, the company operated 2,998 stores across 28 countries in North America, Europe, Asia, Australia and New Zealand. Apart from these, there are 127 franchised Foot Locker stores in the Middle East.
Other Financial Details
This Zacks Rank #3 (Hold) company ended fiscal fourth quarter with cash and cash equivalents of $1,680 million, debt of $110 million and shareholders' equity of $2,776 million. As of Jan 30, 2021, merchandise inventories were $923 million, down 23.6% from the prior-year period. On a constant-currency basis, inventory declined 25.5%. Capital expenditures were $159 million in fiscal 2020.

Moreover, it bought back 660,347 shares worth $27 million during the fourth quarter and 968,547 shares for $37 million in the fiscal year. In fiscal 2020, Foot Locker returned a total of $110 million via share repurchases and dividends. In fact, management hiked quarterly dividend by 33% to 20 cents a share. Additionally, it spent $159 million in relation to store fleet, digital platforms, infrastructure, and supply chain and logistics capabilities.
Key Things to Note
The company has been enhancing its omni-channel experience via activating a Shop My Store feature on its website. Through this, customers can easily find products for pick up in nearby stores, hence reinforcing the physical digital connection. Management has also extended Apple Pay and Google Pay to the company's selection of digital payment options as well as added convenience and flexibility to the checkout experience. It also activated contactless payment options on handheld POS devices across majority of its outlets. Furthermore, Foot Locker has rolled out a pilot drop-ship program with Nike NKE that will activate additional inventory on the sites, which is not held at its stores or warehouses. It also established a North America operating structure with four distinct regions, each having its own geo leader and customer experience team.

With respect to first-quarter sales, the company is contending with more than 10% of its store base temporarily shut with respect to COVID-19 restrictions. For gross margin in the upcoming quarter, Foot Locker expects less promotional pressure on merchandise margins year over year given the level and relative freshness of the inventory. This forecast does not consider rent abatements.

Markedly, higher freight costs are headwind. In relation to SG&A, PPE costs will be incremental in the first quarter as virtually no PPE costs were there last year.
Don't Miss These Solid Retail Bets
Tapestry TPR has a long-term earnings growth rate of 10% and currently sports a Zacks Rank #1 (Strong Buy). You can see the complete list of today's Zacks #1 Rank stocks here.

Target TGT has a long-term earnings growth rate of 10.2% and a Zacks Rank #2 (Buy).
+1,500% Growth: One of 2021's Most Exciting Investment Opportunities
In addition to the stocks you read about above, would you like to see Zacks' top picks to capitalize on the Internet of Things (IoT)? It is one of the fastest-growing technologies in history, with an estimated 77 billion devices to be connected by 2025. That works out to 127 new devices per second.

Zacks has released a special report to help you capitalize on the Internet of Things's exponential growth. It reveals 4 under-the-radar stocks that could be some of the most profitable holdings in your portfolio in 2021 and beyond.

Click here to download this report FREE >>
Want the latest recommendations from Zacks Investment Research? Today, you can download 7 Best Stocks for the Next 30 Days.
Click to get this free report
NIKE, Inc. (NKE): Free Stock Analysis Report
Target Corporation (TGT): Free Stock Analysis Report
Foot Locker, Inc. (FL): Free Stock Analysis Report
Tapestry, Inc. (TPR): Free Stock Analysis Report
To read this article on Zacks.com click here.
Zacks Investment Research