Manulife Down 41% in YTD: Will Low Rates Hurt the Stock?
Manulife Financial Corporation MFC is being adversely impacted by escalating costs and exposure to products with minimum assured return, which, in turn, are putting a strain on margin expansion.
Shares of this Zacks Rank #4 (Sell) life insurer have lost 40.8% on a year-to-date basis, wider than its industry's decline of 36.7%. The Zacks Consensus Estimate for the company was revised 5.2% downward over the last 30 days for current-quarter earnings.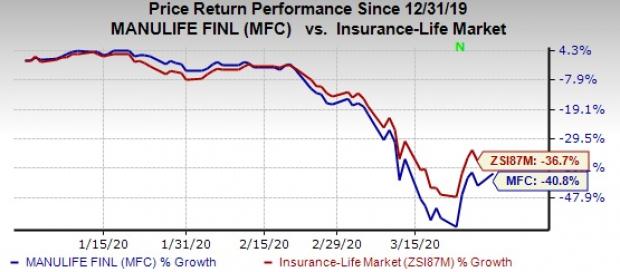 Will Low Interest Rates and High Costs Hurt Stock Price?
Following the news of the coronavirus outbreak, the Federal Reserve in the United States slashed interest rates by 50 basis points on Mar 3.Consequent to the rate cut, the Fed's announcement to lower interest rates to zero-level comes as disappointing news for most life insurance companies operating in the United States.
Manulife, being a life insurer, derives a substantial portion of its revenues in the form of premiums obtained from its U.S. operations. However, lower interest rates often make life insurance products unattractive and result in lower receipt of premiums.
The global pandemic, which is adversely impacting the U.S. economy, is expected to dent top-line growth of most life insurance companies and Manulife is no exception. Notably, the Zacks Consensus Estimate for the company's 2020 revenues is pegged at $40.2 billion, indicating a decline of 33% from the year-ago reported figure.
Contributing to the company's top-line growth as well, net investment income surged 641% year over year in 2019. However, the current low interest rate environment is likely to keep investment yields under pressure, which would consequently weigh on its overall investment income.
Moreover, Manulife's exposure to products like variable annuities, which guarantee a minimum return, is likely to hurt. When interest rates are lowered, it increases the value of the guaranteed liabilities for the company.
Furthermore, the life insurer continues to suffer from high investment expenses, commissions and interest expenses. This resulted in the company's total contract benefits and expenses reporting a surge of 119% year over year in 2019. Increased costs are likely to pressurize margin expansion going forward.
Additionally, Manulife'strailing 12-month return on equity (ROE) of 13% is lower than the industry's 15.1%. This reflects the company's inability to utilize its shareholders' funds. The life insurer's interest coverage ratio of 5.7% compares unfavorably with the industry average of 17.9%, which also raise the financial risk.
We believe that such potential headwinds are likely to dent the company's growth prospects going forward.
Stocks to Consider
Some better-ranked stocks in the insurance space are AXIS Capital Holdings Limited AXS, First American Financial Corporation FAF, and ProAssurance Corporation PRA. While First American Financial currently sports a Zacks Rank #1 (Strong Buy), AXIS Capital and ProAssurance carry a Zacks Rank #2 (Buy). You can see the complete list of today's Zacks #1 Rank stocks here.
AXIS Capital, First American Financial and ProAssurance surpassed earnings estimates in the last reported quarters by 150%, 33.33% and 23.03%, respectively.
Zacks Top 10 Stocks for 2020
In addition to the stocks discussed above, would you like to know about our 10 finest buy-and-hold tickers for the entirety of 2020?
Last year's 2019 Zacks Top 10 Stocks portfolio returned gains as high as +102.7%. Now a brand-new portfolio has been handpicked from over 4,000 companies covered by the Zacks Rank. Don't miss your chance to get in on these long-term buys.
Access Zacks Top 10 Stocks for 2020 today >>
Want the latest recommendations from Zacks Investment Research? Today, you can download 7 Best Stocks for the Next 30 Days.
Click to get this free report
Axis Capital Holdings Limited (AXS): Free Stock Analysis Report
ProAssurance Corporation (PRA): Free Stock Analysis Report
Manulife Financial Corp (MFC): Free Stock Analysis Report
First American Financial Corporation (FAF): Free Stock Analysis Report
To read this article on Zacks.com click here.
Zacks Investment Research