Here's Why You Should Add Hologic (HOLX) to Your Portfolio
Hologic, Inc. HOLX has been gaining on robust segmental growth. Its international organic (excluding divestitures and the acquired SuperSonic Imagine or SSI business) growth has also been impressive. Its better-than-expected earnings and in-line revenues in the second quarter of 2020 buoy optimism. However, downsides may result from escalating costs and a stiff competitive landscape.

Over the past year, the Zacks Rank #2 (Buy) stock has outperformed its industry. The stock has gained 15.6% compared with 3.4% growth of the industry and 9.1% rise of the S&P 500.

The renowned provider of medical imaging systems and surgical products, catering to women's healthcare needs, has a market capitalization of $13.86 billion. The company projects 7% growth for the next five years and expects to maintain strong segmental performance. The company surpassed estimates in two of the trailing four quarters and broke even in the other two, the average positive surprise being 2.2%.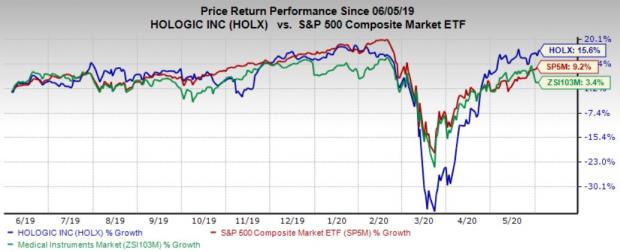 Let's delve deeper.

Strong Q2 Results: We are upbeat about Hologic's second quarter of fiscal 2020 results. Its top-line growth was led by a year-over-year rise in core GYN Surgical and Molecular Diagnostics sales. Despite sales of GYN Surgical and Diagnostics products being adversely impacted by the deferral of elective procedures and physician office visits due to the coronavirus pandemic, the segments registered growth in the quarter.

Expansion of adjusted operating margin buoys optimism as well.

Robust Demand for Testing: We are optimistic about Hologic's strength in Molecular Diagnostics amid the pandemic. The company generated solid revenues from its Panther Fusion SARS-CoV-2 assay, which received Emergency Use Authorization (EUA) from the FDA in March. Following this, the company expanded manufacturing capabilities to produce nearly 600,000 Panther Fusion SARS-CoV-2 tests a month.

Further, Hologic recently announced the receipt of the FDA's EUA for its Aptima SARS-CoV-2 assay, which can be used to detect SARS-CoV-2, the virus causing coronavirus.

Continued Growth of GYN Surgical: The segment recorded growth at constant currency despite a significant decline in March due to disruptions caused by COVID-19, which affected sales and postponed elective procedures. The growth was led by robust segmental performance in the first two months of the quarter and continuing momentum for the rest of the quarter.

Sales of MyoSure system, a key product from this segment, boosted segmental revenues in the fiscal second quarter.

However, downsides might result from a continuous rise in costs and expenses which are building pressing on margins. Adding to the woes, Hologic's adjusted gross margin did not show any year-over-year expansion in the fiscal second quarter.

Further, Hologic operates in a highly competitive industry, including biggies like Siemens. The FDA's decision to re-classify FFDM devices to class II from class III makes it easier for all medical devices companies to introduce similar products in the market. Subsequently, the approval process for class II devices will require 510(k) clearance, rather than the lengthy PMA application. This will enable easier approval in the United States, thus intensifying competition among medical device companies.

Estimate Trend

Hologic has been witnessing a negative estimate revision trend for 2020. Over the past 60 days, the Zacks Consensus Estimate for its earnings has moved 10% south to $2.24.

The Zacks Consensus Estimate for third-quarter 2020 revenues is pegged at $589.8 million, suggesting a 30.8% fall from the year-ago reported number.

Other Key Picks

A few other top-ranked stocks from the broader medical space are Aphria Inc. APHA, Illumina, Inc. ILMN and QIAGEN N.V. QGEN.

Aphria's long-term earnings growth rate is projected at 24.6%. It currently carries a Zacks Rank #2. You can see the complete list of today's Zacks #1 Rank (Strong Buy) stocks here.

Illumina's long-term earnings growth rate is estimated at 11%. The company presently has a Zacks Rank #2.

QIAGEN's long-term earnings growth rate is estimated at 12.2%. It currently sports a Zacks Rank #1.

These Stocks Are Poised to Soar Past the Pandemic

The COVID-19 outbreak has shifted consumer behavior dramatically, and a handful of high-tech companies have stepped up to keep America running. Right now, investors in these companies have a shot at serious profits. For example, Zoom jumped 108.5% in less than 4 months while most other stocks were sinking.

Our research shows that 5 cutting-edge stocks could skyrocket from the exponential increase in demand for "stay at home" technologies. This could be one of the biggest buying opportunities of this decade, especially for those who get in early.

See the 5 high-tech stocks now>>
Want the latest recommendations from Zacks Investment Research? Today, you can download 7 Best Stocks for the Next 30 Days.
Click to get this free report
Illumina, Inc. (ILMN): Free Stock Analysis Report
Hologic, Inc. (HOLX): Free Stock Analysis Report
QIAGEN N.V. (QGEN): Free Stock Analysis Report
Aphria Inc. (APHA): Free Stock Analysis Report
To read this article on Zacks.com click here.