Raytheon (RTX) Secures Deal for APG-79 AESA Radar System
Raytheon Technologies Corp. RTX recently clinched a contract involving the APG-79 Active Electronically Scanned Array (AESA) radar system. The award has been offered by the Naval Supply Systems Command Weapon Systems Support, Philadelphia, PA.
Details of the Deal
Valued at $19.4 million, the contract is expected to be completed by March 2025. Per the terms of the deal, Raytheon will procure 129 items to support the APG-79 AESA radar system installed on the F/A-18 aircraft.
The entire work related to this deal will be executed in Forest, MS.
Radars & Raytheon
With the rapid escalation of geopolitical tensions globally in recent times, developed and developing nations have been boosting their defense arsenal significantly. Radars constitute a vital part of their defense equipment. While radars have been in use since World War II for locating threats and targets, nowadays, they are being used for multiple purposes like ground surveillance, missile control, fire control, air traffic control, moving target indication, weapons location and vehicle search.
Demand for military radar systems has expanded manifold in recent times, driven by factors like a rise in defense spending of emerging economies, an increase in regional tensions and inter-country conflicts that have boosted threats from missiles and aircraft. These, in turn, have been benefiting radar manufacturing companies like Raytheon in the form of contract wins like the latest one.
Notably, Raytheon's product portfolio consists of varied radars like integrated air and missile defense radars, ballistic missile radars, surveillance radars as well as air dominance radars. Radars like AN-SPY 6, AN-TPY-2, APG-79, APG-82 are some of its combat-proven products that enjoy solid demand in the global military radar market.
Growth Prospects
Per Fortune Business Insights firm, the global military radar market is expected to reach $22.1 billion by 2028 at a CAGR of 6.3% from 2021. Such growth projections for the aforementioned market should benefit prominent radar manufacturers like Raytheon Technologies, Lockheed Martin LMT, L3Harris Technologies LHX and Northrop Grumman NOC.
Notably, Northrop is a pioneer in Active Electronically Scanned Array (AESA) radars and has been at the forefront of AESA innovations for more than 60 years. The company's broad portfolio of products comprises radars like AN/APG-83 scalable, agile beam radar, AN/ASQ-236 Dragon's eye radar pod as well as AN/APG-81 and AN/APG-71 for F-35 and F-22 jets, respectively.
Northrop boasts a long-term earnings growth rate of 2.2%. The Zacks Consensus Estimate for 2022 sales indicates an improvement of 1.9% from the 2021 reported figure.
Among Lockheed Martin's notable radar portfolio, the significant ones include SPY-7, AN/TPQ-53 radar system and AN/APY-9 radar.
Lockheed boasts a long-term earnings growth rate of 5.4%. The company has a four-quarter average earnings surprise of 64.46%.
Similarly, L3Harris is the manufacturing company for AN/SPS-48G naval radar, Symphony Airfield Radar Systems and Tactical Air Surveillance radars and a few more.
L3 Harris boasts a long-term earnings growth rate of 3.3%. The company has a four-quarter average earnings surprise of 2.16%.
Price Performance
In the past year, Raytheon Technologies' shares have lost 4.2% compared with the industry's 8.3% decline.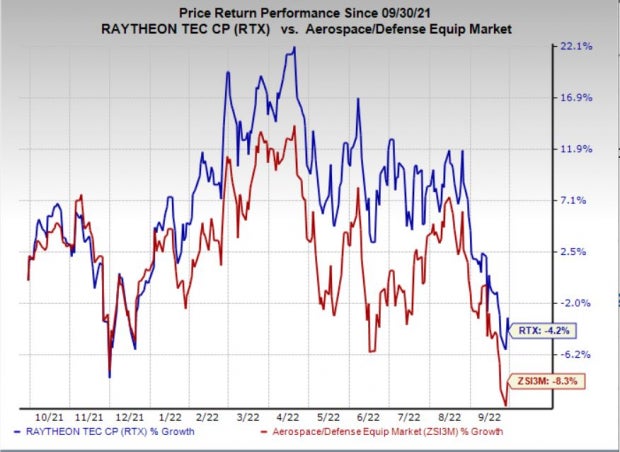 Image Source: Zacks Investment Research
Zacks Rank
Raytheon Technologies carries a Zacks Rank #4 (Sell) at present.

You can see the complete list of today's Zacks #1 Rank (Strong Buy) stocks here.
This Little-Known Semiconductor Stock Could Be Your Portfolio's Hedge Against Inflation
Everyone uses semiconductors. But only a small number of people know what they are and what they do. If you use a smartphone, computer, microwave, digital camera or refrigerator (and that's just the tip of the iceberg), you have a need for semiconductors. That's why their importance can't be overstated and their disruption in the supply chain has such a global effect. But every cloud has a silver lining. Shockwaves to the international supply chain from the global pandemic have unearthed a tremendous opportunity for investors. And today, Zacks' leading stock strategist is revealing the one semiconductor stock that stands to gain the most in a new FREE report. It's yours at no cost and with no obligation.
>>Yes, I Want to Help Protect My Portfolio During the Recession
Want the latest recommendations from Zacks Investment Research? Today, you can download 7 Best Stocks for the Next 30 Days.
Click to get this free report
Lockheed Martin Corporation (LMT): Free Stock Analysis Report
Northrop Grumman Corporation (NOC): Free Stock Analysis Report
L3Harris Technologies Inc (LHX): Free Stock Analysis Report
Raytheon Technologies Corporation (RTX): Free Stock Analysis Report
To read this article on Zacks.com click here.
Zacks Investment Research