Catalyst Pharma (CPRX) Rides on Successful Launch of Firdapse
We issued an updated report on Catalyst Pharmaceuticals Inc. CPRX on May 21.
In November 2018, the company's Firdapse (amifampridine) tablets obtained FDA approval for the treatment of Lambert-Eaton Myasthenic Syndrome (LEMS) in adults. The drug became the first FDA-approved treatment for LEMS and also the first approved product in Catalyst's portfolio.
The drug was launched in January 2019. In the first quarter of 2019, revenues came entirely from Firdapse. The initial uptake of the drug was encouraging. The company remains optimistic about the drug and expects it to drive revenues in the upcoming quarters.
Catalyst Pharma's shares have skyrocketed 100% year to date, compared with the industry's growth of 5.9%.

Catalyst is also working on developing Firdapse for additional indications. The company is currently conducting phase III studies on the drug for the treatment of congenital myasthenic syndromes ("CMS") and anti-MuSK -antibody positive myasthenia gravis (MuSK-MG). The company expects to report top-line results from the phase III MuSK-MG and CMS studies in the second half of 2019.
Catalyst is also conducting a proof-of-concept study, evaluating Firdapse as a symptomatic treatment for patients with SMA type III. The company expects to report top-line results from the study in the first half of 2020. A potential approval of the drug for additional indications will further boost sales of the company.
Apart from these, the company is in the early stages of developing a longer acting formulation of Firdapse to provide a better treatment alternative for patients that will integrate well with their daily activities. The company is working to develop a formulation that provides optimum level of efficacies through day and night in order to optimize patient performance of the drug. Hence, the formulation will be more convenient and patient-friendly.
However, all the other candidates in its portfolio are in early stages of development. Thus, the successful development and commercialization of drug candidates are highly crucial for the company.
Catalyst Pharmaceuticals, Inc. Price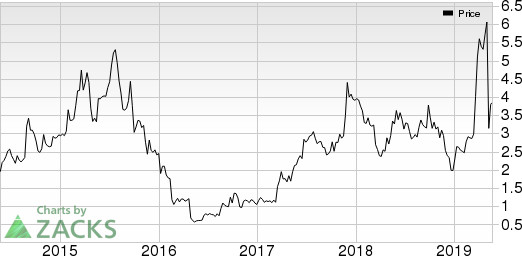 Catalyst Pharmaceuticals, Inc. price | Catalyst Pharmaceuticals, Inc. Quote
Zacks Rank & Other Stocks to Consider
Catalyst currently has a Zacks Rank #2 (Buy).
Some other top-ranked stocks in the same space are NeuroVive Pharmaceutical AB NEVPF, Recro Pharma Inc. REPH and Evotec AG EVTCY. All of them carry a Zacks Rank #1 (Strong Buy). You can see the complete list of today's Zacks #1 Rank stocks here.
NeuroVive's loss per share estimates have narrowed from 12 cents to 7 cents for 2019.
Recro Pharma's loss per share estimates have narrowed from $3.73 to 54 cents for 2019. Its estimates for 2020 moved north from a loss $1.51 to a profit of 6 cents in the past 60 days. The company delivered a positive earnings surprise in the trailing four quarters, the average being 41.88%.
Evotec's earnings per share estimates have moved up from 86 cents to $1.03 for 2019 in the past 60 days.
Today's Best Stocks from Zacks
Would you like to see the updated picks from our best market-beating strategies? From 2017 through 2018, while the S&P 500 gained +15.8%, five of our screens returned +38.0%, +61.3%, +61.6%, +68.1%, and +98.3%.
This outperformance has not just been a recent phenomenon. From 2000 – 2018, while the S&P averaged +4.8% per year, our top strategies averaged up to +56.2% per year.
See their latest picks free >>
Want the latest recommendations from Zacks Investment Research? Today, you can download 7 Best Stocks for the Next 30 Days.
Click to get this free report
Catalyst Pharmaceuticals, Inc. (CPRX): Free Stock Analysis Report
Recro Pharma, Inc. (REPH): Free Stock Analysis Report
Evotec AG (EVTCY): Free Stock Analysis Report
NEUROVIVE (NEVPF): Free Stock Analysis Report
To read this article on Zacks.com click here.
Zacks Investment Research