Lennox's (LII) 2021 Earnings & Revenue View Up, CEO Retires
Lennox International Inc. LII recently announced that it has raised its full-year 2021 guidance backed by key strategic investments in products, technology and distribution as well as strong end markets.

The company now expects revenue growth of 11-15% in 2021 compared with 7-11% expected earlier. Adjusted EPS from continuing operations is likely to be within $12.10-$12.70 in 2021 versus $11.40-$12.00 expected earlier. In 2020, its revenues fell 4% (after excluding the impact from divestitures) and adjusted earnings declined 11.2% year over year.

However, its shares dipped 7.7% on Jul 14. Investors' sentiment might have been hurt by Chairman and Chief Executive Officer of Lennox, Todd Bluedorn's retirement in mid-2022. The company's lead independent director, Todd Teske said, "Under Todd's leadership the company's market cap grew from $2.5 billion to over $13 billion, resulting in total shareholder return in excess of 18% annually."

Lennox's business has been banking on underlying demand fundamentals in core residential and commercial HVAC/R markets, favorable price and mix along with sourcing and engineering-led cost reductions. For first-quarter 2021, the company's adjusted earnings of $2.27 per share increased a notable 305% year over year on the back of solid segmental results.

Lennox has been witnessing strong demand across businesses. It is capitalizing on market growth and share gain opportunities with strong operational execution. It has plans to buy $200 million additional shares through the repurchase program.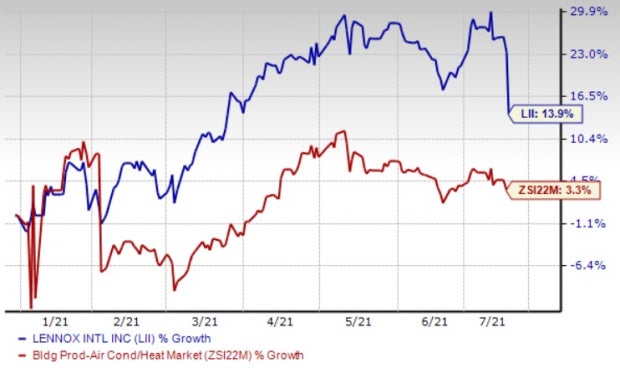 Image Source: Zacks Investment Research
Lennox, which currently carries a Zacks Rank #3 (Hold), has solid prospects, as is evident from the Zacks Consensus Estimate for 2021 earnings of $12.47 per share, indicating growth of 25.5% from the year-ago reported figure. The company's prospects are also supported by a Growth Score A. You can see the complete list of today's Zacks #1 Rank (Strong Buy) stocks here.

Shares of Lennox — which shares space in the Zacks Building Products - Air Conditioner and Heating industry with Watsco, Inc. WSO, AAON, Inc. AAON, and Comfort Systems USA, Inc. FIX — have broadly outperformed the industry in the year-to-date period. Its shares have gained 13.9% in the said period compared with industry's 3.3% growth.
Bitcoin, Like the Internet Itself, Could Change Everything
Blockchain and cryptocurrency has sparked one of the most exciting discussion topics of a generation. Some call it the "Internet of Money" and predict it could change the way money works forever. If true, it could do to banks what Netflix did to Blockbuster and Amazon did to Sears. Experts agree we're still in the early stages of this technology, and as it grows, it will create several investing opportunities.
Zacks' has just revealed 3 companies that can help investors capitalize on the explosive profit potential of Bitcoin and the other cryptocurrencies with significantly less volatility than buying them directly.
See 3 crypto-related stocks now >>
Want the latest recommendations from Zacks Investment Research? Today, you can download 7 Best Stocks for the Next 30 Days.
Click to get this free report
Watsco, Inc. (WSO): Free Stock Analysis Report
Lennox International, Inc. (LII): Free Stock Analysis Report
AAON, Inc. (AAON): Free Stock Analysis Report
Comfort Systems USA, Inc. (FIX): Free Stock Analysis Report
To read this article on Zacks.com click here.
Zacks Investment Research