Fastenal (FAST) Q4 Earnings and Revenues Beat Estimates
Fastenal Company's FAST shares gained 0.8%, following the release of fourth-quarter 2020 results. The company's bottom line topped the Zacks Consensus Estimate, courtesy of higher demand for personal protective equipment ("PPE") products.
Earnings & Sales in Detail
The company reported earnings of 34 cents per share, which beat the consensus mark of 33 cents. The reported figure also increased 9.6% from the year-ago profit level of 31 cents per share.

Net sales for the reported period were $1,358 million, beating the consensus mark of $1,331 million by 2% and increasing 6.4% from the year-ago figure of $1,276.9 million. The upside was due to higher unit sales of safety and janitorial products.

It reported daily sales growth of 6.4%, higher than 2.5% increase in third-quarter 2020 and 3.7% in the year-ago period.

On a monthly basis, daily sales improved 9.3%, 6.8% and 4.1% in December, November and October compared with 1%, 5.7% and 4.3% growth, respectively, in the comparable months of the prior year.

Daily sales of Fastener products (mainly used for industrial production and accounting for 30.8% of fourth-quarter sales) declined 2.3% year over year. This reflects persistent softness in manufacturing and construction markets. Nonetheless, the metric improved from the third quarter's decline of 6.9%.

Sales of safety products (accounting for 23.5% of fourth-quarter sales) grew 34.6% on a daily basis. Sales of the remaining products (accounting for 45.7% of fourth-quarter sales) grew 2.1% year over year on a daily basis.
Fastenal Company Price, Consensus and EPS Surprise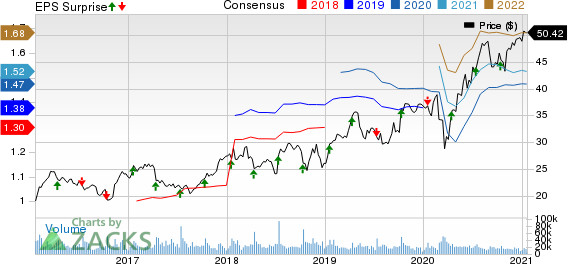 Fastenal Company price-consensus-eps-surprise-chart | Fastenal Company Quote
Vending Trends and Other Growth Drivers
As of Dec 31, 2020, Fastenal operated 95,733 vending machines, up 6.4% year over year. During 2020, the company signed 16,417 machine contracts, down from 21,857 reported in the year-ago period.

Daily sales through vending devices grew at a low-to-mid single-digit pace in the fourth quarter of 2020 on a year-over-year basis.

Fastenal signed 223 new Onsite locations during 2020. The figure was 362 in 2019. As of Dec 31, 2020, the company had 1,265 active sites, up 13.6% from the comparable year-ago period. Daily sales through Onsite locations (excluding sales transferred from branches to new Onsites) increased at a low single-digit rate in the fourth quarter of 2020 from a year ago. This resumption of growth reflects increasing sales in relatively new active locations as implementations progress, combined with moderating rates of contraction in more mature sites. It expects Onsite signings between 375 and 400 for 2021.

Daily sales to national account customers (representing 55.9% of total revenues) increased 7.8% on a year-over-year basis for fourth-quarter 2020.
Margins
Gross margin of 45.6% increased 30 basis points (bps) from the prior-year period, mainly attributable to pricing actions taken during fourth-quarter 2020 for certain PPE and safety supplies. Also, cost-saving efforts added to the positives.

Nonetheless, operating margin expanded 80 bps year over year to 19.5% for the quarter.

Operating and administrative expenses (including gains from sales of property and equipment) — as a percentage of net sales — declined 210 bps year over year to 26.1% for fourth-quarter 2020, owing to the company's ability to leverage employee as well as general corporate expenses, courtesy of higher sales.
Financials
Cash and cash equivalents were $245.7 million as of Dec 31, 2020, up from $174.9 million on Dec 31, 2019. Long-term debt at 2020-end was $365 million, up from $342 million at 2019-end.

In 2020, cash provided by operating activities totaled $1,101.8 million, up from $842.7 million in the prior year. Fastenal returned $803.4 in dividends to shareholders in 2020 compared with $498.6 a year ago.
2020 Highlights
Earnings came in at $1.49 per share, up 8.4% from $1.38 a year ago. Net sales were $5,647.3 million, up 5.9% from $5,333.7 million a year ago.

The company expects net capital expenditures for 2021 within $170-$200, indicating an increase from $157.5 in 2020. This increase can be attributed to higher spending for a non-hub construction project in Winona to support growth, increased maintenance spending across most tracked categories following tighter spending control in 2020 and lower anticipated proceeds from asset sales.
Zacks Rank
Fastenal — which shares space with Builders FirstSource, Inc. BLDR, Beacon Roofing Supply Inc. BECN and Advance Auto Parts, Inc. AAP in the Zacks Building Products – Retail industry — currently carries a Zacks Rank #2 (Buy).

You can see the complete list of today's Zacks #1 Rank (Strong Buy) stocks here.
Breakout Biotech Stocks with Triple-Digit Profit Potential
The biotech sector is projected to surge beyond $775 billion by 2024 as scientists develop treatments for thousands of diseases. They're also finding ways to edit the human genome to literally erase our vulnerability to these diseases.

Zacks has just released Century of Biology: 7 Biotech Stocks to Buy Right Now to help investors profit from 7 stocks poised for outperformance. Our recent biotech recommendations have produced gains of +50%, +83% and +164% in as little as 2 months. The stocks in this report could perform even better.

See these 7 breakthrough stocks now>>
Want the latest recommendations from Zacks Investment Research? Today, you can download 7 Best Stocks for the Next 30 Days.
Click to get this free report
Fastenal Company (FAST): Free Stock Analysis Report
Advance Auto Parts, Inc. (AAP): Free Stock Analysis Report
Beacon Roofing Supply, Inc. (BECN): Free Stock Analysis Report
Builders FirstSource, Inc. (BLDR): Free Stock Analysis Report
To read this article on Zacks.com click here.
Zacks Investment Research