Garmin's G5000 Certification to Aid Aviation Business Growth
Garmin Ltd. GRMN is firing on cylinders to bolster aviation business unit on the back of its strengthening flight display and deck offerings.

The company advanced G5000 integrated flight deck for crew-flown business jets received certification for use in Textron Aviation's Citation Excel and Citation XLS jets, a testament to its focus on strengthening portfolio.

Notably, G5000 comes with automatic flight guidance and control systems combined with weather, charts, traffic, terrain and global connectivity options. Further, it offers intuitive touchscreen interface and bright high-resolution displays.

Further, its integrated avionics suite caters to the airspace modernization needs and helps in reducing operational costs.

Further, Garmin has launched two new eLearning courses familiarize pilots of Citation Excel/XLS with capabilities of the G5000.

We believe the latest move of the company is bodes well for its continued focus toward strengthening its aviation business.

Focus on Citation Excel/XLS

We believe the company is leaving no stone unturned to deliver enhanced in-flight experience to pilots of Citation Excel/XLS.

In a bid to achieve this, G5000 enables pilots to view maps, charts, flight plan information, weather, checklists, TAWS, TCAS and Garmin SafeTaxi airport diagrams simultaneously with the help of its three landscape-oriented flight displays and split-screen capability.

Further, Controller Pilot Data Link Communication-Departure Clearance (CPDLC-DCL), which automates Clearance delivery operations at over 60 of the busiest airports in the United States, loads the departure clearance into the G5000 automatically. This is likely to help the Citation Excel/XLS pilots in receiving departure clearances faster and seamlessly.

Additionally, the jets under review will get Emergency Descent Mode feature with G5000. Further, the flight deck enables pilots to avail Automatic Dependent Surveillance-Broadcast (ADS-B) Out solution which is integrated into it.

These endeavors are aimed at improving flight performance by reducing pilot's workload. This in turn is likely to favor Garmin's adoption among pilots.
Garmin Ltd. Revenue (TTM)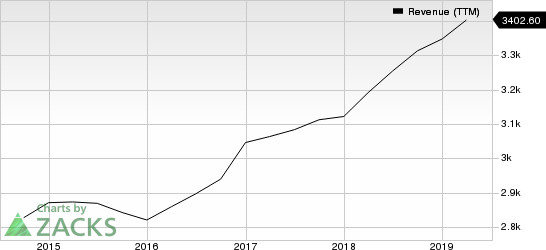 Aircraft Sensor Market Holds Promise
Garmin's latest certification is expected to bolster presence in the flight deck & flight controls space which is expected to be the largest contributing segment of the global aircraft sensors market over the period of 2019 to 2025, per the MarketsandMarkets report.

Consequently, we believe the robust features of G5000 make the company well poised to rapidly penetrate into the aircraft sensors market which as per the same report, is expected to hit $4.9 billion by 2025 at a CAGR of 4.48%.

This is likely to intensify the competition for companies like TE Connectivity TEL, AMETEK AME and Honeywell International HON, to name a few, which are also making ever effort to expand their presence in this particular market.

Nevertheless, Garmin's robust sensor portfolio and continued innovation remain major positives. Recently, it expanded engine monitoring capability on its G600 TXi and G500 TXi flight displays.

These strengthening initiatives hare likely to drive the top-line growth of the company's aviation business.

Currently, Garmin carries a Zacks Rank #3 (Hold). You can see the complete list of today's Zacks #1 Rank (Strong Buy) stocks here.

Today's Best Stocks from Zacks

Would you like to see the updated picks from our best market-beating strategies? From 2017 through 2018, while the S&P 500 gained +15.8%, five of our screens returned +38.0%, +61.3%, +61.6%, +68.1%, and +98.3%.

This outperformance has not just been a recent phenomenon. From 2000 – 2018, while the S&P averaged +4.8% per year, our top strategies averaged up to +56.2% per year.

See their latest picks free >>
Want the latest recommendations from Zacks Investment Research? Today, you can download 7 Best Stocks for the Next 30 Days.
Click to get this free report
Honeywell International Inc. (HON): Free Stock Analysis Report
TE Connectivity Ltd. (TEL): Free Stock Analysis Report
Garmin Ltd. (GRMN): Free Stock Analysis Report
AMETEK, Inc. (AME): Free Stock Analysis Report
To read this article on Zacks.com click here.