Biotech Stock Roundup: BIIB's AD Drug Data & REGN, IONS, VRTX's Updates
It has been a busy week for the biotech companies, with drug approvals and other regulatory news grabbing the spotlight.
Recap of the Week's Most Important Stories:
Biogen, Eisai's AD Drug Achieves Goals: Biogen's BIIB shares gained significantly after the company and partner Eisai announced that their big global phase III confirmatory study, Clarity AD, on investigational anti-amyloid beta protofibril antibody candidate lecanemab (BAN2401) for the treatment of early Alzheimer's Disease (AD), met the primary endpoint. Clarity AD was a global confirmatory phase III placebo-controlled, double-blind, parallel-group, randomized study in 1,795 people with early AD.
The candidate met the primary endpoint of Clinical Dementia Rating-Sum of Boxes (the numeric scale used to quantify the various severity of symptoms of dementia). In addition, all key secondary endpoints were achieved with highly statistically significant results. Based on these impressive data, Biogen's partner Eisai plans to file for traditional approval of lecanemab in the United States and submit regulatory applications in the EU and Japan by the end of the first quarter of 2023.
The FDA has already accepted Eisai's biologics license application (BLA) for lecanemab under the accelerated approval pathway and granted Priority Review. The agency has set a target action date of Jan 6, 2023, and agreed that the results of Clarity AD can serve as the confirmatory study to verify the clinical benefit of lecanemab.
Biogen has a Zacks Rank #3 (Hold) currently. You can see the complete list of today's Zacks #1 Rank (Strong Buy) stocks here.
Regeneron/Sanofi's Dupixent Label Expansion: Regeneron Pharmaceuticals, Inc. REGN and partner Sanofi SNY announced that the FDA has approved a label expansion of the asthma drug Dupixent (dupilumab). The drug is now approved for of adult patients with prurigo nodularis. The FDA approval was based on data from two phase III studies, PRIME and PRIME2, evaluating the efficacy and safety of Dupixent in adults with prurigo nodularis. Data showed that Dupixent significantly reduced itch and skin lesions compared to placebo in direct-to-phase III program consisting of two pivotal trials. Sanofi records global net product sales of Dupixent, while Regeneron records its share of profits/losses in connection with global sales of Dupixent.
Dupixent is under review for prurigo nodularis in the European Union, and submissions to regulatory authorities in additional countries are also planned for 2022. Dupixent is already approved for use in certain patients with atopic dermatitis, asthma, chronic rhinosinusitis with nasal polyposis (CRSwNP), and eosinophilic esophagitis (EoE).
Ionis Updates on hypercholesterolemia Treatment: Ionis Pharmaceuticals, Inc. IONS announced that ION449 (AZD8233), which is being evaluated for the treatment of patients with hypercholesterolemia, will not advance into phase III development based on pre-specified criteria. Shares were down on the same. The company released top-line data from the phase IIb SOLANO study, which showed that 60mg of ION449 administered monthly achieved a statistically significant 62.3% reduction in low-density lipoprotein cholesterol (LDL-C) levels after 28 weeks compared to placebo, meeting the study's primary efficacy endpoint. The candidate was also generally safe and well tolerated in this study. However, these results did not achieve pre-specified efficacy criteria. Consequently, partner AstraZeneca has decided not to advance ION449 into phase III development for hypercholesterolemia. AstraZeneca will study the results from the SOLANO study to determine its next steps for the program.
Regulatory Update From Vertex: Vertex Pharmaceuticals Incorporated VRTX announced that it has concluded discussions with the FDA for the rolling review of ex-vivo gene-therapy exagamglogene autotemcel (exa-cel). Per the discussions, Vertex has obtained permission from the FDA to initiate a rolling BLA submission for exa-cel. The gene therapy has been developed in collaboration with CRISPR Therapeutics. The BLA will seek FDA's approval for exa-cel to treat sickle cell disease (SCD) and transfusion-dependent beta thalassemia (TDT). Vertex expects to start the rolling review in November and complete the submission by the first quarter of next year.
Vertex has already completed discussions on exa-cel for both SCD and TDT indications with European regulatory authorities. Based on these discussions, management intends to submit the regulatory filings in the European Union and the United Kingdom by this year's end.
Performance
The Nasdaq Biotechnology Index has gained 2.13% in the past five trading sessions. Among the biotech giants, Biogen has gained 38.76% during the period. Over the past six months, shares of Biogen have soared 30.67%. (See the last biotech stock roundup here: Biotech Stock Roundup: GILD, BMYs Regulatory News, BLUEs Therapy Approval & More)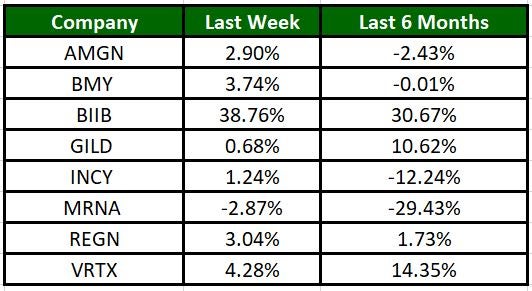 Image Source: Zacks Investment Research
What's Next in Biotech?
Stay tuned for other updates.




FREE Report: The Metaverse is Exploding! Don't You Want to Cash In?
Rising gas prices. The war in Ukraine. America's recession. Inflation. It's no wonder why the metaverse is so popular and growing every day. Becoming Spider Man and fighting Darth Vader is infinitely more appealing than spending over $5 per gallon at the pump. And that appeal is why the metaverse can provide such massive gains for investors. But do you know where to look? Do you know which metaverse stocks to buy and which to avoid? In a new FREE report from Zacks' leading stock specialist, we reveal how you could profit from the internet's next evolution. Even though the popularity of the metaverse is spreading like wildfire, investors like you can still get in on the ground floor and cash in. Don't miss your chance to get your piece of this innovative $30 trillion opportunity - FREE.
>>Yes, I want to know the top metaverse stocks for 2022>>
Want the latest recommendations from Zacks Investment Research? Today, you can download 7 Best Stocks for the Next 30 Days.
Click to get this free report
Regeneron Pharmaceuticals, Inc. (REGN): Free Stock Analysis Report
Sanofi (SNY): Free Stock Analysis Report
Biogen Inc. (BIIB): Free Stock Analysis Report
Vertex Pharmaceuticals Incorporated (VRTX): Free Stock Analysis Report
Ionis Pharmaceuticals, Inc. (IONS): Free Stock Analysis Report
To read this article on Zacks.com click here.
Zacks Investment Research