Here's Why You Should Add Caterpillar to Your Portfolio Now
Caterpillar Inc. CAT has delivered year-over-year improvement in the last nine quarters, driven by continued strength in many of its end markets and incessant focus on cost control that helped counter input cost inflation. Momentum in its markets and higher backlog bode well for future quarters as well. Furthermore, increasing commodity prices and continued expansion in the manufacturing sector are likely to aid this mining and construction equipment behemoth.
Ahead of the Industry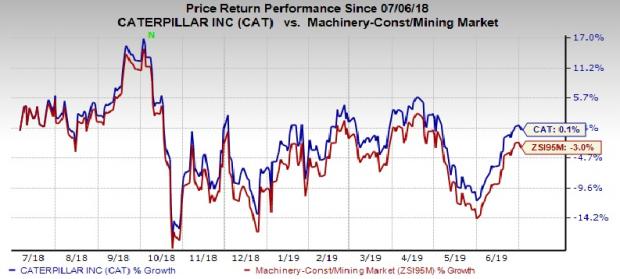 Caterpillar's shares have gained 0.1% in the past year against the industry's decline of 3.0%.
Upbeat Guidance
The first quarter 2019 performance marked Caterpillar's ninth consecutive quarter of both top and bottom-line growth. This can be attributed to continued strength in many of its end markets and incessant focus on cost control. Further at the quarter end, the company's backlog was at $16.9 billion, a sequential improvement of $300 million.
For 2019, Caterpillar expects earnings per share to range between $12.06 and $13.06. The mid-point of the guidance indicates growth of 12% over the adjusted earnings per share of $11.22 in fiscal 2018. Lower short-term incentive compensation expense, favorable price realization will offset higher costs and taxes. Focus on operational excellence, including cost discipline while investing in expanded offerings and services to drive long-term profitable growth will drive results.
Estimates Northbound, Positive Growth Projections
Estimates for Caterpillar have moved up in the past 90 days, reflecting the optimistic outlook of analysts. The earnings estimate for fiscal 2019 has advanced 0.4% over the said time period.
The Zacks Consensus Estimate for revenues is at $57.1 billion for fiscal 2019, indicating an improvement of 4.3% from the year-ago quarter. The Zacks Consensus Estimate for earnings for fiscal 2019 is pegged at $12.25, suggesting growth of 9.18% from year-ago reported figure.
Positive Earnings Surprise History
Caterpillar has outpaced the Zacks Consensus Estimate in the trailing four quarters, with a positive average earnings surprise of 0.45%.
Growth Drivers Intact
For the Construction Industries segment, continued improvement in residential and non-residential construction in North America, and infrastructure demand is likely to drive revenues. Global economic momentum and increasing commodity prices is restoring miners' profitability and these companies are resuming capital spending. This bodes well for the Resource Industries segment. Capital spend will increase for both equipment replacement cycles and expansions. Moreover, higher machine utilization levels should bolster aftermarket parts growth. Strong global demand for commodities is also anticipated to be a positive for heavy construction and quarry as well as aggregate customers. Sales for industrial applications will remain robust, primarily backed by improving global economic conditions and higher end-user demand across most applications. Sales to the Transportation sector will benefit primarily from recent acquisitions in rail services. The North American rail market is also showing signs of recovery.
Further, ongoing efforts to reduce costs will help boost margins. Meanwhile, Caterpillar continues to focus on customers and on the future by investing in digital capabilities, connecting assets and job sites along with developing the next generation of more productive and efficient products. This will boost results in the long run.
The stock has an estimated long-term earnings growth rate of 12%.
Attractive Rank and VGM Score Combination
Caterpillar has a Zacks Rank #2 (Buy) and a VGM Score of B. Here V stands for Value, G for Growth and M for Momentum and the score is a weighted combination of these three scores.
Such a score allows investors to eliminate the negative aspects of stocks and select winners. However, it is important to keep in mind that each Style Score will carry a different weight while arriving at a VGM Score. Our research shows that stocks with a VGM Score of A or B when combined with a Zacks Rank #1 (Strong Buy) or 2 offer the best upside potential.
Other Stocks to Consider
Apart from Caterpillar, investors interested in the industrial products sector may also consider other top-ranked stocks like Tetra Tech, Inc. TTEK, Brady Corporation BRC, and Hubbell Incorporated HUBB. All three stocks sport a Zacks Rank #2. You can see the complete list of today's Zacks #1 Rank stocks here.
Tetra Tech, Inc. has a projected earnings growth of 15.53% for the current fiscal.The stock has appreciated 57.6% so far this year.
Brady Corporation has an expected earnings growth rate of 17.7% for the current year. The stock has gained 12.6% year to date.
The Zacks Consensus Estimate for earnings for Hubbell Incorporated for fiscal 2019 reflects year-over-year growth of 11.25%.The stock has gained 31.5% year to date.
Breakout Biotech Stocks with Triple-Digit Profit Potential
The biotech sector is projected to surge beyond $775 billion by 2024 as scientists develop treatments for thousands of diseases. They're also finding ways to edit the human genome to literally erase our vulnerability to these diseases.
Zacks has just released Century of Biology: 7 Biotech Stocks to Buy Right Now to help investors profit from 7 stocks poised for outperformance. Our recent biotech recommendations have produced gains of +98%, +119% and +164% in as little as 1 month. The stocks in this report could perform even better.
See these 7 breakthrough stocks now>>
Want the latest recommendations from Zacks Investment Research? Today, you can download 7 Best Stocks for the Next 30 Days.
Click to get this free report
Caterpillar Inc. (CAT): Free Stock Analysis Report
Hubbell Inc (HUBB): Free Stock Analysis Report
Tetra Tech, Inc. (TTEK): Free Stock Analysis Report
Brady Corporation (BRC): Free Stock Analysis Report
To read this article on Zacks.com click here.
Zacks Investment Research