Energizer (ENR) Surpasses Earnings & Sales Estimates in Q4
Energizer Holdings Inc. ENR reported fourth-quarter fiscal 2018 results, wherein both top and bottom lines came ahead of the Zacks Consensus Estimate. However, revenues tumbled year over year, which along with soft gross margin seem to have weighed on investors' sentiments.
Evidently, shares of Energizer lost 8.1% yesterday, taking this Zacks Rank #4 (Sell) stock's past six months performance to a decline of 9.6%, against the industry's growth of 0.8%.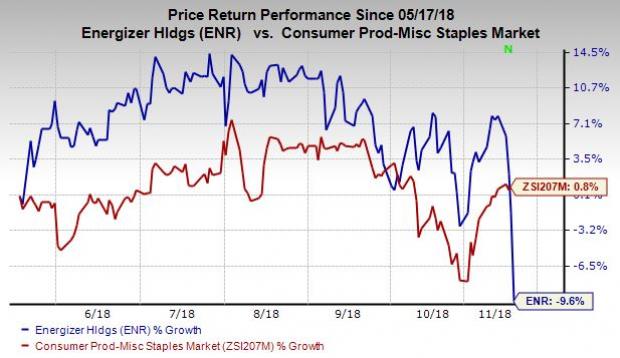 Q4 Highlights
Adjusted earnings per share (EPS) came in at 83 cents that beat the Zacks Consensus Estimate of 81 cents. Moreover, the figure surged 53.7% from the year-ago quarter driven by reduced promotional activity, SG&A costs and lower tax rate.
Revenues of $457.2 million surpassed the consensus mark of $455.8 million but decreased 1.7% on a year-over-year basis. Notably, this is the fifth straight quarter of a revenue beat. The year-over-year revenue decline was a result of reduced hurricane activity and unfavorable currency impact of 1.2%. Organic sales slipped 0.6%, owing to unfavorable impact from Argentina operations and foreign currency headwinds, partly offset by gains from Nu Finish acquisition.
Energizer Holdings, Inc. Price, Consensus and EPS Surprise
Quarterly Details
Batteries revenues (89.2% of total revenues) dipped 0.4% year over year to $407.8 million, while revenues from Other segment (11.8%) fell 10.8% to $49.4 million.
In Americas, the company recorded revenues of $297.1 million, down 0.8% from the year-ago quarter. Revenues from International were $160.1 million, down 3.3% from the year-ago quarter.
Margins
Gross margin contracted 50 basis points (bps) to 45.5% due to unfavourable foreign currency translations. Selling, general and administrative expenses, excluding acquisition and integration costs, amounted to $88.1 million, reflecting a decrease of $10.6 million from the year-ago quarter.
Other Financial Details
Energizer ended the quarter with cash and cash equivalents of $522.1 million, long-term debt of $976.1 million and shareholders' equity of $24.5 million.
Year-to-date cash flow from operations were $228.7 million. Free cash flow amounted to $210.6 million and adjusted free cash flow was $237.8 million.
Further, on a year-to-date basis, the company repurchased shares worth $20 million.
Guidance
Management continues to expect earnings per share in the band of $3.40-$3.50 for fiscal 2019. Net sales and Organic revenues are expected to rise low-single digits. Currency headwinds (excluding Argentina) are likely to hurt net sales by 1-1.5%. Nonetheless, net sales growth is expected to gain from Nu Finish's acquisition to the tune of about 30-40 bps.
However, gross margin excluding acquisition and integration costs is now expected to contract 30-70 bps, owing to unfavourable foreign currency translation. Capex is expected to be $30-$35 million. Adjusted free cash flow is anticipated to remain flat.
Business Developments
The company has announced to acquire Spectrum Brands' SPB auto care business in a deal worth $1.25 billion. The deal is anticipated to close by second-quarter fiscal 2019. The latter's auto care brands include Armor All, STP and A/C Pro.
Stocks to Consider
Lion Corp LIOPF has a long-term earnings growth rate of 10% and a Zacks Rank #2 (Buy). You can see the complete list of today's Zacks #1 Rank (Strong Buy) stocks here.
Ollie's Bargain Outlet Holdings, Inc. OLLI has long-term earnings growth rate of 25% and a Zacks Rank #2.
Today's Stocks from Zacks' Hottest Strategies
It's hard to believe, even for us at Zacks. But while the market gained +21.9% in 2017, our top stock-picking screens have returned +115.0%, +109.3%, +104.9%, +98.6% and +67.1%.
And this outperformance has not just been a recent phenomenon. Over the years it has been remarkably consistent. From 2000 - 2017, the composite yearly average gain for these strategies has beaten the market more than 19X over. Maybe even more remarkable is the fact that we're willing to share their latest stocks with you without cost or obligation.
Want the latest recommendations from Zacks Investment Research? Today, you can download 7 Best Stocks for the Next 30 Days.
Click to get this free report
Ollie's Bargain Outlet Holdings, Inc. (OLLI): Free Stock Analysis Report
Energizer Holdings, Inc. (ENR): Free Stock Analysis Report
Spectrum Brands Holdings Inc. (SPB): Free Stock Analysis Report
LION CORP (LIOPF): Free Stock Analysis Report
To read this article on Zacks.com click here.
Zacks Investment Research