Petrobras (PBR) Announces Q3 Production & Sales Volumes
Petroleo Brasileiro SA PBR, or Petrobras, released preliminary production figures for the third quarter of 2021.
The company announced mixed production figures as it commenced production at some of its major oilfields, while eliminating some older productive resources as part of its extensive divestment strategy.
Petrobras produced 2.83 million barrels of oil equivalent per day (MMboed). The volume produced increased 1.2% sequentially due to the start-up of a production platform through the FPSO Carioca in the company's deepwater Sepia field in the pre-salt area. The commissioning of the Carioca was among the highlights of the quarter.
Higher average production volumes from the Atapu pre-salt field also contributed to the increased production levels. Production volumes in the pre-salt area amounted to 2.01 MMboed, which constitutes 71% of the company's total production compared with 67% in the prior-year quarter.
However, the volume produced declined 4.1% from the prior-year quarter. Crude production totaled 2.269 million barrels per day (bpd), which increased 1.9% in quarterly terms and declined 4% from that reported in third-quarter 2020. The company also started commercial gas production at its P-69 platform in the Tupi field.
Petrobras has been divesting onshore and shallow-water production assets, aiming to focus on increasing production from its oil-rich fields in ultra-deep waters offshore Rio de Janeiro and São Paulo state. However, the company's production volumes were affected by oilfield divestments in recent years by taking production assets outside of the system.
In third-quarter 2021, the sale of oil products in the domestic market increased again, with a sales volume of 1,946 thousand bpd. The highlights were the increase in sales of diesel, gasoline and jet fuel. The company sold 441 million bpd of gasoline domestically, marking increases of 14.3% sequentially and 17.9% year over year. Domestic diesel sales were 867 bpd, up 6.4% sequentially and 15.7% year over year.
Speaking of domestic sales, multiple refined products showed solid growth, both sequentially and annually, indicating that the consumption continues to grow. Petrobras continues to increase the share of pre-salt oil processed in its refineries in accordance with the production profile, and opportunities in the national and international markets.
Company Profile & Price Performance
Petrobras is the largest integrated energy firm in Brazil and one of the biggest firms in Latin America. Its activities include the exploration, exploitation, and production of oil from reservoir wells, shale and other rocks. It comprises refining, processing, trading and transportation of oil and oil products, natural gas, and other fluid hydrocarbons beside other energy-related operations.
Shares of the company have outperformed the industry in the past six months. The stock has gained 25.9% against the industry's 5% decline.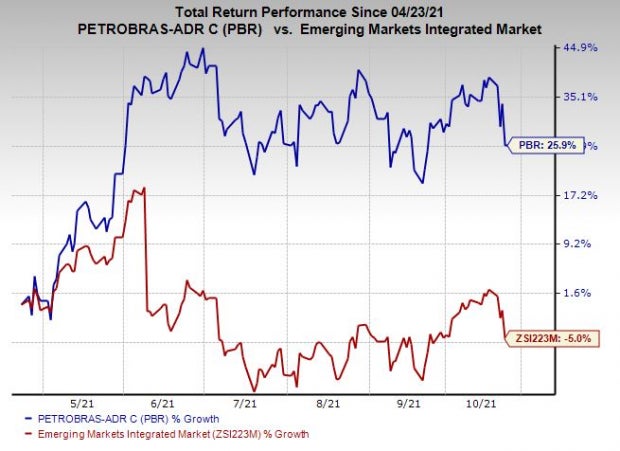 Image Source: Zacks Investment Research
Zacks Rank & Other Stocks to Consider
The company currently flaunts a Zack Rank #1 (Strong Buy).
Some other top-ranked players in the energy space are Berry Corporation BRY, Callon Petroleum Company CPE and Devon Energy Corporation DVN, each currently sporting a Zacks Rank #1. You can see the complete list of today's Zacks #1 Rank stocks here.
Berry's 2021 earnings are expected to surge 327.6% year over year.
Callon's 2021 earnings are expected to increase 53.3% year over year.
Devon's 2021 earnings are expected to rise 51.1% year over year.
Zacks Names "Single Best Pick to Double"
From thousands of stocks, 5 Zacks experts each have chosen their favorite to skyrocket +100% or more in months to come. From those 5, Director of Research Sheraz Mian hand-picks one to have the most explosive upside of all.
You know this company from its past glory days, but few would expect that it's poised for a monster turnaround. Fresh from a successful repositioning and flush with A-list celeb endorsements, it could rival or surpass other recent Zacks' Stocks Set to Double like Boston Beer Company which shot up +143.0% in a little more than 9 months and Nvidia which boomed +175.9% in one year.
Free: See Our Top Stock and 4 Runners Up >>
Want the latest recommendations from Zacks Investment Research? Today, you can download 7 Best Stocks for the Next 30 Days.
Click to get this free report
Devon Energy Corporation (DVN): Free Stock Analysis Report
Petroleo Brasileiro S.A. Petrobras (PBR): Free Stock Analysis Report
Berry Corporation (BRY): Free Stock Analysis Report
Callon Petroleum Company (CPE): Free Stock Analysis Report
To read this article on Zacks.com click here.
Zacks Investment Research