What's in the Cards for Tanger (SKT) This Earnings Season?
Tanger Factory Outlet Centers, Inc. SKT is slated to report fourth-quarter and full-year 2018 results on Feb 13, after the market closes. The company's performance is likely to reflect a year-over-year decline in revenues and funds from operations (FFO) per share.

In the last reported quarter, this Greensboro, NC-based retail real estate investment trust (REIT) delivered a positive surprise in terms of funds from operations (FFO) per share. Results reflected an uptick in revenues.

Over the trailing four quarters, Tanger Outlet has surpassed estimates in each occasion, recording average beat of 3.73%. The graph below depicts this surprise history:
Tanger Factory Outlet Centers, Inc. Price and EPS Surprise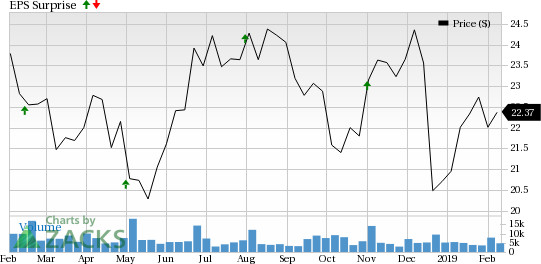 Tanger Factory Outlet Centers, Inc. Price and EPS Surprise | Tanger Factory Outlet Centers, Inc. Quote
For full-year 2018, the company projects FFO per share of $2.42-$2.46. The Zacks Consensus Estimate for the same is currently pegged at $2.45.

Let's see how things are shaping up for this announcement.

Factors at Play

Tanger Outlet has a solid portfolio of upscale outlet shopping centers. The properties are spread over 22 states, coast to coast, and in Canada. Further, the company has more than 37 years of experience in the outlet industry and its properties are leased to more than 3,100 stores which are operated by more than 530 different brand name companies.

Amid choppy environment in the retail real estate market, Tanger Outlet has been making strategic efforts to boost its mall traffic and filling vacancies with new high-quality in-demand tenants. The company focuses on merchandising its centers, and targets popular and productive tenants. It takes strategic marketing measures to drive traffic and boost loyalty for Tanger brand. The company is also focusing on helping online brands which are looking for addition of retail store component to their growth strategy. Such efforts help the company maintain a solid occupancy and the trend is likely to continue in the to-be-reported quarter as well.

Nevertheless, despite the company resorting to different strategies, mall traffic continues to decline, owing to a change in shopping patterns, with online purchases taking precedence over in-store purchases. This has forced retailers to reconsider their strategy and shift investments from traditional retailing to online channels, and optimize their brick-and-mortar presence.

These optimization efforts and the consequent decision to close stores by a number of retailers have raised concerns over cash flows of mall landlords. Additionally, retailers unable to cope with competition have been filing bankruptcies. This is affecting the demand for retail real estate space and has emerged as a pressing concern for retail REITs like Tanger Outlet.

Also, the recent data from Reis shows that the neighborhood and community shopping center vacancy rate remained flat in the fourth quarter at 10.2%. However, it inched up from 10% at year-end 2017. Mall vacancy rate edged down to 9% in the quarter from the third quarter's 9.1%. At year-end 2017, the mall vacancy was 8.3%.

Amid these, the Zacks Consensus Estimate for fourth-quarter revenues is pegged at $121.4 million — indicating a year-over-year fall of almost 4%. Adjustments to rents and term are likely to have continued in the quarter as the company aggressively seeks to increase occupancy with productive tenants. Rental growth is likely to remain muted and same-center NOI might be impacted in the quarter under review amid store closures and lease modifications.

In fact, for 2018, the company projects same-center NOI for the consolidated portfolio between (2.0)% and (1.5)%, reflecting projected 2018 store closings aggregating 125,000-150,000 square feet for the consolidated portfolio.

Furthermore, Tanger Outlet's activities during the quarter were inadequate to win analysts' confidence. Consequently, the Zacks Consensus Estimate for fourth-quarter FFO per share remained unchanged at 62 cents over the last 60 days. The figure also indicates nearly a 6.06% decline, year over year.

Here is what our quantitative model predicts:

Tanger Outlet does not have the right combination of two key ingredients — a positive Earnings ESP and Zacks Rank #3 (Hold) or higher — for increasing the odds of an earnings beat.

You can uncover the best stocks to buy or sell before they're reported with our Earnings ESP Filter.

Earnings ESP: The Earnings ESP for Tanger Outlet is 0.00%.

Zacks Rank: Tanger Outlet carries a Zacks Rank #4 (Sell), currently.

This combination of Zacks Rank and Earnings ESP makes us apprehensive about any positive surprise in the quarter.

Stocks That Warrant a Look

Here are a few stocks in the REIT sector that you may want to consider, as our model shows that these have the right combination of elements to report a positive surprise this quarter:

Hersha Hospitality Trust HT, scheduled to release earnings on Feb 25, has an Earnings ESP of +3.81% and a Zacks Rank #2 (Buy). You can see the complete list of today's Zacks #1 Rank (Strong Buy) stocks here.

Sabra Health Care REIT, Inc. SBRA, slated to release fourth-quarter results on Feb 24, has an Earnings ESP of +5.49% and a Zacks Rank of 3.

Federal Realty Investment Trust FRT, set to report quarterly numbers on Feb 13, has an Earnings ESP of +1.53% and carries a Zacks Rank #3.

Note: Anything related to earnings presented in this write-up represents funds from operations (FFO) — a widely used metric to gauge the performance of REITs.

Is Your Investment Advisor Fumbling Your Financial Future?

See how you can more effectively safeguard your retirement with a new Special Report, "4 Warning Signs Your Investment Advisor Might Be Sabotaging Your Financial Future."

Click to get it free >>
Want the latest recommendations from Zacks Investment Research? Today, you can download 7 Best Stocks for the Next 30 Days.
Click to get this free report
Sabra Healthcare REIT, Inc. (SBRA): Free Stock Analysis Report
Federal Realty Investment Trust (FRT): Get Free Report
Tanger Factory Outlet Centers, Inc. (SKT): Free Stock Analysis Report
Hersha Hospitality Trust (HT): Get Free Report
To read this article on Zacks.com click here.
Zacks Investment Research