Group 1 Automotive (GPI) Ups Dividend: Is it Worth Betting On?
Group 1 Automotive GPI recently announced a hike in its second-quarter 2021 dividend. The company announced a quarterly cash dividend of 34 cents per share, representing a 3% increase from the payout made in the first quarter. This amount will be paid out on Sep 15 to shareholders on record as of Sep 1, 2021.

Considering the last day's closing price of $165.1, Group 1's dividend yield currently stands at 0.8%. This yield is not only attractive for income investors but also represents a steady income stream.

Group 1's robust business model highlights its commitment toward enhancing shareholders' value with its strong cash-generation capabilities. It must be noted that the auto retailer has been increasing dividend every quarter after it resumed declaring dividend last November on the back of gradual recovery of the business from the repercussions of the pandemic. Prior to the latest revision, management had raised the quarterly dividend to 33 cents per share in May 2021, marking a 6.5% hike.

While Group 1 stock looks promising based on regular rise in dividend, one must take a look at its fundamentals and financial performance before taking any investment decision.

Earnings: Group 1 has an impressive earnings surprise history. Its earnings have surpassed the Zacks Consensus Estimate in three of the trailing four quarters and missed in one, with an average beat of 8.03%.

In fact, for 2021, the company's earnings are projected to jump 70.8% year over year.

Also, the company has been witnessing upward earnings estimate revisions, of late, indicating that analysts are optimistic regarding its earnings growth potential. The Zacks Consensus Estimate for 2021 earnings has moved 23.5% over the past 30 days.

Valuation: Since automotive companies are debt laden, it makes sense to value these based on the EV/EBITDA (Enterprise Value/ Earnings before Interest Tax Depreciation and Amortization) ratio. This is because the valuation metric takes into account not just equity, but also the level of debt. Group 1 has EV/EBITDA ratio for the trailing 12-month period of 4.99, below the industry average of 7.09. Also, it has a price/earnings (forward 12-months) ratio of 6.39, below the industry average of 8.32. Thus, Group 1 currently seems undervalued when compared with the industry.

Return on Equity (ROE): The company's ROE of 33.86% compares favorably with the industry's 27.71%, highlighting its commendable position over peers.

Hence, based on the above-mentioned factors, the stock seems a solid bet. However, the company's high leverage, as represented by a total debt-to-capital ratio of 0.44 against its industry's 0.35, reduces its financial flexibility to tap growth opportunities. Apart from this, risks associated with pricing, volume, inventory supply due to increased customer demand and reduced manufacturing production levels on component shortages, and adverse developments in the global economy resulting from the resurgence of COVID-19 cases can negatively impact demand for new and used vehicles for Group 1, thereby affecting the company's performance in upcoming quarters. Thus, one must consider these downsides before taking any decision.

Recently, Lear Corporation LEA also hiked its dividend payout to 50 cents per share, doubling the previous payout of 25 cents per share.

At present, Group1, peers of which include Lithia Motors LAD and Penske Automotive PAG, flaunts a Zacks Rank #1 (Strong Buy). You can see the complete list of today's Zacks #1 Rank stocks here.

Over the past year, shares of the company have gained 73.1%, slightly underperforming 73.6% growth of the industry.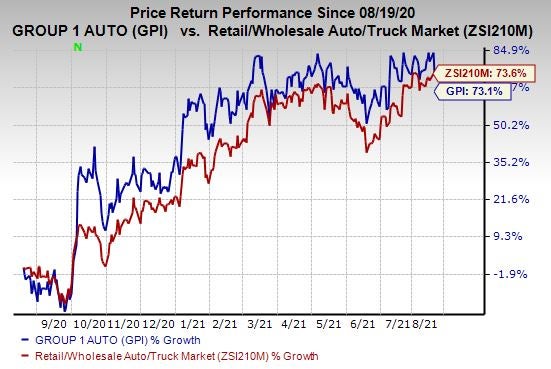 Image Source: Zacks Investment Research
Zacks' Top Picks to Cash in on Artificial Intelligence
This world-changing technology is projected to generate $100S of billions by 2025. From self-driving cars to consumer data analysis, people are relying on machines more than we ever have before. Now is the time to capitalize on the 4th Industrial Revolution. Zacks' urgent special report reveals 6 AI picks investors need to know about today.
See 6 Artificial Intelligence Stocks With Extreme Upside Potential>>
Want the latest recommendations from Zacks Investment Research? Today, you can download 7 Best Stocks for the Next 30 Days.
Click to get this free report
Penske Automotive Group, Inc. (PAG): Free Stock Analysis Report
Lear Corporation (LEA): Free Stock Analysis Report
Group 1 Automotive, Inc. (GPI): Free Stock Analysis Report
Lithia Motors, Inc. (LAD): Free Stock Analysis Report
To read this article on Zacks.com click here.