Microsoft (MSFT), UnitedHealth Partner on Return-to-Work App
Microsoft MSFT recently announced collaboration with UnitedHealth Group UNH with an aim to introduce ProtectWell Protocol and App. The ProtectWell framework, integrated with COVID-19 symptom screening capabilities, will aid employers in bringing employees back to workplace in a secure setting.

The latest ProtectWell app is driven by Microsoft Azure, AI and analytics solutions, and UnitedHealth Group's clinical and data analytics expertise. The app also leverages Microsoft's Healthcare Bot service. Markedly, the healthcare bot is finding immense application for AI-assisted triaging of COVID-19 symptoms globally.

Increasing adoption of Azure to support healthcare workloads provides the cloud platform with immense exposure in the domain, which is a positive. Robust adoption of the company's offerings is instilling investor confidence in the stock.
Notably, shares of the company have returned 16.1% year to date, outperforming the industry's rally of 8.8%.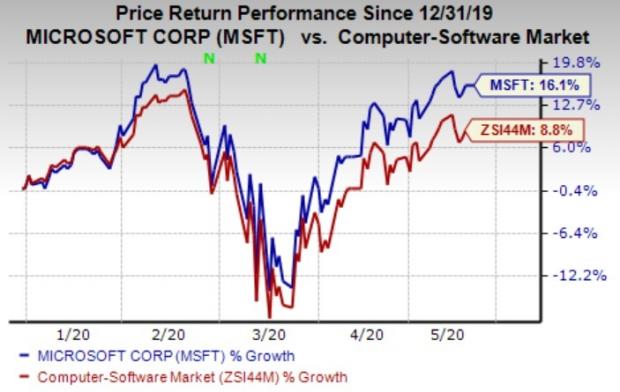 App to Aid Employers Confidently Run Business

While employers can use ProtectWell screening app to screen employees for symptoms, ProtectWell Protocol clears the employees for work from office on a daily basis. The ProtectWell app is powered by AI-driven health care bot integrated with a questionnaire to screen employees for COVID-19 related symptoms or exposure.

The smartphone app is incorporated with a screening tool and guidelines from Centers for Disease Control and Prevention (CDC) and the newest clinical research to contain the spread of COVID-19. Thereby, with ProtectWell framework, employers can feel confident regarding the safety of the workplace.

Markedly, ProtectWell will be offered free of charge to all employers in the United States. UnitedHealth Group has already deployed ProtectWell among its own frontline health care workers and intends to utilize it across its businesses, while Microsoft plans to implement ProtectWell for its U.S.-based employees.

Immense Prospects as Economies Reopen

Coronavirus crisis led to lockdowns worldwide, which triggered the work-from-home wave. Nevertheless, as economies start to re-open, precautionary measures are required to verify that workspace is safe for employees.

Per a new survey led by OnePoll on behalf of Citrix SystemsCTXS, 64% of 2,000 US office workers polled are anxious to return to their workspace in spite of the easing out of shelter-in-place orders and rise in safety measures. The employees "want to be sure that they are not putting themselves or their families at risk and employers must factor this into their plans."

In this regard, the demand for a monitoring tool with effective database management of employee healthcare to test for COVID-19 symptoms is likely to increase among employers to ensure a safer workspace. Notably, ProtectWell helps employers in making certain that employees at risk stay at home until they get clearance from medical practitioners.

Moreover, UnitedHealth Group will manage the critical health care data, ensuring privacy and security of the same. Further, it should be noted that "Microsoft will not have access to identifiable information shared via the ProtectWell app." This is a testament to the security and privacy of employee data, and compliance with occupational health and safety rules.

Markedly, tech companies are exploring the usage of innovative technologies including AI, Big Data and Data Science for the management of COVID-19 crisis.

For instance, Pegasystems PEGA has rolled out COVID-19 Employee Safety and Business Continuity Tracker app, to help its customers track the spread of coronavirus among employees. The free app, which offers clients with a live dashboard that shows the extent of COVID-19 exposure in their employees and the operational impact it may have on the business, can be availed on the Pega platform.

Wrapping Up

Microsoft's partnership with UnitedHealth Group is expected to aid the broader medical fraternity and policymakers to advance data-driven initiatives to contain the COVID-19 spread based on workforce health trends.

The tech giant's latest initiative is a testament to the company's growing focus on expanding presence in the multi-trillion healthcare sector with innovative solutions. Moreover, Microsoft's ongoing healthcare initiatives in partnership with Adaptive Biotechnologies, Nuance, Providence to tackle the spread of COVID-19 remain noteworthy.

Microsoft currently carries a Zacks Rank #3 (Hold). You can see the complete list of today's Zacks #1 Rank (Strong Buy) stocks here.

Today's Best Stocks from Zacks

Would you like to see the updated picks from our best market-beating strategies? From 2017 through 2019, while the S&P 500 gained and impressive +53.6%, five of our strategies returned +65.8%, +97.1%, +118.0%, +175.7% and even +186.7%.

This outperformance has not just been a recent phenomenon. From 2000 – 2019, while the S&P averaged +6.0% per year, our top strategies averaged up to +54.7% per year.

See their latest picks free >>
Want the latest recommendations from Zacks Investment Research? Today, you can download 7 Best Stocks for the Next 30 Days.
Click to get this free report
Microsoft Corporation (MSFT): Free Stock Analysis Report
UnitedHealth Group Incorporated (UNH): Free Stock Analysis Report
Citrix Systems, Inc. (CTXS): Free Stock Analysis Report
Pegasystems Inc. (PEGA): Free Stock Analysis Report
To read this article on Zacks.com click here.
Zacks Investment Research