Caterpillar's August Retail Sales Down 20% on Weak Demand
Caterpillar Inc.'s CAT global retail sales declined 20% in the three-month period ended August 2020, flat compared with July. The company had last reported a decline of this magnitude in February 2016. Notably, August marks the ninth consecutive month of global retail sales decline for the mining and construction equipment behemoth. The current downside can be attributed to overall weak demand primarily due to the COVID-19 pandemic.
Factors Leading to Overall Decline in August
North America fared the worst during August, reporting a slump of 35%, followed by Latin America, EAME and Asia Pacific, which witnessed declines of 16%, 4% and 1%, respectively.

The Resource Industries segment's sales declined 27% in August — 10th straight month of negative growth, and the worst performance so far in 2020. Sales in EAME went up 10%, which were offset by declines elsewhere. Sales in North America, Latin America and Asia Pacific were down 50%, 45% and 17%, respectively.

Sales in the Construction Industries segment were down 17%, a meager improvement from a decline of 20% in July. The segment's sales have been declining for nine straight months. Sales in North America and EAME were down 31% and 9%, respectively. Asia Pacific and Latin America reported growth of 6% and 5% in sales, respectively. While Latin America's sales returned to growth in August, the Asia Pacific segment has been witnessing a positive trend for the past four months.

Sales in the Energy & Transportation segment declined 16%. The segment has been contracting for 11 consecutive months. Sales to Industrial, Oil & Gas and Transportation sectors plunged 42%, 30% and 20%, respectively. Sales to the Power Generation sector's increased 14%.
Weak Demand Weighing on Caterpillar
The company reported a plunge of 46% in first-quarter 2020 earnings followed by a slump of 64% in the second quarter. Lower demand across all segments and geographies, primarily due to the impact of the COVID-19 pandemic, continues to reflect on the company's results. The company refrained from providing any guidance with the second-quarter results but stated that its financial results for the remainder of 2020 will bear the impact of the pandemic induced persistent global economic uncertainty.

In the early part of the year, Caterpillar had to suspend operations temporarily at certain facilities on account of supply chain issues, weak demand or as per government mandates to stem the spread of the coronavirus. Though currently all of the company's primary production facilities are operational, it may have to suspend operations temporarily again if necessary.
A Ray of Hope
Per the Institute for Supply Management, the U.S Manufacturing Purchasing Managers' Index (PMI), was 56% in August — the highest so far in 2020. Further, the index has been above 50 for three straight months, which denotes expansion. This is a major recovery from the PMI reading of 41.5% in April 2020 primarily due to the COVID-19 crisis. This was the PMI's lowest reading since April 2009 when it registered 39.9%.
Also, industrial production rose 0.4% in August — the fourth consecutive monthly increase. Manufacturing output continued to improve in August, gaining 1%. These figures indicate that the sector seems to be coming out of the woods, on gradual resumption of the global economic activities and reopening of businesses. Moreover, with gold and iron prices rallying, and copper also picking up lately, mining companies are likely to resume spending. A pick up in manufacturing and mining sectors will drive a recovery in Caterpillar's sales growth.

Also, in the wake of weak demand, Caterpillar has taken initiatives to reduce costs including reducing discretionary expenses, suspending 2020 base salary increases and short-term incentive compensation plans for many employees and all senior executives. Effective Jul 1, the company reinstated 2020 base salary increases for employees except for the most senior executives. These efforts will help sustain margins. The company also remains focused on making continued investment in services and expanded offerings, which are crucial to its strategy for profitable growth.
Price Performance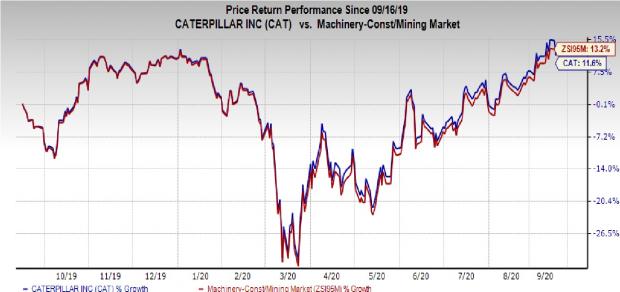 Shares of Caterpillar have gained 11.6% in the past year, compared with the industry's growth of 13.2%.
Zacks Rank & Stocks to Consider
Caterpillar currently carries a Zacks Rank #3 (Hold).

Some better-ranked stocks in the Industrial Products sector include Astec Industries, Inc. ASTE, Silgan Holdings, Inc. SLGN and SiteOne Landscape Supply, Inc. SITE. While Astec sports a Zacks Rank #1 (Strong Buy), Silgan and SiteOne carry a Zacks Rank of 2 (Buy), currently. You can see the complete list of today's Zacks #1 Rank stocks here.

Astec has an estimated earnings growth rate of 13.5% for the ongoing year. The company's shares have rallied 60% in a year's time.

Silgan has a projected earnings growth rate of 28.7% for 2020. The company's shares have appreciated 24.6% over the past year.

SiteOne Landscape has an expected earnings growth rate of 15.4% for the current year. The stock has surged 51.6% in the past year.
More Stock News: This Is Bigger than the iPhone!
It could become the mother of all technological revolutions. Apple sold a mere 1 billion iPhones in 10 years but a new breakthrough is expected to generate more than 27 billion devices in just 3 years, creating a $1.7 trillion market.

Zacks has just released a Special Report that spotlights this fast-emerging phenomenon and 6 tickers for taking advantage of it. If you don't buy now, you may kick yourself in 2021.
Click here for the 6 trades >>
Want the latest recommendations from Zacks Investment Research? Today, you can download 7 Best Stocks for the Next 30 Days.
Click to get this free report
Astec Industries, Inc. (ASTE): Free Stock Analysis Report
Silgan Holdings Inc. (SLGN): Free Stock Analysis Report
Caterpillar Inc. (CAT): Free Stock Analysis Report
SiteOne Landscape Supply, Inc. (SITE): Free Stock Analysis Report
To read this article on Zacks.com click here.