Walmart (WMT) Opens New Fulfillment Center Before Holiday Season
Walmart Inc. WMT is on track to transform and modernize its supply chain to add cutting-edge automation technology to its facilities. The retail behemoth announced the opening of a 1.1 million-square-foot Next Generation fulfillment center (FC) in Joliet, IL.

The Joliet FC, the first of four next-gen FCs, will start operations ahead of the holiday season to support next or two-day shipping to customers in Illinois, Indiana and Wisconsin. Walmart FCs store millions of products sold on Walmart.com, which are picked, packed and shipped directly to customers. Also, the new state-of-the-art FCs will fulfill Marketplace products shipped by Walmart Fulfillment Services (WFS) and the company's end-to-end fulfillment service for third-party e-commerce sellers.

Earlier this year, Walmart announced four next-gen FCs featuring a new patent-pending process fueled by people, robotics and machine learning combined. The system will streamline a manual 12-step process into five steps, namely unload, receive, pick, pack and ship.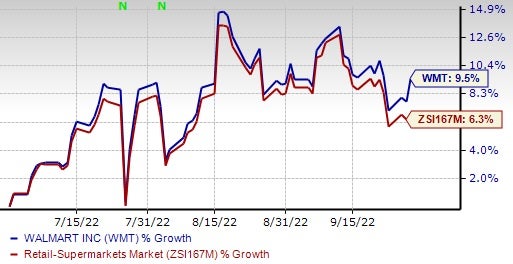 Image Source: Zacks Investment Research
Walmart's Holiday Season Initiatives on Track
Last week, Walmart revealed plans to employ about 40,000 seasonal and full-time workers ahead of the shopping season. The company will also offer additional hours to its existing workers. Walmart is making solid price investments across key categories to offer great value to its customers. It is also offering more rollbacks to boost savings on gifts like toys, electronics, beauty and home, to name a few.

The omnichannel retailer has enriched its holiday gift assortment with increased options this season and has included new brands and additional Walmart exclusives. The company has invested in the core gifting categories and strengthened its inventory for popular electronics like TVs, tablets, watches, wireless headphones, wireless phones, along with home goods like furniture, decor, appliances and robotic vacuums.

Walmart is also making efforts to ease the returns process, as part of which it announced that Walmart+ members could avail of new return options, including Holiday Guarantee, Curbside Returns and Return Pickup from Home, starting October. The company is focused on making customers' omnichannel shopping more convenient through a better site experience, personalized shopping (through virtual try-on and "View In Your Home," options), fast and easy pickup and delivery services, refreshed holiday wish lists, and a registry suite.

We believe that the newly opened state-of-the-art FC will aid Walmart in providing a more seamless customer experience during the upcoming holiday season. The Zacks Rank #3 (Hold) company's stock has gained 9.5% in the past three months compared with the industry's 6.3% growth.
Solid Retail Bets
We have highlighted three better-ranked stocks, Ulta Beauty ULTA, Kroger KR and DICK'S Sporting Goods, Inc. DKS.

Ulta Beauty, which operates as a retailer of beauty products, sports a Zacks Rank #1 (Strong Buy). Ulta Beauty has a trailing four-quarter earnings surprise of 32.8%, on average. ULTA has an expected EPS growth rate of 11.9% for three to five years. You can see the complete list of today's Zacks #1 Rank stocks here.

The Zacks Consensus Estimate for Ulta Beauty's current financial year sales suggests growth of 13.7% from the year-ago reported number.

Kroger, a renowned grocery retailer, currently carries a Zacks Rank #2 (Buy). KR has an expected EPS growth rate of 11.7% for three to five years.

The Zacks Consensus Estimate for Kroger's current financial year revenues and earnings per share (EPS) suggests growth of 7.8% and 9.8%, respectively, from the year-ago reported figure. KR has a trailing four-quarter earnings surprise of 15.7%, on average.

DICK'S Sporting, which operates as a sporting goods retailer, carries a Zacks Rank #2. The company has a trailing four-quarter earnings surprise of nearly 21.4%, on average.

The Zacks Consensus Estimate for DICK'S Sporting's current financial year earnings per share has risen from $11.33 to $11.42 in the past 30 days. DKS has an expected EPS growth rate of 5% for three to five years.
FREE Report: The Metaverse is Exploding! Don't You Want to Cash In?
Rising gas prices. The war in Ukraine. America's recession. Inflation. It's no wonder why the metaverse is so popular and growing every day. Becoming Spider Man and fighting Darth Vader is infinitely more appealing than spending over $5 per gallon at the pump. And that appeal is why the metaverse can provide such massive gains for investors. But do you know where to look? Do you know which metaverse stocks to buy and which to avoid? In a new FREE report from Zacks' leading stock specialist, we reveal how you could profit from the internet's next evolution. Even though the popularity of the metaverse is spreading like wildfire, investors like you can still get in on the ground floor and cash in. Don't miss your chance to get your piece of this innovative $30 trillion opportunity - FREE.
>>Yes, I want to know the top metaverse stocks for 2022>>
Want the latest recommendations from Zacks Investment Research? Today, you can download 7 Best Stocks for the Next 30 Days.
Click to get this free report
Walmart Inc. (WMT): Free Stock Analysis Report
The Kroger Co. (KR): Free Stock Analysis Report
DICK'S Sporting Goods, Inc. (DKS): Free Stock Analysis Report
Ulta Beauty Inc. (ULTA): Free Stock Analysis Report
To read this article on Zacks.com click here.
Zacks Investment Research