Grab 3 Transportation Stocks for 2H22: What's the Road Ahead?
The widely-diversified Zacks Transportation sector shed 18.2% of its value in first-half 2022.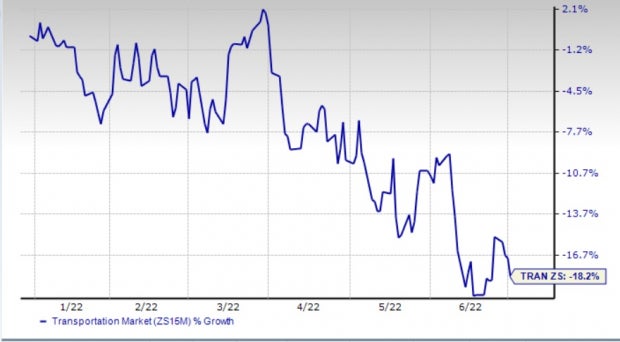 Image Source: Zacks Investment Research
The increase in oil price (up a massive 48% in first-half 2022), which is a major input cost for any transportation player, dented the bottom lines of transportation players. The major catalyst behind oil price moving north is the prolonged Russia-Ukraine war.
We note that in March, oil price per barrel surged to multi-year highs of $130 due to concerns about supplies from Russia, which is one of the world's largest producers of the commodity. The Biden administration's ban on the import of Russian crude and energy products caused a rapid escalation in oil price.
Supply-chain concerns also hit transportation players in the January-June period. The pandemic disrupted operations, resulting in supply-chain bottlenecks. These supply-chain and capacity challenges flared up transportation and labor costs because of the urgency to deliver finished goods to customers on time. While the headwinds are unlikely to disappear in the second half of the year, there are enough positives surrounding the sector. Riding on the positives, we believe that stocks like C.H. Robinson Worldwide CHRW, Ryder System R and Eagle Bulk Shipping EGLE should be added to the portfolios of investors interested in the Zacks Transportation sector.
Can Transports Experience a Better 2H?
After exhibiting a significant downtrend in the first half of the year due to the above-mentioned headwinds, speculations are rife whether stocks in this sector can now turn things around in the second half.
The sector has enough positives for us to be optimistic about despite a brutal first half. Let's delve into the details.
The gradual resumption of economic activities and an uptick in the world trade proved to be a boon for the shipping industry stocks. This is because the domain is responsible for transporting bulk of the goods involved in global trade. Soaring demand for goods and commodities is supporting growth for the industry participants. With demand for goods and commodities likely to remain strong and capacity being limited, rates should remain high in the latter half of the year.
Moreover, owing to the gradual recovery in economic activities, freight demand remains strong despite minor hiccups. The overall improving trend is evident from the fact that Cass Freight shipments Index has improved month over month in three (February, March and May) of the five months reported so far this year. This bodes well for most corners of the sector, including railroads and transport service providers.
Airlines are also being well-served by the faster-than-anticipated rebound in air-travel demand (mainly for leisure). In the United States, the situation is likely to get rosier, with air-travel demand expected to accelerate in the summer season. In fact, the warmer spell of this year is predicted to be the busiest travel season since the start of the pandemic. Airlines are likely to benefit hugely from this pent-up demand, which in turn, should boost passenger revenues. Moreover, alike the first half of the year, the focus on the cargo segment should continue to serve airlines well in the latter half of the year too.
Owing to the improved demand scenario, the financial positions generally improved. As a result, many transportation players like Union Pacific Corporation UNP — a major railroad operator — resorted to shareholder-friendly measures like dividend hikes in the first half of the year. In May, UNP's board cleared a 10% hike in its dividend payout. The move underscores its sound financial health as it utilizes free cash flow for enhancing its shareholders' returns.
Union Pacific raised its quarterly cash dividend to $1.30 per share ($5.20 annually) from $1.18. The new dividend was paid out on Jun 30, 2022, to its shareholders of record as of May 31, 2022. UNP expects dividend payout of approximately 45% (of earnings) in 2022. It is also active on the buyback front.
With the demand scenario likely to remain strong, thus bolstering the top line, such shareholder-friendly measures are likely to continue in the sector in the latter half of the year as well.
Against this backdrop, we believe that transportation players should grace one's portfolio. Our selected stocks carry either a Zacks Rank #1 (Strong Buy) or 2 (Buy). You can see the complete list of today's Zacks #1 Rank stocks here. Also, each of the stocks witnessed a favorable current-year earnings estimate revision.
Our Choices
Eagle Bulk Shipping: Improved market sentiments surrounding the Drybulk market are aiding the stock. EGLE owns one of the largest fleets of Supramax/Ultramax ships, globally. Efforts to upgrade its fleet also bode well.
Eagle Bulk currently sports a Zacks Rank of 1. EGLE's shares have increased 4.1% in a year's time. Over the past 60 days, the Zacks Consensus Estimate for 2022 earnings has moved 8.7% north.
C.H. Robinson Worldwide, currently carrying a Zacks Rank #2, operates as an asset-light logistics player. The improving freight scenario in the United States is aiding this Minnesota-based freight broker. Efforts to control costs also bode well. Measures to reward CHRW's shareholders instill further confidence in the stock.
C.H. Robinson has an impressive earnings track record. The bottom line surpassed the Zacks Consensus Estimate in three of the trailing four quarters (missing the mark in the remaining one), the average surprise being 17.1%. CHRW has witnessed the Zacks Consensus Estimate for 2022 earnings being revised 0.7% upward over the past 60 days.
Ryder: Miami, FL-based Ryder provides integrated logistics and transportation solutions. Strong freight market conditions in the United States, upbeat rental demand and favorable pricing are key catalysts for R's growth.
Shares of Ryder, which currently has a Zacks Rank of 2, have gained 11.6% over the past three months. The Zacks Consensus Estimate for R's 2022 earnings has been revised 2.8% upward in the past 60 days.
Zacks Names "Single Best Pick to Double"
From thousands of stocks, 5 Zacks experts each have chosen their favorite to skyrocket +100% or more in months to come. From those 5, Director of Research Sheraz Mian hand-picks one to have the most explosive upside of all.
It's a little-known chemical company that's up 65% over last year, yet still dirt cheap. With unrelenting demand, soaring 2022 earnings estimates, and $1.5 billion for repurchasing shares, retail investors could jump in at any time.
This company could rival or surpass other recent Zacks' Stocks Set to Double like Boston Beer Company which shot up +143.0% in little more than 9 months and NVIDIA which boomed +175.9% in one year.
Free: See Our Top Stock and 4 Runners Up >>
Want the latest recommendations from Zacks Investment Research? Today, you can download 7 Best Stocks for the Next 30 Days.
Click to get this free report
Ryder System, Inc. (R): Free Stock Analysis Report
C.H. Robinson Worldwide, Inc. (CHRW): Free Stock Analysis Report
Eagle Bulk Shipping Inc. (EGLE): Free Stock Analysis Report
Union Pacific Corporation (UNP): Free Stock Analysis Report
To read this article on Zacks.com click here.
Zacks Investment Research