Commercial Metals (CMC) Q2 Earnings Beat Estimates, Up Y/Y
Commercial Metals Company CMC delivered adjusted earnings per share of 29 cents in the second quarter of fiscal 2019 (ended Feb 28, 2019), surpassing the Zacks Consensus Estimate of 25 cents. The figure also marked year-over-year improvement of 13%. Despite seasonal factors and unprecedented rainfall levels which impacted construction activity in many of its markets, the company delivered improved results thanks to the execution of various strategic growth initiatives.

Including one-time items, the company reported net income of 13 cents per share in the reported quarter compared with 8 cents in the prior-year quarter.

Net sales of $1,403 million for the reported quarter rose 33% year over year as a result of execution of various strategic growth initiatives and favorable market conditions. However, the reported figure fell short of the Zacks Consensus Estimate of $1,463 million.
Commercial Metals Company Price, Consensus and EPS Surprise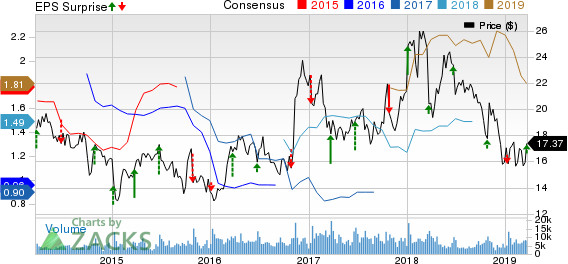 Commercial Metals Company price-consensus-eps-surprise-chart | Commercial Metals Company Quote
Cost of goods sold in the reported quarter rose around 35% year over year to roughly $1,252 million. Gross profit surged 18% year over year to $150 million in the quarter. Operating profit in the quarter was $51.6 million, soaring 176% from $18.7 million in the prior-year quarter. Core EBITDA was $91 million in the second quarter compared with $86 million in the prior-year quarter.

Financials

Commercial Metals exited second quarter of fiscal 2019 with cash and cash equivalents of $66 million compared with $622 million at the end of fiscal 2018. The company's long-term debt rose to $1,310 million at the end of the quarter from $1,138 million as of fiscal 2018 end. Cash utilized in operating activities were $353 million in the first half of fiscal 2019 compared with $184 million in the comparable period in the last fiscal.

On Mar 20, the company's board of directors declared a quarterly dividend of 12 cents per share. The dividend will be paid on Apr 18 to shareholders of record on Apr 5, 2019.

On Nov 5, the company completed the acquisition of certain U.S. rebar steel mill and fabrication assets from Gerdau S.A., a producer of long and specialty steel products in the Americas for a cash purchase price of $600 million. The buyout includes 33 rebar fabrication facilities in the United States as well as steel mills located in Knoxville, TN; Jacksonville, FL; Sayreville, NJ and Rancho Cucamonga, CA, with annual melt capacity of 2.7 million tons. The company's global melt capacity will now go up to approximately 7.2 million tons. Commercial Metals will have an expanded geographic presence in the largest construction regions in the United States.

In the second quarter of fiscal 2019, the acquired assets added $383.6 million to the company's revenues and $32.9 million to its operating income.
Outlook

Demand in the company's key markets remains strong which in turn will drive results. Also, results will be aided by the company's strategic growth initiatives. The combination of a good mill margin environment and ongoing progress on execution of cost reduction opportunities following the acquisition of assets of Gerdau, positions the company well for the balance of the year.

Price Performance


Shares of Commercial Metals have fallen 14.8% in the last year compared with the industry's decline of 16.3%.

Zacks Rank & Stocks to Consider

Commercial Metals currently carries a Zacks Rank #3 (Hold).

Some better-ranked stocks in the Basic Materials sector are Ingevity Corporation NGVT, Innospec Inc. IOSP and Materion Corporation MTRN, each sporting a Zacks Rank #1 (Strong Buy), currently. You can see the complete list of today's Zacks #1 Rank stocks here.

Ingevity has expected earnings growth rate of 17.9% for 2019. The company's shares have rallied 46%, over the past year.

Innospec has a projected earnings growth rate of 3.5% for the current year. The stock has appreciated 20% in a year's time.

Materion has estimated earnings growth rate of 12.6% for 2019. The company's shares have gained 12%, in the past year.

Breakout Biotech Stocks with Triple-Digit Profit Potential

The biotech sector is projected to surge beyond $775 billion by 2024 as scientists develop treatments for thousands of diseases. They're also finding ways to edit the human genome to literally erase our vulnerability to these diseases.

Zacks has just released Century of Biology: 7 Biotech Stocks to Buy Right Now to help investors profit from 7 stocks poised for outperformance. Our recent biotech recommendations have produced gains of +98%, +119% and +164% in as little as 1 month. The stocks in this report could perform even better.

See these 7 breakthrough stocks now>>
Want the latest recommendations from Zacks Investment Research? Today, you can download 7 Best Stocks for the Next 30 Days.
Click to get this free report
Innospec Inc. (IOSP): Free Stock Analysis Report
Ingevity Corporation (NGVT): Free Stock Analysis Report
Materion Corporation (MTRN): Free Stock Analysis Report
Commercial Metals Company (CMC): Free Stock Analysis Report
To read this article on Zacks.com click here.