Chubb's (CB) Unit Offers 1.375% $1 Billion Senior Notes
Chubb Limited CB announced that its subsidiary Chubb INA Holdings has priced $1 billion senior notes. The notes carry an interest rate of 1.375% and are scheduled to mature in 2030. The notes are guaranteed by Chubb Limited.

The company plans to deploy the net proceeds along with available cash to repay at maturity $1 billion 2.875% senior notes that are due on Nov 3, 2022.

The company displayed prudence by issuing senior notes amid a low interest rate environment to procure funds and enhance financial flexibility without affecting liquidity. As of Jun 30, 2020 cash balance was $1.6 billion.

By capitalizing on the low interest rate environment, the company is also attempting to reduce its interest burden, thus facilitating margin expansion. Interest expense in the first half of 2020 declined 7.1% year over year. Also, the company's operational strength should enable it to service debt uninterruptedly, thereby maintaining the stock's creditworthiness.

However, with the new issuance, interest expense will increase. But we still believe that the company is in a strong position to clear debts, banking on operational efficiencies.

The company's debt has been increasing since 2017. At the end of the second quarter of 2020, debt to capital was 23%, up from 22.7% at the end of 2019. Also, long-term debt to capital of 20.3% compares unfavorably with the industry's measure of 1.3%. The latest offering will increase the debt-to-capital ratio by 100 basis points.

Chubb boasts a strong capital position, with sufficient cash generation capabilities. It had operating cash flow of $3.7 billion in the first half of 2020, up 37% year over year.

Also, the firm's times interest earned ratio has been improving over the years. The improvement in this ratio indicates that the firm will be able to meet current obligations in the near future without any difficulties. At a time when every entity is looking forward to preserve liquidity amid uncertainty as a result of the pandemic, an improving ratio is reassuring for investors. The company enjoys strong credit ratings from credit rating agencies.

Shares of this Zacks Rank #3 (Hold) property and casualty insurer have lost 22.4% year to date compared with the industry's decline of 6.6%.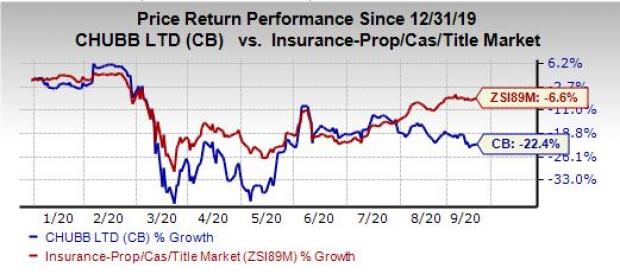 Recently, Fidelity National Financial FNF announced the pricing of $600 million aggregate principal amount of senior unsecured notes. The notes carry an interest rate of 2.450% and are scheduled to mature on Mar 15, 2031. American Financial Group AFG issued 4.50% $200 million aggregate principal amount of senior unsecured notes due Sep 16, 2060 while W. R. Berkley Corporation WRB announced the pricing of $170 million aggregate principal amount of senior unsecured notes.

You can see the complete list of today's Zacks #1 Rank (Strong Buy) stocks here.
Biggest Tech Breakthrough in a Generation
Be among the early investors in the new type of device that experts say could impact society as much as the discovery of electricity. Current technology will soon be outdated and replaced by these new devices. In the process, it's expected to create 22 million jobs and generate $12.3 trillion in activity.

A select few stocks could skyrocket the most as rollout accelerates for this new tech. Early investors could see gains similar to buying Microsoft in the 1990s. Zacks' just-released special report reveals 8 stocks to watch. The report is only available for a limited time.

See 8 breakthrough stocks now>>



Want the latest recommendations from Zacks Investment Research? Today, you can download 7 Best Stocks for the Next 30 Days.
Click to get this free report
W.R. Berkley Corporation (WRB): Free Stock Analysis Report
Chubb Limited (CB): Free Stock Analysis Report
Fidelity National Financial, Inc. (FNF): Free Stock Analysis Report
American Financial Group, Inc. (AFG): Free Stock Analysis Report
To read this article on Zacks.com click here.
Zacks Investment Research