Amazon Ventures Further into Credit Card Industry with Synchrony Partnership
Amazon AMZN opened Monday up over 4% after announcing its new "Amazon Store Card Credit Builder." Partnered with Synchrony Bank SYF, the card will be marketed to those with low credit scores who would have a hard time getting a standard credit card from major providers such as Visa V or American Express AXP.
The card does come with caveats in order to mitigate much of the risk associated with subprime credit. The main restrictions on the card is that the limit is based off on an initial deposit into a Synchrony Bank account, with the deposit needing to be between $100 And $1,000. And the card can only be used on Amazon's website. There is no annual fee, but to be eligible for the card, one must be an Amazon Prime member which carries a $12.99 per month charge or a $119 annual membership fee, with reduced rates for those eligible.
With the card being exclusive to Amazon Prime members, the card may draw in more members. The card is targeted at those with subprime credit ratings and many of those with subprime credit scores may struggle to afford Amazon Prime at the moment. Amazon does have reduced membership fees for low income customers and the benefits of the new card may make it worth paying the reduced fees in order to have access to the card. Additionally, the card is a closed-loop and can only be used on Amazon's website, meaning Amazon will receive all the revenues from any spending on the card. Although very small in terms of Amazon's whole operation, it should provide a revenue boost while carrying very little risk to Amazon.
Using the card for larger purchases also gives users the option of special financing. Purchases of $149 or more are eligible to apply for 0% financing for six to 24 months. Purchases of $300 or more are eligible for "Equal Pay Financing" where equal payments are made every month for 12 months at 0% APR. Although these options could cause consumers to overspend on items and products they may not be able to afford, it is a good opportunity for the right people.
For consumers, using the card could be risky given the 28.24% interest rate, which is slightly higher than other retail cards that have an average rate of around 25%. But the card has a maximum of $1,000 and is being secured by a deposit. The combination of these two factors help create a relatively safe investment in subprime lending for Amazon and Synchrony. Both companies are in position to benefit from the increased revenue and expanded consumer base, as well as setting themselves up for future partnerships and ventures.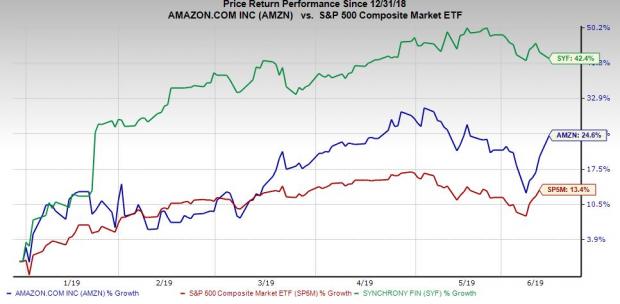 Amazon is up 3.8% half way through the trading day and Synchrony is down 0.8%.
Breakout Biotech Stocks with Triple-Digit Profit Potential

The biotech sector is projected to surge beyond $775 billion by 2024 as scientists develop treatments for thousands of diseases. They're also finding ways to edit the human genome to literally erase our vulnerability to these diseases.

Zacks has just released Century of Biology: 7 Biotech Stocks to Buy Right Now to help investors profit from 7 stocks poised for outperformance. Our recent biotech recommendations have produced gains of +98%, +119% and +164% in as little as 1 month. The stocks in this report could perform even better.

See these 7 breakthrough stocks now>>


Want the latest recommendations from Zacks Investment Research? Today, you can download 7 Best Stocks for the Next 30 Days.
Click to get this free report
Amazon.com, Inc. (AMZN): Free Stock Analysis Report
Synchrony Financial (SYF): Free Stock Analysis Report
American Express Company (AXP): Free Stock Analysis Report
Visa Inc. (V): Free Stock Analysis Report
To read this article on Zacks.com click here.
Zacks Investment Research