Why Should You Add FMC Corp (FMC) Stock to Your Portfolio?
FMC Corporation's FMC stock looks promising at the moment. The chemical maker is poised for growth on the back of strong demand for its herbicides and insecticides across North and Latin America, strong commercial execution and its efforts to expand product portfolio and boost market position.

FMC's shares are down 4.2% so far this year, outperforming the roughly 17% decline recorded by the industry.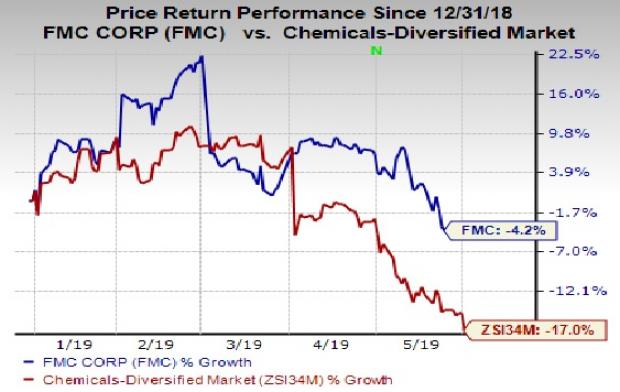 Let's delve deeper into the factors that make this Zacks Rank #2 (Buy) stock an attractive choice for investors right now.

Strong Q1 & Upbeat Outlook

FMC's adjusted earnings went up roughly 9% year over year to $1.72 per share in the first quarter. It also topped the Zacks Consensus Estimate of $1.62.

Revenues climbed roughly 8% year over year to $1,192.1 million, aided by strong commercial execution that drove growth across all regions. Sales also surpassed the Zacks Consensus Estimate of $1,189.7 million. Revenue growth was supported by 9% contribution from volume along with 5% contribution from price. The company achieved higher pricing in all geographic regions during the quarter.

Factoring in strong first-quarter performance, FMC bumped up its guidance for 2019. For 2019, the company expects revenues to be between $4.5 billion and $4.6 billion, indicating a rise of 6% at the midpoint versus recast 2018 and $50 million higher than the prior guidance.

Adjusted earnings are forecast in the range $5.62-$5.82 per share, an increase of 9% at the midpoint compared with recast 2018 and 7 cents higher than the prior guidance.

For second-quarter 2019, revenues are projected in the band $1.185-$1.215 billion, indicating 4% growth at the midpoint compared with recast second-quarter 2018. Adjusted earnings are expected to be in the range $1.60-$1.70 per share, indicating 10% growth at the midpoint compared with recast second-quarter 2018 figure.

Positive Earnings Surprise History

FMC has an impressive earnings surprise history. It has outpaced the Zacks Consensus Estimate in each of the trailing four quarters, delivering a positive average earnings surprise of 4.8%.

Estimates Northbound

Earnings estimate revisions have the greatest impact on stock prices. Estimates for 2019 for FMC have moved up over the past month. Over this period, the Zacks Consensus Estimate for the year has increased around 10%. The Zacks Consensus Estimate for 2020 has also moved up roughly 1.5% over the same timeframe.

Superior Return on Equity (ROE)

FMC's ROE of 27.5%, as compared with the industry average of 9.9%, manifests the company's efficiency in utilizing shareholder's funds.

Capital Allocation

FMC remains committed to return value to shareholders. The company, in late 2018, hiked quarterly dividends more than two-fold to 40 cents per share. It also completed shares buyback program worth $200 million in 2018.

FMC expects to repurchase up to $500 million of shares in 2019. It also expects to generate free cash flow of $375-$475 million in 2019.

Growth Drivers in Place

FMC is seeing strong demand for its industry leading products, which is driving its revenues. In Latin America, the company is witnessing strong demand from cotton growers in Brazil as well as solid demand for insecticides in soybean applications.

Strong demand for pre-emergent herbicides and insecticides is also driving the company's agriculture business in North America. The company expects an increase in corn and wheat acreage to drive growth in North America in 2019.

FMC also remains committed to expand its market position and strengthen its portfolio. The company remains focused on investing in technologies and products and launching new products with a goal to enhance value to the farmers. New product introductions are expected to support its results this year. The company expects new products to account for around $60-$70 million in incremental sales growth in 2019.
FMC Corporation Price and Consensus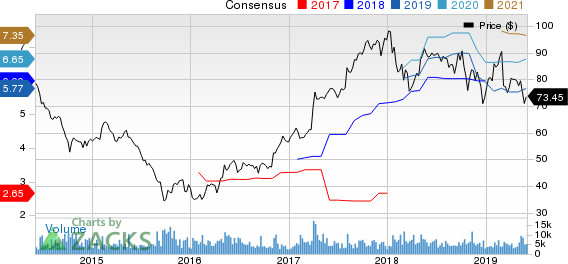 FMC Corporation price-consensus-chart | FMC Corporation Quote
Other Stocks to Consider

Other top-ranked stocks worth considering in the basic materials space include Materion Corporation MTRN, AngloGold Ashanti Limited AU, and Innospec Inc. IOSP.

Materion has an expected earnings growth rate of 27.3% for the current year and carries a Zacks Rank #1 (Strong Buy). The company's shares have gained around 16% over the past year. You can see the complete list of today's Zacks #1 Rank stocks here.

AngloGold has an expected earnings growth rate of 90.6% for the current year and carries a Zacks Rank #1. Its shares have rallied 34% in a year's time.

Innospec has an expected earnings growth rate of 6.6% for the current year and carries a Zacks Rank #2. Its shares are up roughly 4% in the past year.

Will you retire a millionaire?

One out of every six people retires a multimillionaire. Get smart tips you can do today to become one of them in a new Special Report, "7 Things You Can Do Now to Retire a Multimillionaire."

Click to get it free >>
Want the latest recommendations from Zacks Investment Research? Today, you can download 7 Best Stocks for the Next 30 Days.
Click to get this free report
Innospec Inc. (IOSP): Free Stock Analysis Report
FMC Corporation (FMC): Free Stock Analysis Report
AngloGold Ashanti Limited (AU): Free Stock Analysis Report
Materion Corporation (MTRN): Free Stock Analysis Report
To read this article on Zacks.com click here.
Zacks Investment Research