Lilly Offers $8B to Acquire Cancer-Focused Small Biotech Loxo
Eli Lilly and Company LLY announced a definitive agreement to acquire small biotech, Loxo Oncology, Inc. LOXO for $235.00 per share in cash or approximately $8.0 billion.
The tendered offer represented approximately 68% premium over the closing price of Loxo Oncology's shares on Jan 4.
The acquisition will add a marketed therapy and a pipeline of highly selective potential medicines for genomically-defined cancers, thereby expanding Lilly's oncology portfolio into precision medicines or targeted therapies.
Lilly's shares have rallied 28.3% this year so far compared with the industry's increase of 5%.

Loxo Oncology's sole approved drug, Vitrakvi, was developed in collaboration with Bayer. The drug received approval in November 2018 as the first treatment targeting a specific genetic abnormality in advanced solid tumors. The company also has three kinase inhibitors in its pipeline, which are being developed across multiple tumor types, including certain lung, thyroid cancers, and B-cell leukemias and lymphomas.
LOXO-292, one of the advance candidate in Loxo Oncology's pipeline, is an oral RET inhibitor which is being studied across multiple tumor types. It also enjoys Breakthrough Therapy designation and could be launched in 2020.
The deal is not subject to any financial condition and is expected to be closed by the end of this quarter. Meanwhile, the acquisition will impact Lilly's previously announced financial guidance for 2019. The company will provide an update on its guidance with fourth-quarter 2018 earnings.
The transaction is the second-biggest deal of 2019 so far in the pharma/biotech sector, particularly in cancer segment, following the mega merger of Bristol-Myers BMY and Celgene CELG. These deals are expected to lead to further mergers and acquisitions as it is speculated that companies are likely to consolidate with the cancer segment becoming crowded.
In 2018, more than a quarter of the approved novel drugs were for cancer indications. Apart from these novel drugs, there were several line extensions of already approved cancer drugs. We expect the trend to continue in 2019. With an increase in the number of therapies, the share of the pie will get smaller for each player, hurting margins going forward. Moreover, some pharma companies are losing market share for their cancer drugs due to failure in label expansion studies. A few blockbuster legacy oncology drugs will face generic competition in the near future as they are set to lose patent exclusivity. Consolidations or acquisitions may be a way out for these companies to offset these challenges.
Eli Lilly and Company Price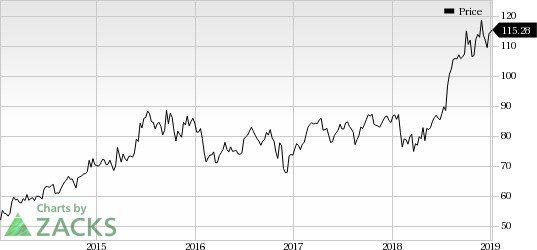 Zacks Rank
Lilly currently carries a Zacks Rank #2 (Buy). You can see the complete list of today's Zacks #1 Rank (Strong Buy) stocks here.
Wall Street's Next Amazon
Zacks EVP Kevin Matras believes this familiar stock has only just begun its climb to become one of the greatest investments of all time. It's a once-in-a-generation opportunity to invest in pure genius.
Want the latest recommendations from Zacks Investment Research? Today, you can download 7 Best Stocks for the Next 30 Days.
Click to get this free report
Eli Lilly and Company (LLY): Free Stock Analysis Report
Bristol-Myers Squibb Company (BMY): Free Stock Analysis Report
Celgene Corporation (CELG): Free Stock Analysis Report
Loxo Oncology, Inc. (LOXO): Free Stock Analysis Report
To read this article on Zacks.com click here.