Workday (WDAY) Q4 Earnings Surpass Estimates, Stock Down
Workday, Inc. WDAY reported fourth-quarter fiscal 2021 non-GAAP earnings of 73 cents per share, which outpaced the Zacks Consensus Estimate by 32.7%. Moreover, the bottom line improved 46% year over year.

Bottom-line growth can primarily be attributed to an improvement of 15.9% in revenues, which amounted to $1.132 billion. The top line surpassed the Zacks Consensus Estimate by 1.53%. The upside was further aided by solid growth in subscription services' revenues.
Quarter in Detail
Subscription services revenues (88.9% of total revenues) rallied 19.8% year over year to $1.01 billion on the back of expanding customer base. Management had anticipated subscription revenues to be $991-$993 million.

Backlogs from Subscription revenues were $10.09 billion, up 21.6% year over year, primarily driven by robust growth in new ACV bookings through both net new and add-on business domains, deal renewals, and net retention of customers. Also, the company raked in net new business, which aided growth.

However, management stated that the company is still witnessing headwinds pertaining to COVID-19 business impacts. This is anticipated to weigh on the current fiscal year's subscription revenues and is likely to have hurt investors' sentiments. Despite the stellar fiscal fourth-quarter results, shares of the company declined more than 5% in pre-market trading on Feb 26.

In the past year, Workday stock has gained 46.7% compared with the industry's rally of 99%.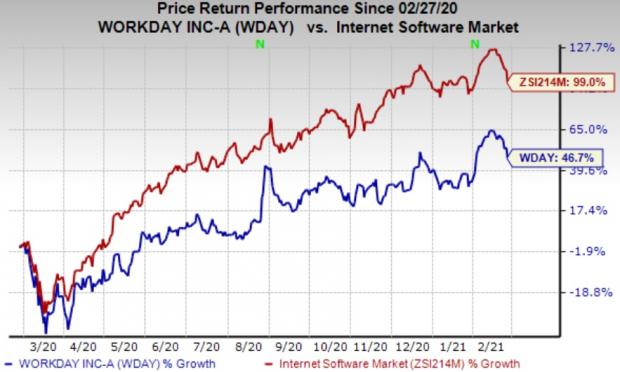 Nevertheless, management anticipates those headwinds to diminish and expects the renewal base to re-grow in fiscal 2023.

Subscription revenue backlog that will be recognized within the next two years totaled $6.53 billion, up 19%. In the fiscal fourth quarter, gross retention rate exceeded 95% and net retention, which includes upselling at the time of renewal, was 100%.

Professional services' revenues (11.1% of total revenues) declined 8.2% from the year-ago quarter to $125.4 million. Professional services revenues were projected to be $121 million.

Revenues outside the United States climbed 16% year over year to $283 million and contributed 25% to total revenues.

The company witnessed the rapid deployment of HCM solution in the fiscal fourth quarter, which was selected by Nike NKE, ABB, Anthem ANTM, Cognizant Worldwide, Cox Enterprises, First Rank Bank, Laboratory Corporation of America, among others.

Key go-lives in the reported quarter included Comcast Cable, Caterpillar, Cisco Systems CSCO, PF Changs and Spectrum Health.

The company has also been witnessing momentum in its latest offerings, including Workday Adaptive Planning, Spend Management and Prism Analytics. Synergies from Scout RFP acquisition aided Workday to win multiple customers. Markedly, Scout RFP is fully integrated and has been re-branded as "Workday Strategic Sourcing," which is part of spend management domain.

Further, the company is gaining from solid uptick in its two new offerings, VIBE Central and VIBE Index, that aid HR leaders boost inclusivity, and accelerate belonging and diversity (B&D) initiatives within the workplace. Workday noted that VIBE is the acronym for Value Inclusion, Belonging, and Equity.

Additionally, the availability of Workday Accounting Center and Workday Talent Marketplace is bolstering adoption. Also, Workday People Analytics — an augmented analytics application that delivers deep insights regarding risks and opportunities related to a company's workforce — is gaining traction.

Management is optimistic on the growing pipeline of the latest offerings, including Health, Accounting Center, Extend, and People Analytics, which drove the add-on sales in the reported quarter.

The company inked multiple FINS plus solutions customer wins, including one new Fortune 500 core financial solutions' deal in Franklin Tempesto. Solid momentum across healthcare, professional services, education and government agencies, and a solid pipeline of deal wins are also encouraging.

Further, the company witnessed strength across both large and medium enterprise vertical. Moreover, robust performance across the Unites States remained notable.
Margin Highlights
Non-GAAP expenses pertaining to Product development, sales and marketing, and general and administrative climbed 6.7% year over year to almost $663 million. As a percentage of revenues, the figure contracted 500 basis points (bps) on a year-over-year basis to 58.6%. Reduced spend on travel and marketing, amid COVID-19 induced shelter-in-place guidelines, and more calculated hiring kept expenses in check.

The company generated non-GAAP operating income of almost $211 million, which soared 81% year over year.
Workday, Inc. Price, Consensus and EPS Surprise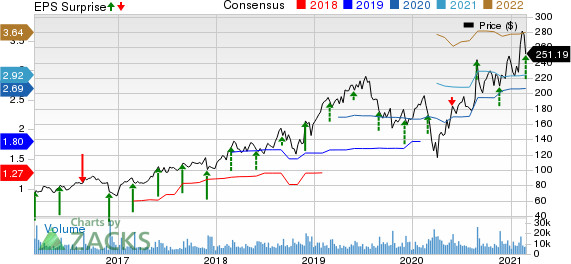 Workday, Inc. price-consensus-eps-surprise-chart | Workday, Inc. Quote
Consequently, non-GAAP operating margin expanded 670 bps on a year-over-year basis to 18.6%.
Balance Sheet & Cash Flow
Cash, cash equivalents and marketable securities were $3.54 billion as of Jan 31, 2021, compared with $2.95 billion as of Oct 31, 2020.

Total debt (current plus non-current) was $1.795 billion as of Jan 31, 2021, compared with $1.792 billion as of Oct 31, 2020.

Workday generated operating cash flow of $553.7 million compared with the prior-quarter figure of $293.8 million.

As of Jan 31, 2021, total unearned revenues (including non-current portion) were $2.637 billion compared with $2.069 billion as of Oct 31, 2020.
Guidance
For first-quarter fiscal 2022, Workday expects subscription revenues of $1.018-$1.020 billion (indicating year-over-year growth of 16%). Professional services revenues are projected to be $139 million. The company anticipates a non-GAAP operating margin of 19%. Management projects subscription revenue backlog growth in the fiscal first quarter to be 18%.

Workday, currently carrying a Zacks Rank #2 (Buy), is encouraged by robust fiscal fourth-quarter performance, strong backlog and solid pipeline. You can see the complete list of today's Zacks #1 Rank (Strong Buy) stocks here.

The company expects fiscal 2021 subscription services' revenues to be $4.38-$4.40 billion, indicating year-over-year growth of 16%. The company projects Professional services revenues of $590 million. The company anticipates non-GAAP operating margin to be 17%.
Conclusion
Robust growth in fiscal fourth-quarter revenues and earnings, and upbeat expansion in operating margin despite ongoing macroeconomic headwinds, remain noteworthy. Workday is well-poised to gain from growing clout of FINS Plus solutions, and Accounting Center offerings.

Moreover, during the fiscal fourth-quarter, Workday announced plans to acquire Peakon ApS, an employee success platform that converts feedback into actionable insights, in an all-cash transaction. It will help Workday to boost its platform capabilities with real-time visibility into employee experience and improve employee engagement and enhance organizational performance.

Further, synergies from Scout RFP and Adaptive Insights acquisitions, and strength in product suite are expected to drive revenues in the quarters ahead.

Also, the incremental adoption of Workday Enterprise Finance suite, which includes Prism Analytics, and Planning and Consolidations, integrated with enhanced capabilities, is expected to be a key catalyst.

Nevertheless, the coronavirus crisis-induced layoffs and broader macroeconomic weakness might affect contract renewals and weigh on the company's financial performance.
Just Released: Zacks' 7 Best Stocks for Today
Experts extracted 7 stocks from the list of 220 Zacks Rank #1 Strong Buys that has beaten the market more than 2X over with a stunning average gain of +24.9% per year.

These 7 were selected because of their superior potential for immediate breakout.

See these time-sensitive tickers now >>
Want the latest recommendations from Zacks Investment Research? Today, you can download 7 Best Stocks for the Next 30 Days.
Click to get this free report
NIKE, Inc. (NKE): Free Stock Analysis Report
Cisco Systems, Inc. (CSCO): Free Stock Analysis Report
Workday, Inc. (WDAY): Free Stock Analysis Report
Anthem, Inc. (ANTM): Free Stock Analysis Report
To read this article on Zacks.com click here.
Zacks Investment Research