Stanley Black (SWK) Tops Q1 Earnings Estimates, Raises View
Stanley Black & Decker, Inc. SWK has delivered impressive results for first-quarter 2021. Its earnings surpassed estimates by 22.3% and sales beat the same by 5.03%. Notably, this quarter's earnings beat was the company's ninth consecutive quarter of impressive results.

Earnings, excluding acquisition-related charges and other one-time impacts, were $3.13 per share in the quarter, surpassing the Zacks Consensus Estimate of $2.56. Also, earnings increased 160.8% from the year-ago quarter's $1.20 per share on the back of improved sales performance and margins, partially offset by higher taxes.
Revenue Details
In the quarter under review, the company's net sales were $4,197.1 million, reflecting a 34.1% increase from the year-ago quarter. The results benefitted 29% from volume increase and 2% from favorable pricing. Foreign-currency translation too had a positive impact of 3%.

Also, the company's top line surpassed the Zacks Consensus Estimate of $3,996 million.

Stanley Black reports revenues under three segments. A brief discussion on the quarterly results is provided below:

Tools & Storage's revenues totaled $3,062.9 million, representing 73% of net revenues in the quarter under review. On a year-over-year basis, the segment's revenues increased 47.9%, driven by a 42% gain from volume, 3% growth from favorable pricing and a 3% favorable impact from foreign-currency translation.

The Industrial segment generated revenues of $657.7 million, accounting for 15.6% of net revenues in the reported quarter. Revenues grew 11.3% year over year as the CAM buyout contributed 3% to sales growth and foreign-currency movements had a positive impact of 3%. Also, volume had a positive impact of 6% and divestitures of the oil & gas product line had an adverse impact of 1%.

The Security segment's revenues, representing 11.4% of net revenues, increased 1.8% year over year to $476.5 million. Favorable impacts of 4% from foreign-currency movements, 1% from acquisitions and 1% from price realization were partially offset by a 4% negative impact from divestitures.
Margin Profile
In the reported quarter, Stanley Black's cost of sales (normalized) increased 25.3% year over year to $2,627.6 million. It represented 62.6% of the quarter's net sales versus 67% in the year-ago quarter. Gross profit (normalized) increased 52.1% year over year to $1,569.5 million. Gross margin grew 440 basis points (bps) to 37.4%.

Selling, general and administrative expenses increased 15.9% year over year to $832.9 million. It represented 19.8% of net sales in the reported quarter versus 23% in the year-ago quarter. Operating profits (normalized) increased 135% year over year to $736.6 million, whereas margin increased 760 bps to 17.6%, driven by cost-actions, price, volume and margin resiliency.

Adjusted tax rate in the reported quarter was 20% compared with the year-ago quarter figure of 12.5%.
Balance Sheet & Cash Flow
Exiting the first quarter of 2021, Stanley Black had cash and cash equivalents of $949.2 million, decreasing 31.3% from $1,381 million recorded in the last reported quarter. Long-term debt (net of current portions) of $4,245.7 million was flat on a sequential basis.

In the quarter, the company used net cash of $157.8 million for its operating activities as compared with $405.2 million used in the year-ago quarter. Capital spending totaled $88.3 million versus $82.9 million in the first quarter of 2020. Free cash outflow in the quarter was $246.1 million as compared with $488.1 million in the year-ago quarter.

In the quarter, Stanley Black paid out cash dividends of $110.1 million, up 4.3% from the previous year's quarter. Also, it invested $14.9 million for purchasing a common stock for treasury, representing a year-over-year increase of 65.6%.

As communicated by the company, its board of directors hiked the share buyback authorization to 20 million shares.
Outlook
In the quarters ahead, Stanley Black anticipates benefiting from improving market conditions, focus on innovation, margin resiliency program and capacity investments. Also, growing preferences for healthy and safety as well as home and garden products are likely tailwinds. Also, a surge in business from the e-commerce platform is proving advantageous.

The company has hiked its financial projections for 2021. It now anticipates adjusted earnings per share of $10.70-$11.00, higher than $9.70-$10.30 per share. The improved projection reflects gains from organic growth (11-13% increase year over year), margin resiliency and incremental pricing, partially offset by higher commodity inflation.
Stanley Black & Decker, Inc. Price, Consensus and EPS Surprise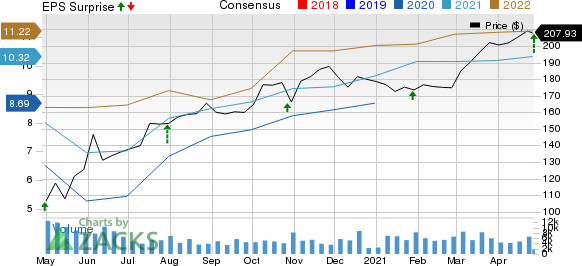 Stanley Black & Decker, Inc. price-consensus-eps-surprise-chart | Stanley Black & Decker, Inc. Quote
Zacks Rank & Stocks to Consider
With a market capitalization of $33.2 billion, Stanley Black currently carries a Zacks Rank #3 (Hold).

Some better-ranked stocks in the Zacks Industrial Products sector are are Helios Technologies, Inc. HLIO, Applied Industrial Technologies, Inc. AIT and EnPro Industries, Inc. NPO. While Helios Technologies currently sports a Zacks Rank #1 (Strong Buy), both Applied Industrial and EnPro Industries carry a Zacks Rank #2 (Buy). You can see the complete list of today's Zacks #1 Rank stocks here.

In the past 60 days, earnings estimates for these companies improved for the current year. Further, earnings surprise for the last reported quarter was 46.34% for Helios Technologies, 28.95% for Applied Industrial and 143.14% for EnPro Industries.
Zacks Names "Single Best Pick to Double"
From thousands of stocks, 5 Zacks experts each have chosen their favorite to skyrocket +100% or more in months to come. From those 5, Director of Research Sheraz Mian hand-picks one to have the most explosive upside of all.

You know this company from its past glory days, but few would expect that it's poised for a monster turnaround. Fresh from a successful repositioning and flush with A-list celeb endorsements, it could rival or surpass other recent Zacks' Stocks Set to Double like Boston Beer Company which shot up +143.0% in a little more than 9 months and Nvidia which boomed +175.9% in one year.

Free: See Our Top Stock and 4 Runners Up >>
Want the latest recommendations from Zacks Investment Research? Today, you can download 7 Best Stocks for the Next 30 Days.
Click to get this free report
Applied Industrial Technologies, Inc. (AIT): Free Stock Analysis Report
Stanley Black & Decker, Inc. (SWK): Free Stock Analysis Report
EnPro Industries (NPO): Free Stock Analysis Report
Helios Technologies, Inc (HLIO): Free Stock Analysis Report
To read this article on Zacks.com click here.
Zacks Investment Research