Immunovant (IMVT) Reports Wider-Than-Expected Loss in Q2
Immunovant, Inc. IMVT reported a net loss of 35 cents per share in the second quarter of fiscal 2022 (ended Sep 30, 2021), wider than the Zacks Consensus Estimate of a loss of 26 cents. In the year-ago quarter, the company reported a loss of 25 cents.
Currently, the company does not have any approved product in its portfolio. As a result, it is yet to generate revenues.
Shares of Immunovant have plunged 81.4% so far this year compared with the industry's decrease of 12.1%.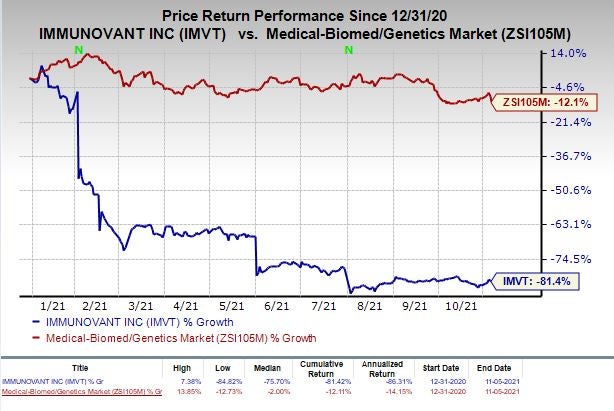 Image Source: Zacks Investment Research
Quarter in Detail
In the reported quarter, research and development (R&D) expenses were $21.4 million, up 78.3% from the year-ago quarter. The year-over-year surge was due to increased personnel-related expenses and higher costs related to clinical activities.
General and administrative (G&A) expenses were $16.3 million in the reported quarter, up 81.1% on a year-over-year basis. The increase was primarily due to higher financial advisory fees, legal and other costs, and increased personnel-related expenses.
As of Sep 30, 2021, the company had cash balance of approximately $559 million compared with $379 million as of Jun 30, 2021.
Pipeline Update
Immunovant is developing its lead pipeline candidate, IMVT-1401, as a subcutaneous injection for the treatment of autoimmune diseases mediated by pathogenic IgG antibodies. The company is developing IMVT-1401 with an initial focus on the treatment of myasthenia gravis ("MG"), thyroid eye disease ("TED") and warm autoimmune hemolyticanemia ("WAIHA").
A pivotal study evaluating IMVT-1401 for treating MG is expected to begin in 2022. In July 2021, the FDA granted an Orphan Drug designation to IMVT-1401 for the treatment of MG.
Immunovant plans to resume the development of IMVT-1401 for WAIHA and TED in the upcoming quarters.
We remind investors, that in February 2021, the company voluntarily paused dosing in ASCEND GO-2 – a phase IIb study in TED, and in ASCEND-WAIHA – a phase II study on IMVT-1401 in WAIHA due to elevated total cholesterol and LDL levels observed in patients who were treated with IMVT-1401.
We note that Johnson & Johnson JNJ is also developing nipocalimab in mid-and late-stage studies for treating WAIHA, generalized MG and other rare diseases.
Immunovant, Inc. Price, Consensus and EPS Surprise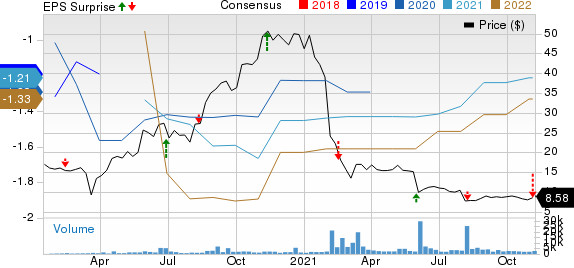 Immunovant, Inc. price-consensus-eps-surprise-chart | Immunovant, Inc. Quote
Zacks Rank & Stocks to Consider
Immunovant currently carries a Zacks Rank #2 (Buy). Other stocks worth considering in the biotech sector include Amicus Therapeutics, Inc. FOLD and Athenex, Inc. ATNX, both carrying the same Zacks Rank #2 at present. You can see the complete list of today's Zacks #1 Rank (Strong Buy) stocks here.
Amicus Therapeutics' loss per share estimates have narrowed 1.3% for 2021 and 37.5% for 2022 over the past 60 days.
Athenex's loss per share estimates have narrowed 9% for 2021 and 9.2% for 2022 over the past 60 days.
Bitcoin, Like the Internet Itself, Could Change Everything
Blockchain and cryptocurrency has sparked one of the most exciting discussion topics of a generation. Some call it the "Internet of Money" and predict it could change the way money works forever. If true, it could do to banks what Netflix did to Blockbuster and Amazon did to Sears. Experts agree we're still in the early stages of this technology, and as it grows, it will create several investing opportunities.
Zacks' has just revealed 3 companies that can help investors capitalize on the explosive profit potential of Bitcoin and the other cryptocurrencies with significantly less volatility than buying them directly.
See 3 crypto-related stocks now >>
Want the latest recommendations from Zacks Investment Research? Today, you can download 7 Best Stocks for the Next 30 Days.
Click to get this free report
Johnson & Johnson (JNJ): Free Stock Analysis Report
Amicus Therapeutics, Inc. (FOLD): Free Stock Analysis Report
Athenex, Inc. (ATNX): Free Stock Analysis Report
Immunovant, Inc. (IMVT): Free Stock Analysis Report
To read this article on Zacks.com click here.