American Water (AWK) Illinois Unit Acquires Assets for $11M
American Water Works Company AWK has announced that its subsidiary, Illinois American Water, acquired the water and wastewater system assets of the City of Villa Grove, IL, for $11 million. The acquisition will add 1,489 water and 1,069 wastewater customers to the company's existing base of 1.3 million.

The aging of crucial water and wastewater infrastructure is concerning for the water industry of the United States. The highly fragmented industry, with its small number of operators and limited financial strength, leads to a delay in investment in essential repairs and upgrades. After completing the acquisition, Illinois American Water has plans to invest nearly $21 million in the first seven years to upgrade the City of Villa Grove's water and wastewater systems.
Why Acquisition is Essential for an Aging and Fragmented Industry
According to the Environmental Protection Agency, at present, more than 51,000 community water systems and 16,000 community wastewater systems in the United States are providing water solutions to customers. Per the findings of the American Society of Civil Engineers, water main breaks occur every two minutes in the United States due to the aging of the existing water infrastructure. The breaks in the pipeline result in the wastage of 6 billion gallons of potable water each day and add to the loss of water utility operators.

The acquisition of small units by larger utilities ensures necessary investments for the upgrade of infrastructure and the continuation of high-quality services for customers. American Water continues to widen its market footprint through strategic acquisitions.
Utilities Continue to Consolidate
American Water Works is expanding its customer base through organic initiatives and acquisitions. It continues to focus on the acquisition of utilities that provide services to 5,000-50,000 customers. As of Jun 30, 2022, through nine acquisitions, the company added 51,000 customers to its existing customer base. AWK's pending acquisitions (as of Jun 30, 2022), when completed, will add another 29,200 customers to its base.

Other water utilities like SJW Group SJW, Essential Utilities WTRG and California Water Service Group CWT, among others in the water utility space, are expanding operations through systematic acquisitions.

SJW Group completed more than 25 acquisitions in the 2010-2021 time frame and expanded operations. In January 2022, SJW Group closed the acquisition of Texas Country Water in Comal, TX. The deal added more than 1,900 water and wastewater customers to the existing customer base. This has been the fourth Texas acquisition by SJW Group in the past 12 months. In the next five years, SJW Group plans to invest $1.5 billion to further strengthen its infrastructure.

The Zacks Consensus Estimate for SJW Group's 2022 and 2023 earnings implies year-over-year growth of 15.3% and 8.6%, respectively.

In the six years ended Dec 31, 2021, Essential Utilities expanded utility operations by completing many water and wastewater acquisitions, which, in turn, added 94,000 customers. In the first quarter of 2022, the company completed one buyout, which added 11,000 customers. Essential Utilities plans to invest $3 billion from 2022 through 2024 to fortify operations and efficiently serve the expanding customer base.

Utilities' long-term earnings growth is currently pegged at 6.1%. The Zacks Consensus Estimate for WTRG's 2022 and 2023 earnings implies year-over-year growth of 6.6% and 6.6%, respectively.

California Water Service recently received approval to acquire the water system assets of Skylonda Mutual Water Company. The buyout is scheduled to close later this year, subject to customary closing conditions. In April 2022, another unit of California Water Service, New Mexico Water Service, closed the acquisition of Morningstar Water System, which added 2,000 water connections.

The Zacks Consensus Estimate for California Water Service's 2023 earnings suggests year-over-year growth of 12.3%. The current dividend yield of the company is 1.77%.
Price Performance
Shares of AWK have lost 6.8% in the past month compared with the industry's 7.6% decline.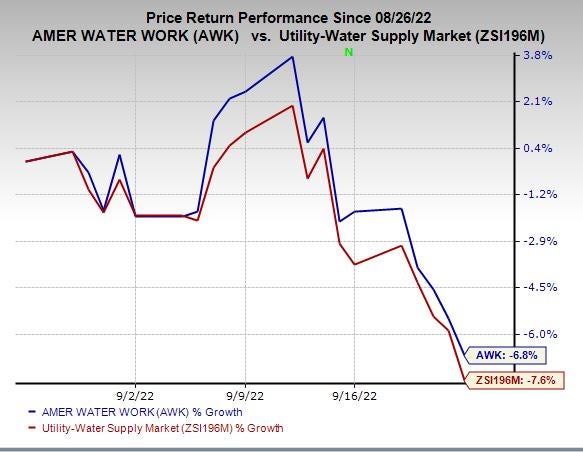 Image Source: Zacks Investment Research
Zacks Rank
American Water Works currently has a Zacks Rank #3 (Hold). You can see the complete list of today's Zacks #1 Rank (Strong Buy) stocks here.


5 Stocks Set to Double
Each was handpicked by a Zacks expert as the #1 favorite stock to gain +100% or more in 2021. Previous recommendations have soared +143.0%, +175.9%, +498.3% and +673.0%.
Most of the stocks in this report are flying under Wall Street radar, which provides a great opportunity to get in on the ground floor.
Today, See These 5 Potential Home Runs >>
Want the latest recommendations from Zacks Investment Research? Today, you can download 7 Best Stocks for the Next 30 Days.
Click to get this free report
American Water Works Company, Inc. (AWK): Free Stock Analysis Report
California Water Service Group (CWT): Free Stock Analysis Report
SJW Group (SJW): Free Stock Analysis Report
Essential Utilities Inc. (WTRG): Free Stock Analysis Report
To read this article on Zacks.com click here.
Zacks Investment Research