Airline Stock Roundup: GOL's Q1 Earnings Report Disappoints, DAL, RYAAY in Focus
In the past week, GOL Linhas Aereas Inteligentes GOL reported lower-than-expected earnings for first-quarter 2019. Results were hurt by 16.2% depreciation of the Brazilian real against the US dollar and high fuel costs. Moreover, this Latin-American carrier tweaked its guidance for 2019 and 2020.
On the non-earnings front, Delta Air Lines DAL, Ryanair Holdings RYAAY and SkyWest SKYW released their respective traffic reports for April. American Airlines AAL also hit the headlines, courtesy of its decision to expand at Dallas Fort Worth Airport (DFW).
(Read the last Airline Stock Roundup here).
Recap of Past Week's Most Important Stories
1. Gol Linhas' first-quarter 2019 earnings (excluding 14 cents from non-recurring items) of 9 cents per share missed the Zacks Consensus Estimate by 24 cents. Net revenues of R$3.2 billion improved 8.3% year over year owing to solid demand for air travel and a strong pricing. Passenger revenues accounted for the bulk (94.5%) of the top line and rose 8.4% on a year-over-year basis. For 2019, GOL Linhas anticipates net revenues of approximately R$13 billion compared with R$12.9 billion expected previously. Additionally, earnings are envisioned in the range of 70-90 cents per share for the current year. Previously, the estimate was in the $1.30-$1.50 band. Additionally, earnings per share for 2020 are now anticipated between $1 and $1.3 compared with $1.70 and $2 projected earlier. (Read more: Gol Linhas Misses on Q1 Earnings, Tweaks '19 & '20 View)
Gol Linhas carries a Zacks Rank #3 (Hold). You can see the complete list of today's Zacks #1 Rank (Strong Buy) stocks here.
2. At Delta, consolidated traffic — measured in revenue passenger miles (RPMs) — came in at 19.34 billion, up 5.9% year over year. Consolidated capacity (or available seat miles/ASMs) climbed 5% to 22.52 billion on a year-over-year basis. Additionally, the carrier recorded an on-time performance (mainline) of 86.2% and a completion factor (mainline) of 99.8%. Notably, Delta's passenger count rose 6.6% to almost 17 billion in April. (Read more: Delta Posts Increase in April Traffic & Load Factor)
3. At Ryanair, April traffic (including 0.5 million from its LaudaMotion unit) rose 10% year over year to 13.5 million. Load factor remained flat at 96%. Notably, this European carrier operated more than 7500 scheduled flights in April. On a rolling annual basis, traffic rose 9% year over year to 142.3 million.
4. SkyWest reported a 6.2% year-over-year increase in block hours (a measure of aircraft utilization) to 118,963 in April. The carrier stated that the rise in block hours was owing to the addition of E175 and CRJ900 aircraft to its fleet since April 2018. Meanwhile, the company's dual class aircraft (E175, CRJ900 and CRJ700) accounted for approximately 65.5% of the carrier's total block-hour production for the month compared with approximately 58.9% a year ago. Load factor (% of seats filled by passengers) increased 110 basis points to 81.9%.
5. In a bid to expand its operations, American Airlines has started operating 15 new gates at DFW, its most profitable hub. As a result, the carrier is operating flights to 23 new destinations across the globe like Dublin, Munich, Santo Domingo and Monterey, CA. Also, the carrier renovated a satellite at Terminal E of the airport. More than 90% of the traffic at the airport is owing to American Airlines.
Performance
The following table shows the price movement of the major airline players over the past week and during the last six months.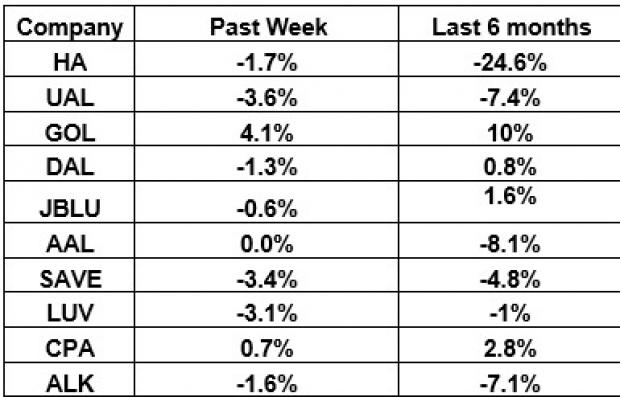 The table above shows that most airline stocks traded in the red in the past week. The NYSE ARCA Airline Index has declined 1.4% to $102.4 over the period. Over the course of six months, the NYSE ARCA Airline Index depreciated 0.3%.
What's Next in the Airline Space?
Investors will keenly await first-quarter 2019 earnings report of Azul AZUL, scheduled to released on May 9.
Breakout Biotech Stocks with Triple-Digit Profit Potential
The biotech sector is projected to surge beyond $775 billion by 2024 as scientists develop treatments for thousands of diseases. They're also finding ways to edit the human genome to literally erase our vulnerability to these diseases.
Zacks has just released Century of Biology: 7 Biotech Stocks to Buy Right Now to help investors profit from 7 stocks poised for outperformance. Our recent biotech recommendations have produced gains of +98%, +119% and +164% in as little as 1 month. The stocks in this report could perform even better.
See these 7 breakthrough stocks now>>
Want the latest recommendations from Zacks Investment Research? Today, you can download 7 Best Stocks for the Next 30 Days.
Click to get this free report
Delta Air Lines, Inc. (DAL): Free Stock Analysis Report
American Airlines Group Inc. (AAL): Free Stock Analysis Report
Gol Linhas Aereas Inteligentes S.A. (GOL): Free Stock Analysis Report
SkyWest, Inc. (SKYW): Free Stock Analysis Report
Ryanair Holdings PLC (RYAAY): Free Stock Analysis Report
AZUL SA (AZUL): Free Stock Analysis Report
To read this article on Zacks.com click here.
Zacks Investment Research