Macy's (M) Ups its Retail Game, Launches Story in 36 Stores
In the wake of consumer's increasing preference for online shopping, Macy's, Inc. M has unveiled a concept shop — Story — to 36 of its locations across 15 states. Story, which was acquired in 2018, has partnered with more than 70 small businesses, including MAC Cosmetics, Crayola, Levi's Kids and Primary to enhance in-store experience.

Story is a theme-based retailing concept that offers curated merchandise to its customers. Macy's launched Story with its first theme as Color, featuring 400 products like colorful T-shirts, books, dishes, candles, chocolate bars, bags, makeup and candy. These products are available at an average price of $20 till Jun 26. Post this date, the interiors of the store will be redesigned and a new set of merchandise will be brought in as per the next theme. The theme will be rotated every two months.

For the launch of Story's first theme, the company roped in New York designer David Stark to make the store visually appealing. The store with faux fur columns and a custom pixelated patterned carpet (created by a flooring company – Flor) is anticipated to be a colorful experience for the customers.

In addition to this, Macy's has arranged events like various workshops and beauty classes, per sources. Out of the 36 stores where Story has been launched, 30 come with a facility that enables customers to create their own makeup palettes at MAC stations.

Well, the launch of Story in these locations is a good way to utilize the excess space available. The company has revealed that it will add more local brands to Story, going forward. Moreover, Macy's has hired nearly 270 employees to support this initiative.

Further, the concept store will lure new and existing customers to buy more frequently. This is an out of the box attempt by Macy's to keep up with its rivals like Nordstorm JWN and Kohl's KSS via product innovation efforts. Also, this move is a deliberate one to get back on growth trajectory and avoid facing the same fate as companies like J. C. Penney JCP, which are struggling to make ends meet.

We note that Macy's shares have declined 1.2% in the past three months against the industry's growth of 5.5%, owing to dismal sales in the holiday season, which coincides with the company's fourth quarter. Although, the company registered positive comparable sales during the fourth quarter of fiscal 2018, results failed to live up to expectations. Moreover, net sales declined from the year-ago period. Additionally, the company's soft fiscal 2019 view fails to inspire much.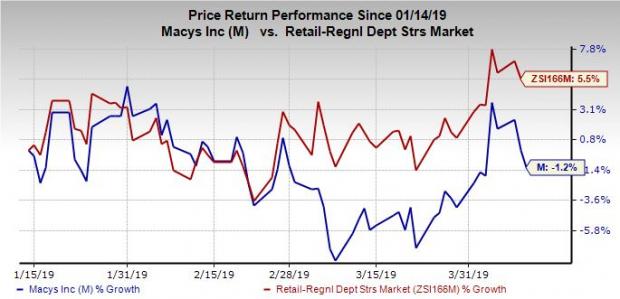 However, management expects this new initiative to aid the top line to some extent and provide some cushion to this Zacks Rank #3 (Hold) stock. You can see the complete list of today's Zacks #1 Rank (Strong Buy) stocks here.

Breakout Biotech Stocks with Triple-Digit Profit Potential

The biotech sector is projected to surge beyond $775 billion by 2024 as scientists develop treatments for thousands of diseases. They're also finding ways to edit the human genome to literally erase our vulnerability to these diseases.

Zacks has just released Century of Biology: 7 Biotech Stocks to Buy Right Now to help investors profit from 7 stocks poised for outperformance. Our recent biotech recommendations have produced gains of +98%, +119% and +164% in as little as 1 month. The stocks in this report could perform even better.

See these 7 breakthrough stocks now>>
Want the latest recommendations from Zacks Investment Research? Today, you can download 7 Best Stocks for the Next 30 Days.
Click to get this free report
Nordstrom, Inc. (JWN): Free Stock Analysis Report
J. C. Penney Company, Inc. (JCP): Free Stock Analysis Report
Macy's, Inc. (M): Free Stock Analysis Report
Kohl's Corporation (KSS): Free Stock Analysis Report
To read this article on Zacks.com click here.
Zacks Investment Research