Sohu.com (SOHU) Q4 Earnings Beat Estimates, Revenues Rise Y/Y
Sohu.com SOHU reported fourth-quarter 2019 non-GAAP loss of 45 cents per share, which was narrower than the Zacks Consensus Estimate of a loss of 69 cents. The company had reported earnings of 37 cents in the year-ago period.

Revenues were up 5% year over year to $490 million. On a constant-currency basis, revenues grew 7% year over year.

The year-over-year growth in the top line was driven by improved performance of the company's online game and other businesses, and cost-saving initiatives in Sohu Media and Sohu Video segments.

Top-Line Details

Total online advertising revenues decreased 5% year over year to $316 million.

Brand advertising revenues in the reported quarter fell 27% on a year-over-year basis to $42 million due to decreases in portal and video advertising revenues.

Search and search-related revenues were down 1% year over year to $275 million.
Sohu.com Inc. Price, Consensus and EPS Surprise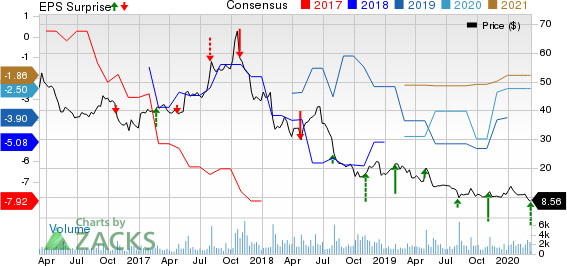 Sohu.com Inc. price-consensus-eps-surprise-chart | Sohu.com Inc. Quote
Meanwhile, Online game revenues of $132 million grew 40% from the year-ago quarter primarily due to the contribution of TLBB Honor and improved performance of some of Changyou's older games, including TLBB PC and Legacy TLBB Mobile, as a result of content updates and some promotional activities during the quarter.

Moreover, other revenues increased 15.1% year over year to $41.7 million.

Media Portal and Video revenues were $23 million and $22 million, respectively.

Sogou's SOGO revenues increased 1% year over year to $301 million.

Sogou's search and mobile keyboard integrated with AI technology witnessed healthy growth. Sogou Mobile Keyboard daily active users (DAUs) reached 464 million, up 14% year over year.

Notably, in October, Sogou renewed its corporation with WeChat. Sogou Search will continue to be the preferred search engine on WeChat for third parties search services to access external/internal content.

Sogou maintained its position as the "second-largest search engine" based in China. Meanwhile, Sogou Mobile Keyboard continues to be the "third largest Chinese mobile app" on expanding user base.

Changyou's CYOU revenues improved 35% year over year to $135 million. Apart from solid performance by TLBB PC and the Legacy TLBB mobile titles, the company benefitted from TLBB Honor — the new mobile game launched during the last quarter — and the new expansion pack for TLBB PC launched the during the fourth quarter performed well.

Margins

Non-GAAP gross margin in the quarter expanded 600 bps on a year-over-year basis to 52%.

Online advertising non-GAAP gross margin rose 700 bps on a year-over-year basis to 39%. Brand advertising business margin expanded 500 bps on a year-over-year basis to 31%.

Moreover, non-GAAP gross margin of the search and search-related business in the reported quarter grew 400 bps to 40%. The year-over-year and quarter-over-quarter increases primarily resulted from decreases in traffic acquisition cost as a percentage of search and search related advertising revenues.

However, online games non-GAAP gross margin contracted to 75% from 85% reported in the year-ago quarter primarily due to an increase in the revenue contribution from new mobile games, primarily TLBB Honor, which typically require larger revenue-sharing payments compared with PC games and Legacy TLBB Mobile.

Non-GAAP operating expenses were $204 million, down 17% year over year.

Sohu's non-GAAP operating income was $49 million. The company had reported an operating loss of $34 million in the year-ago quarter.

Balance Sheet

As of Dec 31, 2019, Sohu's cash and cash equivalents (and short-term investments) came in at $1.63 billion compared with $1.563 billion as of Sep 30.

First-Quarter Guidance

Sohu expects total revenues between $400 million and $435 million.

Brand Advertising revenues are anticipated in the range of $25-$30 million, indicating a year-over-year decrease of 30-42%.

Online game revenues are expected in the band of $120-$130 million, suggesting a year-over-year increase of 21-31%.

Sogou revenues are projected to be $240-$260 million, implying a year-over-year decrease of 5% to an increase of 3%.

Non-GAAP net loss is expected between 65 cents and 90 cents per ADS.

Zacks Rank & Stock to Consider

Sohu.com currently carries a Zacks Rank #3 (Hold).

A better-ranked stock in the broader technology sector is Garmin Ltd. GRMN , which sports a Zacks Rank #1 (Strong Buy). You can see the complete list of today's Zacks #1 Rank stocks here.

The long-term earnings growth rate for Garmin is currently pegged at 7.4%.

Just Released: Zacks' 7 Best Stocks for Today

Experts extracted 7 stocks from the list of 220 Zacks Rank #1 Strong Buys that has beaten the market more than 2X over with a stunning average gain of +24.7% per year.

These 7 were selected because of their superior potential for immediate breakout.

See these time-sensitive tickers now >>
Want the latest recommendations from Zacks Investment Research? Today, you can download 7 Best Stocks for the Next 30 Days.
Click to get this free report
Sohu.com Inc. (SOHU): Free Stock Analysis Report
Changyou.com Limited (CYOU): Free Stock Analysis Report
Garmin Ltd. (GRMN): Free Stock Analysis Report
Sogou Inc. Sponsored ADR (SOGO): Free Stock Analysis Report
To read this article on Zacks.com click here.
Zacks Investment Research