Don't Waste This Opportunity to Buy These 3 Bank Laggards
After an impressive 2021, this year is turning out to be a bit disappointing for the stock markets. All the three major indices – the S&P 500, the Dow Jones Industrial Average and the Nasdaq – are in deep red since the beginning of 2022.

So, what's fueling the sell-offs? Well, there has been increasing speculation that the Federal Reserve will be more aggressive in its efforts to tackle inflation and likely announce more than 25 basis points hike in interest rates in its March FOMC meeting. This has driven the benchmark U.S. Treasury yields up, with the 10-year yields touching the highest level since January 2020.

Moreover, the ongoing Q4 earnings are turning out to be lackluster. Many banks that have reported results so far haven't been able to meet market expectations (both in terms of quarterly performance and management guidance). Thus, this weighed heavily on the major indexes and bank stocks.

But with interest rate hikes imminent and the U.S. economy remaining strong, you can turn this scenario into a buying opportunity. We have chosen – Amerant Bancorp Inc. AMTB, Live Oak Bancshares, Inc. LOB and Triumph Bancorp, Inc. TBK – as these will benefit from the hawkish Fed stance and robust economy.

Since March 2020, banks have been witnessing contraction of the net interest margin (NIM) owing to the central bank's accommodative monetary policy and near-zero interest rates. So, sooner and bigger-than-expected rate hikes will come as a breather for banks and improve margins and net interest income (NII), which constitutes a major portion of the revenues.

Further, robust economic growth and a decent rise in loan demand are set to drive NIM and NII. Banks are also undertaking initiatives to restructure operations to diversify their footprint and revenue base. Efforts to focus on non-interest income are likely to bolster banks' top-line growth.
Our Picks
Based on these developments, investing in bank stocks will be highly profitable. The short-listed banks have lost more than 2% year to date, thus providing you a good entry point after their resounding 2021 performance wherein these stocks had surged more than 50%.
Performance in 2021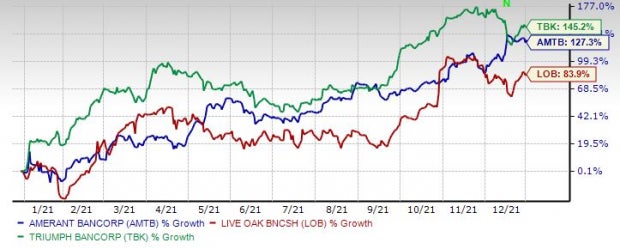 Image Source: Zacks Investment Research
Further, these banks have witnessed positive earnings estimate revision for 2022 over the past two months. Also, all three banks have a market cap of not less than $1 billion and currently carry a Zacks Rank #2 (Buy). You can see the complete list of today's Zacks #1 Rank (Strong Buy) stocks here.

Amerant Bancorp: Headquartered in Coral Gables, FL, AMTB provides banking products and services to individuals and businesses in the United States and across the globe. The company, the second-largest community bank headquartered in Florida, operates through 24 banking centers.

As of Sep 30, 2021, AMTB had $7.5 billion in total assets, $5.2 billion in net loans held for investments and $5.6 million in total deposits. Also, Amerant is expected to keep benefiting from solid loans and deposit balance, efforts to strengthen fee income sources and an improving economy. These will likely drive revenues going forward.

In September 2021, Amerant announced an authorization to repurchase up to $50 million of its Class A shares. The stock, which has a market cap of $1.3 billion, had soared 127.3% last year but has lost 2.5% so far this year. AMTB's 2022 earnings estimates have been revised 7.4% upward over the past two months.

Live Oak Bancshares: Providing various commercial banking products and services in North Carolina, Live Oak Bancshares operates a national online platform for small business lending and deposit gathering. Being branchless has supported LOB's financials immensely amid the pandemic.

As of Sep 30, 2021, Live Oak Bancshares had $8.1 billion in total assets, $5.4 billion in net loans and leases and $6.8 million in total deposits. Based in Wilmington, NC, the bank has strengthened its revenue base mainly on the back of solid loan demand.

LOB has been paying a regular quarterly dividend of 3 cents per share. The stock, which has a market cap of $3.3 billion, had surged 83.9% in 2021 but has lost 13.4% in the year-to-date period. LOB's earnings estimates for 2022 have moved marginally upward over the past 60 days.

Triumph Bancorp: Offering a diversified range of banking, payments and factoring services, Triumph Bancorp operates through almost 60 branches across Iowa, Illinois, Colorado, New Mexico, Kansas and Texas. As of Sep 30, 2021, TBK had total assets of $6 billion, total loans held for investment of $4.8 billion and total deposits of $4.8 billion.

Dallas, TX-based TBK has been recording strong top-line growth driven by solid loan balance and gradually improving economic backdrop. Further, the company's credit quality is impressive.

Triumph Bancorp has a market cap of $2.8 billion. The company's shares surged 145.2% last year but has lost 7.3% so far this year. TBK's 2022 earnings estimates have been revised almost 1% upward over the past two months.
7 Best Stocks for the Next 30 Days
Just released: Experts distill 7 elite stocks from the current list of 220 Zacks Rank #1 Strong Buys. They deem these tickers "Most Likely for Early Price Pops."
Since 1988, the full list has beaten the market more than 2X over with an average gain of +25.3% per year. So be sure to give these hand-picked 7 your immediate attention.
See them now >>
Want the latest recommendations from Zacks Investment Research? Today, you can download 7 Best Stocks for the Next 30 Days.
Click to get this free report
Triumph Bancorp, Inc. (TBK): Free Stock Analysis Report
Live Oak Bancshares, Inc. (LOB): Free Stock Analysis Report
Amerant Bancorp Inc. (AMTB): Free Stock Analysis Report
To read this article on Zacks.com click here.
Zacks Investment Research