Integra (IART) Hits New 52-Week High: What's Driving It?
Shares of Integra LifeSciences Holdings Corporation IART reached a new 52-week high of $67.29 on Dec 30, before closing the session marginally lower at $65.05. The stock has rallied 48.3% since its third-quarter 2020 earnings announcement on Oct 28.
The company is witnessing an upward trend in its stock price, prompted by its solid performance in the third quarter despite the pandemic-led business disruptions. A visible rebound in sales, over the past few months, buoys optimism. Further, strong prospects of the company's Codman Specialty Surgical ("CSS") segment boosted market sentiments. However, a stiff competitive landscape and the pandemic-led deferrals in surgical procedures are concerning for the company.
Let's delve deeper.
Encouraging Q3 Performance
Integra's impressive performance in the third quarter of 2020 buoys optimism. The sequential improvement in segmental revenues, along with growth in Orthopedics and Tissue Technologies segment are impressive. Robust demand for the company's products is also a positive. Expansion of both margins looks encouraging.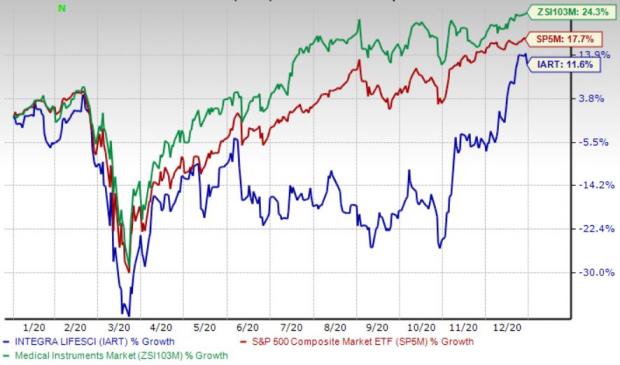 Other Growth Drivers
Sales Rebound: Integra's third quarter of 2020 represented a significant sequential increase in sales along with robust improvement in capital sales, raising investors' optimism. Per the company, part of this increase was due to deferred or delayed surgical procedures during the second quarter that the company performed in the third quarter. Also, broad-based improvement across Integra's franchises was observed over the past few months. Organic sales growth in the United States was robust along with strong sequential recovery of sales in dural access and repair.
Potential in CSS: Investors are upbeat about the steady sequential improvement within the CSS segment despite the segmental slowdown. Although global neurosurgery sales were down on an organic basis during the third quarter, a strong sequential recovery has been registered. Further, sales in neuromonitoring and CSS management increased in low single digits. International sales in CSS, although down year over year in the third quarter, were better than the second quarter. In this region, growth in both Japan and Canada was registered.
Presently, Integra remains focused on investing in two technologies (the company acquired two early-stage technology platforms – anti-thrombus coding technology and minimally invasive neuro surgery – in 2019) and aligning the development and clinical progress with its commercialization plans. The addition of the technologies to its portfolio created clinical opportunities for expansion into new larger and faster-growing markets, including intracerebral hemorrhage and minimally invasive neurosurgery.
Downsides
Pandemic-Led Surgical Procedures Deferrals: Demand for Integra's surgical procedures declined significantly amid the pandemic. This was because healthcare providers started to reallocate resources to address the surging demand caused by the COVID-19 outbreak. Per Integra, there was a dramatic sales decline that occurred as soon as surgical procedures were postponed on a wide scale. Despite a significant recovery rate during the third quarter, the company is currently cautious, given the current spike in COVID-19 cases in a number of countries. According to Integra, if hospital capacity becomes constrained, there is risk that in the fourth quarter, revenues will be down mid-single-digits year over year and approximately flat sequentially.
Competitive Landscape: Integra faces substantial competition in the surgical implants and medical instruments market, which includes biggies like Medtronic plc MDT along with many smaller specialized companies. The company needs to be innovative on the product front in order to keep up with the competition. Moreover, consolidation trends in the industry could lead to intense pricing pressure and further competition in this niche. Integra also competes with companies that do not otherwise focus on specialty surgical solutions.
Zacks Rank & Key Picks
Currently, Integra carries a Zacks Rank #3 (Hold).
Some better-ranked stocks from the broader medical space are Hologic, Inc. HOLX and IDEXX Laboratories, Inc. IDXX.
Hologic's long-term earnings growth rate is estimated at 17.4%. The company presently carries a Zacks Rank #1 (Strong Buy). You can see the complete list of today's Zacks #1 Rank stocks here.
IDEXX's long-term earnings growth rate is estimated at 15.8%. It currently carries a Zacks Rank #2 (Buy).
Legal Marijuana: An Investor's Dream
Imagine getting in early on a young industry primed to skyrocket from $17.7 billion in 2019 to an expected $73.6 billion by 2027.
Although marijuana stocks did better as the pandemic took hold than the market as a whole, they've been pushed down. This is exactly the right time to get in on selected strong companies at a fraction of their value before COVID struck. Zacks' Special Report, Marijuana Moneymakers, reveals 10 exciting tickers for urgent consideration.
Download Marijuana Moneymakers FREE >>
Want the latest recommendations from Zacks Investment Research? Today, you can download 7 Best Stocks for the Next 30 Days.
Click to get this free report
Medtronic PLC (MDT): Free Stock Analysis Report
Hologic, Inc. (HOLX): Free Stock Analysis Report
Integra LifeSciences Holdings Corporation (IART): Free Stock Analysis Report
IDEXX Laboratories, Inc. (IDXX): Free Stock Analysis Report
To read this article on Zacks.com click here.
Zacks Investment Research