Roche Acquires Stratos Genomics, Presents Data on NMOSD Drug
Roche RHHBY announced that it has acquired an early-stage sequencing technology company — Stratos Genomics — in order to advance the development of its nanopore sequencer.
The acquisition provides Roche access to Stratos Genomics unique chemistry, Sequencing by Expansion (SBX).
The nanopore sequencer, once developed, will deploy a novel approach for combining electronic and biological components to sequence DNA for fast, flexible and cost-effective clinical diagnostic testing.
The acquisition complements the development of Roche's nanopore technology, with the goal of an end-to-end sequencing solution, starting from a patient sample to a diagnostic result.
Financial terms of the agreement have not been disclosed.
Additionally, Roche released new long-term data on satralizumab for the treatment of neuromyelitis optica spectrum disorder (NMOSD).
Satralizumab is an investigational humanized monoclonal antibody that targets the interleukin-6 (IL-6) receptor.
Pooled data from two phase III open-label extension (OLE) studies (SAkuraStar and SAkuraSky) show satralizumab was well tolerated as a monotherapy or in combination with baseline immunosuppressive therapy in NMOSD patients. Moreover, adolescents treated with the same dosing and frequency demonstrated a benefit-risk profile generally consistent with the adult population.
The data reinforce the safety, observed tolerability and potential of satralizumab as a future treatment option for this rare, debilitating condition.
Satralizumab enjoys orphan drug status in the United States, Europe and Japan. It was also granted Breakthrough Therapy Designation for the treatment of NMOSD by the FDA in December 2018.
A potential approval will strengthen Roche's neuroscience portfolio. Roche is currently evaluating more than a dozen investigational medicines in clinical development for diseases that include multiple sclerosis, Alzheimer's disease, Huntington's disease, spinal muscular atrophy, Parkinson's disease and autism.
Roche's stock has gained 9% in the year so far against the industry's decline of 2%.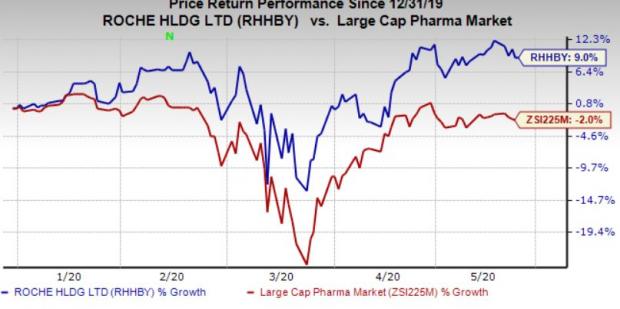 Roche looks to strengthen its pharma business with focus on key therapeutics areas beyond oncology and concurrently develop the diagnostics portfolio.
Strong growth in Ocrevus, Perjeta, Tecentriq and Hemlibra has managed to counter biosimilar competition for Herceptin, Avastin and MabThera from the likes of Amgen AMGN and Allergan AGN. The recent approval of Tecentriq as a first-line monotherapy for certain patients with metastatic non-small cell lung cancer (NSCLC) will further boost the top line amid stiff competition from the likes of Merck's MRK Keytruda.

Roche currently carries a Zacks Rank #3 (Hold). You can see the complete list of today's Zacks #1 Rank (Strong Buy) stocks here.
Today's Best Stocks from Zacks
Would you like to see the updated picks from our best market-beating strategies? From 2017 through 2019, while the S&P 500 gained and impressive +53.6%, five of our strategies returned +65.8%, +97.1%, +118.0%, +175.7% and even +186.7%.
This outperformance has not just been a recent phenomenon. From 2000 – 2019, while the S&P averaged +6.0% per year, our top strategies averaged up to +54.7% per year.
See their latest picks free >>
Want the latest recommendations from Zacks Investment Research? Today, you can download 7 Best Stocks for the Next 30 Days.
Click to get this free report
Roche Holding AG (RHHBY): Free Stock Analysis Report
Merck Co., Inc. (MRK): Free Stock Analysis Report
Amgen Inc. (AMGN): Free Stock Analysis Report
To read this article on Zacks.com click here.
Zacks Investment Research