Southwestern Energy's (SWN) Stock Up 13% Since Q3 Earnings
Southwestern Energy Company's SWN shares have gained more than 13% since its earnings announcement on Oct 24. The company met earnings expectations on the back of liquids production growth, a trait if continued, will likely boost the bottom line in the coming quarters.
Let's delve deeper.
Southwestern Energy reported third-quarter 2019 adjusted earnings of 8 cents per share, matching the Zacks Consensus Estimate but declining from the year-ago profit of 25 cents.
Quarterly operating revenues of $636 million missed the Zacks Consensus Estimate of $647 million and declined from $951 million in third-quarter 2018.
The quarterly earnings were supported by higher liquids production, partially offset by average realized commodity prices.
Southwestern Energy Company Price and EPS Surprise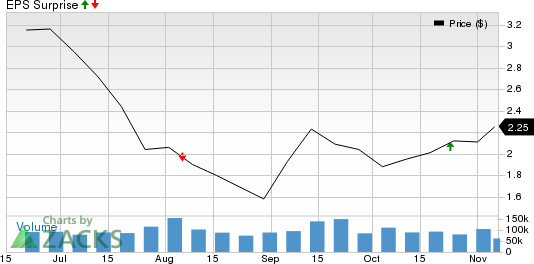 Southwestern Energy Company price-eps-surprise | Southwestern Energy Company Quote
Total Production Declines
The company's total third-quarter production fell to 202 billion cubic feet equivalent (Bcfe) from 252 Bcfe in the year-ago period. Gas production in the quarter was 158 Bcf, lower than the year-ago level of 215 Bcf.
However, oil production surged to 1,419 thousand barrels (MBbls) from 998 MBbls in the year-ago quarter. Natural gas liquids production in the quarter under review was recorded at 5,911 MBbls, higher than year-ago level of 5,181 MBbls. It is to be noted that nearly 22% of its volume mix constituted of liquids in third-quarter 2019, higher than 14.7% in the year-ago period.
Average Realized Prices Fall
The company's average realized gas price in the quarter, excluding hedges, fell to $1.45 per thousand cubic feet (Mcf) from $2.14 a year ago. Oil was sold at $46.54 per barrel compared with the year-earlier level of $61.20. Natural gas liquids were sold at $8.89 per barrel, lower than $21.60 in the year-ago period.
Operational Highlights
In the quarter under review, operating loss was recorded at $29 million against operating income of $66 million in the year-ago period.
On a per-Mcfe basis, lease operating expenses were 94 cents compared with the prior-year level of 92 cents. General and administrative expenses per unit of production were 15 cents, down from 18 cents in the year-ago period.
Financials
Southwestern Energy's total capital expenditure during the third quarter was approximately $240 million.
As of Sep 30, 2019, the company's cash and cash equivalents were $29 million. Long-term debt was $2,219 million, which represents a debt-to-capitalization ratio of 41.4%.
Guidance
The upstream energy player expects 2019 capital spending within $1.15 billion, owing to efficiency gains. For full-year 2019, the company expects lease operating expenses in the range of 90-94 cents per Mcfe.
Zacks Rank and Stocks to Consider
Currently, Southwestern Energy has a Zacks Rank #3 (Hold). Some better-ranked players in the energy space are Lonestar Resources US Inc. LONE, CNX Resources Corporation CNX and Contango Oil & Gas Company MCF. All these companies carry a Zacks Rank #2 (Buy). You can see the complete list of today's Zacks #1 Rank (Strong Buy) stocks here.
Lonestar's 2020 earnings per share are expected to rise 77% year over year.
CNX Resources' 2019 earnings per share have witnessed two upward movements and no downward revision in the past 30 days.
Contango Oil & Gas' bottom line for the current year is expected to rise around 87% year over year.
Wall Street's Next Amazon
Zacks EVP Kevin Matras believes this familiar stock has only just begun its climb to become one of the greatest investments of all time. It's a once-in-a-generation opportunity to invest in pure genius.
Want the latest recommendations from Zacks Investment Research? Today, you can download 7 Best Stocks for the Next 30 Days.
Click to get this free report
Southwestern Energy Company (SWN): Free Stock Analysis Report
CNX Resources Corporation. (CNX): Free Stock Analysis Report
Lonestar Resources US Inc. (LONE): Free Stock Analysis Report
Contango Oil & Gas Company (MCF): Free Stock Analysis Report
To read this article on Zacks.com click here.