Carnival Delays Delivery of Ship Due to Coronavirus Pandemic
Carnival Corporation & Plc CCL recently revised the delivery of its newest ship, Mardi Gras, and put its project, Carnival Radiance, on hold owing to the coronavirus pandemic. The cruise industry has been driven to a standstill by the coronavirus-induced crisis and Carnival has been no exception to the trend with the pandemic hurting operations and global bookings. The company is also of the opinion that the pandemic is likely to cause delay in ship deliveries as the shipyards have been impacted as well.

Mardi Gras, the first LNG-powered ship will enter into service from Port Canaveral, FL on Feb 6, 2021. The highly anticipated ship will operate in the Western Hemisphere and will feature the first roller coaster at sea. Notably, itineraries out of Port Canaveral for departures from Nov 14, 2020 to Jan 30, 2021 have been cancelled.

Moreover, Carnival Radiance project has been temporarily put on hold. The company is currently evaluating shipyard options to complete the transformation. However, the ship is unlikely to be completed until the spring. Carnival Magic's transatlantic and European itineraries from Mar 13, 2021 to May 3, 2021 have been cancelled.

Christine Duffy, president of Carnival Cruise Line said "We continue to assess the impact of the COVID-19 pandemic on global commerce, public health and our cruise operations. In addition to our current pause in service, there have been many other unintended consequences, including shipyard, dry dock and ship delivery delays, and related changes to our deployment plans for our fleet."

Shares of the company have fallen 69.3% year to date, compared with the industry's decline of 49.3%.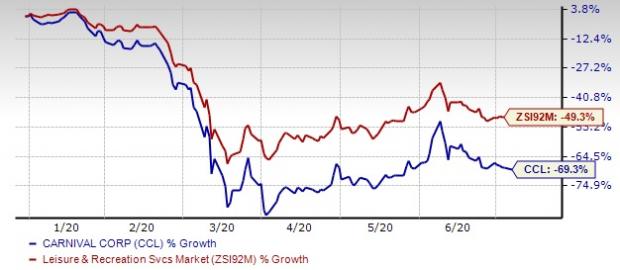 Bookings Down Significantly

As of May 31, 2020, cumulative advanced bookings for 2021 capacity currently available for sale are within historical ranges at prices that are down in the low to mid-single digits range, which includes the negative yield owing to FCCs and onboard credits applied, on a comparable basis. However, for 2021, booking volumes for the six weeks ending May 31, 2020, were down significantly compared with the prior year. Other major cruise operators like Norwegian Cruise Line Holdings Ltd. NCLH and Royal Caribbean Group RCL have also been affected by the pandemic.

Zacks Rank & a Key Pick
Carnival has a Zacks Rank #5 (Strong Sell). A better-ranked stock in the leisure space is Planet Fitness, Inc. PLNT, which carries a Zacks Rank # 2 (Buy). You can see the complete list of today's Zacks #1 Rank (Strong Buy) stocks here.

Planet Fitness has an impressive long-term earnings growth rate of 17.4%.

Zacks' Single Best Pick to Double

From thousands of stocks, 5 Zacks experts each picked their favorite to gain +100% or more in months to come. From those 5, Zacks Director of Research, Sheraz Mian hand-picks one to have the most explosive upside of all.

This young company's gigantic growth was hidden by low-volume trading, then cut short by the coronavirus. But its digital products stand out in a region where the internet economy has tripled since 2015 and looks to triple again by 2025.

Its stock price is already starting to resume its upward arc. The sky's the limit! And the earlier you get in, the greater your potential gain.

Click Here, See It Free >>
Want the latest recommendations from Zacks Investment Research? Today, you can download 7 Best Stocks for the Next 30 Days.
Click to get this free report
Carnival Corporation (CCL): Free Stock Analysis Report
Royal Caribbean Cruises Ltd. (RCL): Free Stock Analysis Report
Norwegian Cruise Line Holdings Ltd. (NCLH): Free Stock Analysis Report
Planet Fitness, Inc. (PLNT): Free Stock Analysis Report
To read this article on Zacks.com click here.
Zacks Investment Research