Virtu Financial (VIRT) Offers Senior Secured Term Loan of $1.8B
Virtu Financial, Inc.'s VIRT subsidiaries recently announced the pricing of senior secured first-lien term loan (the "Term Loan") worth $1.8 billion. The Term Loan is issued at 99.75% of the par value and set to mature on 2029.
With the proceeds generated from the Term Loan, Virtu Financial plans to pay back its existing senior secured term loan as part of the refinancing efforts of its existing credit facilities. The proceeds are intended to finance share buybacks and meet general corporate expenses.

Though the Fed has signaled three interest rate hikes in 2022 (published on CNBC), a low-interest-rate environment prevails currently. By issuing the Term Loan amid the current scenario, Virtu Financial can procure funds and boost financial flexibility. This, in turn, reinforces VIRT's efforts to reduce the interest expenses, which otherwise can weigh on the margins.
Virtu Financial seems to have succeeded in this endeavor as interest expense on long-term borrowings declined 11.8% in the first nine months of 2021 from the prior-year comparable period.
Sufficient cash reserves and adequate cash-generation abilities position VIRT well to uninterruptedly service its short-term obligations. Solid cash flows can be utilized for pursuing growth-related initiatives, prudent deployment of capital and repaying debts, thus ensuring the stock's creditworthiness. Continuous efforts to repay debts bore fruits as the long-term debt level of the company seems to be on a downtrend. As of Sep 30, 2021, the same fell 2.1% from the 2020-end figure.
It is imperative to mention that the solvency position of Virtu Financial looks impressive. The cash balance of VIRT ($683.8 million) as of Sep 30, 2021, remains much higher than the short-term borrowings of $312.8 million.
The leverage ratio of Virtu Financial has been improving. This is substantiated by VIRT's total debt to total capital of 47.1% at the third-quarter end. Although the same deteriorated 20 basis points (bps) from the 2020-end figure, it remains lower than the industry's figure of 48.8%.
Similar to Virtu Financial's move, other finance stocks like Jefferies Financial Group Inc. JEF, MoneyGram International, Inc. MGI and Euronet Worldwide, Inc. EEFT have also been issuing senior notes or term loans to reduce the debt burden.
As of Aug 31, 2021, Jefferies Financial comprises senior notes worth $993.8 million (5.50% senior notes due 2023 and 6.625% senior notes due 2043). JEF's leverage ratio is improving as total debt to total capital of 50.1% at the third-quarter end improved 170 bps from 2020-end.
MoneyGram possesses 5.00% Term Loan due 2026 valued at $400 million and $415 million 5.38% senior secured notes due 2026 as of Sep 30, 2021. The leverage ratio of MGI came in at 130.2% at the third-quarter end, which improved 800 bps from the 2020-end figure.
As of Sep 30, 2021, Euronet comprises total senior notes worth $694.9 million. EEFT's leverage ratio of 44.6% at the third-quarter end improved 530 bps from the 2020-end figure.
Shares of Virtu Financial have gained 20.8% in a year compared with the industry's rally of 17.2%.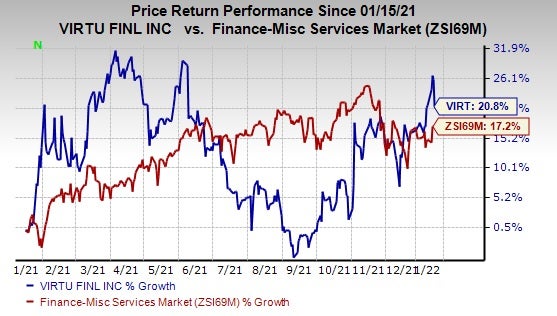 Image Source: Zacks Investment Research
VIRT currently has a Zacks Rank #4 (Sell).

You can see the complete list of today's Zacks #1 Rank (Strong Buy) stocks here.
While shares of Jefferies Financial and MoneyGram have gained 45.5% and 7.4%, respectively, in a year, Euronet stock has lost 9.1% in the same time frame.
Infrastructure Stock Boom to Sweep America
A massive push to rebuild the crumbling U.S. infrastructure will soon be underway. It's bipartisan, urgent, and inevitable. Trillions will be spent. Fortunes will be made.
The only question is "Will you get into the right stocks early when their growth potential is greatest?"
Zacks has released a Special Report to help you do just that, and today it's free. Discover 5 special companies that look to gain the most from construction and repair to roads, bridges, and buildings, plus cargo hauling and energy transformation on an almost unimaginable scale.
Download FREE: How to Profit from Trillions on Spending for Infrastructure >>
Want the latest recommendations from Zacks Investment Research? Today, you can download 7 Best Stocks for the Next 30 Days.
Click to get this free report
MoneyGram International Inc. (MGI): Free Stock Analysis Report
Jefferies Financial Group Inc. (JEF): Free Stock Analysis Report
Euronet Worldwide, Inc. (EEFT): Free Stock Analysis Report
Virtu Financial, Inc. (VIRT): Free Stock Analysis Report
To read this article on Zacks.com click here.
Zacks Investment Research