Eagle Bancorp (EGBN) Hikes Dividend: Is It Worth Betting On?
Eagle Bancorp, Inc.'s EGBN board of directors recently approved a quarterly cash dividend of 25 cents per share, marking a 13.6% increase from the prior payout. This dividend will be paid out on May 3 to shareholders of record as of Apr 21.
Considering last day's closing price of $54.12, the company's dividend yield currently stands at 1.85%. This yield is not only attractive to income investors but also represents a steady income stream.
Eagle Bancorp has been paying quarterly dividends since February 2005. However, following the 2008 financial crisis, the company stopped paying the same after June 2008. Management resumed dividend payments of 22 cents per share from May 2019 and has been paying at the same rate since then.
Further, Eagle Bancorp has a share-repurchase plan in place. In December 2020, the company's boards of directors authorized a repurchase program of 1.6 million shares effective Jan 1, 2021. The plan is set to expire on Dec 31, 2021.
Thus, through sustained efficient capital deployments, Eagle Bancorp is likely to continue enhancing shareholder value.
Eagle Bancorp's shares have surged 87.3% over the past six months, outperforming the 72.9% rally of the industry it belongs to.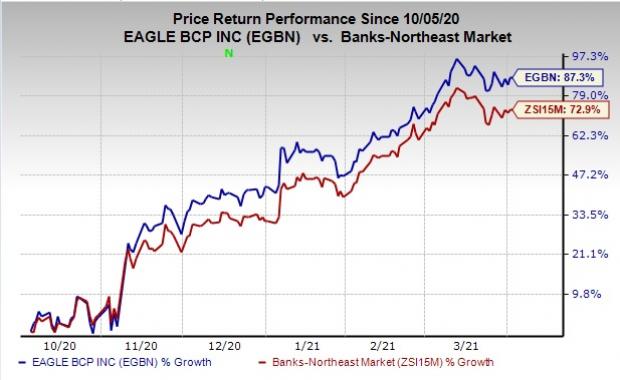 While it seems that Eagle Bancorp stock is an attractive investment option, investors interested in this Zacks Rank #2 (Buy) stock can take a look at its fundamentals and growth prospects to understand the rewards and risks.
You can see the complete list of today's Zacks #1 Rank (Strong Buy) stocks here.
Earnings: Over the last three-five years, Eagle Bancorp's earnings witnessed growth of 11.5%, higher than the industry average of 10.3%.This upward momentum is anticipated to continue in the near term, with earnings projected to grow at a rate of 7.6% and 3.6% in 2021 and 2022, respectively.
Also, the company has been witnessing upward earnings estimate revisions, of late, indicating that analysts are optimistic regarding its earnings growth potential. The Zacks Consensus Estimate for 2021 has moved marginally upward, over the past seven days.
Eagle Bancorp has an impressive earnings surprise history. Its earnings have surpassed the Zacks Consensus Estimate in three of the trailing four quarters, the average beat being 21.28%.
Return on Equity (ROE): The company's ROE of 10.98% compares favorably with the industry's 8.56%, underlining that it does reinvest its cash efficiently.
Leverage: Eagle Bancorp currently has a debt/equity ratio of 0.22 compared with the industry average of 0.26. This shows that the company is financially stable even in adverse economic conditions.
Thus, based on the above-mentioned factors, Eagle Bancorp's stock looks worth considering. However, one must take in to account certain macroeconomic factors, including a low rate environment and muted loan demand in the near term, before taking any investment decision.
Other Finance Companies Taking Similar Actions
Over the past few months, several finance companies have announced hikes in their quarterly dividends. Some of these are Saratoga Investment SAR, Independent Bank INDB and Preferred Bank PFBC.
Saratoga Investment raised its quarterly dividend by 2.4%, while Independent Bank increased it by 4.3%. Furthermore, Preferred Bank has announced a 26.7% hike in its dividend.
Bitcoin, Like the Internet Itself, Could Change Everything
Blockchain and cryptocurrency has sparked one of the most exciting discussion topics of a generation. Some call it the "Internet of Money" and predict it could change the way money works forever. If true, it could do to banks what Netflix did to Blockbuster and Amazon did to Sears. Experts agree we're still in the early stages of this technology, and as it grows, it will create several investing opportunities.
Zacks' has just revealed 3 companies that can help investors capitalize on the explosive profit potential of Bitcoin and the other cryptocurrencies with significantly less volatility than buying them directly.
See 3 crypto-related stocks now >>
Want the latest recommendations from Zacks Investment Research? Today, you can download 7 Best Stocks for the Next 30 Days.
Click to get this free report
Preferred Bank (PFBC): Free Stock Analysis Report
Eagle Bancorp, Inc. (EGBN): Free Stock Analysis Report
Saratoga Investment Corp (SAR): Free Stock Analysis Report
Independent Bank Corp. (INDB): Free Stock Analysis Report
To read this article on Zacks.com click here.
Zacks Investment Research