SM Energy (SM) Q1 Earnings Beat on Higher Crude Production
SM Energy Company SM recently reported first-quarter 2020 adjusted loss of 5 cents per share, narrower than the Zacks Consensus Estimate of a loss of 21 cents. The reported figure also improved from a loss of 34 cents a year ago.
Total revenues, which increased to $355.7 million from $340.9 million in the prior-year quarter, missed the Zacks Consensus Estimate of $403 million.
The strong quarterly earnings can be attributed to higher production levels, supported by Midland Basin activities and lower lease operating expenses. The positives were partially offset by lower realized commodity prices.
SM Energy Company Price, Consensus and EPS Surprise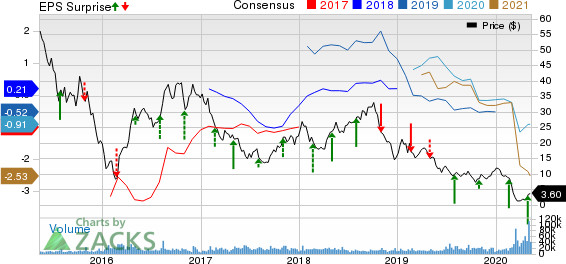 SM Energy Company price-consensus-eps-surprise-chart | SM Energy Company Quote
Operational Performance:
Total Production Increases
The company's first-quarter production was 135.9 thousand barrels of oil equivalent per day (MBoe/d) (51.4% oil), up 14% from the year-ago level of 118.7 MBoe/d. The production growth was supported by operations in the Midland Basin. Notably, it drilled 25 net wells in the quarter and completed 20 net wells. The company is currently operating one completion crew and five rigs in the Midland Basin. It had no crew and one operational rig in South Texas. Importantly, one rig is expected to be dropped from the Midland Basin in July.
Oil production increased 30% year over year to 69.8 thousand barrels per day (MBbls/d). SM Energy produced 291.2 million cubic feet per day of natural gas in the quarter, up 10% year over year. Natural gas liquids contributed 17.6 MBbls/d to total production volume, down 15% from the first-quarter 2019 level.
Realized Prices Decline
Excluding the effects of derivative settlements, the average realized price per Boe was $28.64 compared with $31.86 in the year-ago quarter. Average realized price of natural gas fell 44% year over year to $1.54 per thousand cubic feet. Notably, average realized prices of oil decreased 7% to $45.96 per barrel and that of natural gas liquids declined 30% from the prior-year quarter to $13.62.
Cost & Expenses
On the cost front, unit lease operating expenses decreased 9% year over year to $4.75 per Boe. In addition, transportation expenses fell to $3.11 per Boe from $4.08 in the year-ago quarter. Moreover, general and administrative expenses decreased 26% to $2.22 per Boe from the prior-year level of $3.00.
Total exploration expenses were $11.3 million, in line with the year-ago figure. Hydrocarbon production expenses in the quarter were recorded at $119.6 million compared with the year-ago level of $121.3 million. However, total operating expenses in the quarter increased to $836.8 million from the year-ago period's $526.2 million, primarily due to impairment charges.
Balance Sheet & Capex
As of Mar 31, SM Energy had a cash balance of $15,000 and liquidity of $1 billion. Its net long-term debt was $2,645.4 million, down from the fourth-quarter level of $2,732.8 million. The company had a debt to capitalization of 53%.
Capital expenditure in the quarter was recorded at $139.3 million, lower than the year-ago figure of $249.3 million. Notably, it generated free cash flow of $80.5 million in the quarter.
Guidance
Due to current market volatility, the company has reduced well completion and drilling pace. It anticipates capital spending for the rest of the year to decrease 30% from its original guidance. Overall, for the full year, this will mark a reduction of 20% from the prior guided range of $825-$875 million. For the second quarter, capital expenditures are expected in the band of $165-$175 million. Due to the prevailing market weakness, it withdrew its previous production guidance of 123-131 MBoe/d for 2020.
Zacks Rank & Stocks to Consider
Currently, SM Energy has a Zacks Rank #3 (Hold). Some better-ranked players in the energy space include RGC Resources Inc. RGCO, Cabot Oil & Gas Corporation COG, and Comstock Resources, Inc. CRK, each holding a Zacks Rank #2 (Buy). You can see the complete list of today's Zacks #1 Rank (Strong Buy) stocks here.
RGC Resources' 2020 earnings per share are expected to rise 14.8% year over year.
Cabot Oil & Gas beat earnings estimates thrice and met once in the last four quarters, with average positive surprise of 6.1%.
Comstock Resources' 2020 sales are expected to gain 30.8% year over year.
More Stock News: This Is Bigger than the iPhone!
It could become the mother of all technological revolutions. Apple sold a mere 1 billion iPhones in 10 years but a new breakthrough is expected to generate more than 27 billion devices in just 3 years, creating a $1.7 trillion market.
Zacks has just released a Special Report that spotlights this fast-emerging phenomenon and 6 tickers for taking advantage of it. If you don't buy now, you may kick yourself in 2020.
Click here for the 6 trades >>
Want the latest recommendations from Zacks Investment Research? Today, you can download 7 Best Stocks for the Next 30 Days.
Click to get this free report
Comstock Resources Inc (CRK): Free Stock Analysis Report
Cabot Oil Gas Corporation (COG): Free Stock Analysis Report
SM Energy Company (SM): Free Stock Analysis Report
RGC Resources Inc (RGCO): Free Stock Analysis Report
To read this article on Zacks.com click here.
Zacks Investment Research