Ally Financial (ALLY) Stock Gains 6.1% on Q2 Earnings Beat
Shares of Ally Financial ALLY gained 6.1%, following the release of its second-quarter 2021 results. Adjusted earnings of $2.33 per share convincingly surpassed the Zacks Consensus Estimate of $1.55. The bottom line showed significant improvement from 61 cents recorded a year ago.

Results benefited primarily from an improvement in revenues, partly offset by higher expenses. The company recorded provision benefits in the quarter, which was a major positive. However, loans and deposit balances declined marginally.

After considering non-recurring items, net income (on a GAAP basis) was $900 million or $2.41 per share, up from $241 million or 64 cents in the prior-year quarter.
Revenues Improve, Expenses Rise
Total GAAP net revenues were $2.09 billion, up 29.6% year over year. The reported figure outpaced the Zacks Consensus Estimate of $1.87 billion.

Net financing revenues were up 46.8% from the prior-year quarter to $1.55 billion. The rise was driven by lower funding costs, higher retail auto revenues and better gains on off-lease vehicles. These were partially offset by lower held for investment mortgage and commercial auto portfolio balances.

Adjusted net interest margin was 3.57%, up 115 basis points (bps) year over year.

Total other revenues were $538 million, down 3.1% from the prior-year quarter.

Total non-interest expenses were up 9.1% year over year to $1.08 billion. The upswing stemmed from a rise in compensation and benefits expenses, and other operating expenses.

Adjusted efficiency ratio at the end of the second quarter was 44.5%, down from 52.5% in the year-ago period. A decline in efficiency ratio indicates an improvement in profitability.
Credit Quality Improves
Non-performing loans of $1.28 billion as of Jun 30, 2021, were down 16.3% year over year. In the reported quarter, the company recorded net recoveries of $6 million against charge-offs of $178 million in the prior-year quarter.

Provision for loan losses was a benefit of $32 million against a provision of $287 million in the prior-year quarter.
Loans & Deposit Balances Decline
As of Jun 30, 2021, total net finance receivables and loans amounted to $109.1 billion, down marginally from the first-quarter 2021 level. Also, deposits totaled $139.1 billion, down marginally on a sequential basis.
Capital Ratios Improve
As of Jun 30, 2021, total capital ratio was 14.8%, up from 13.8% in the prior-year quarter. Tier I capital ratio was 13.1%, up from 11.9% as of Jun 30, 2020.
Share Repurchase Update
In the quarter, the company repurchased shares worth $502 million.
Our View
Ally Financial's initiatives to diversify the revenue base will likely keep aiding its profitability. Given a solid balance sheet, the company remains well-poised to expand through acquisitions.
Ally Financial Inc. Price, Consensus and EPS Surprise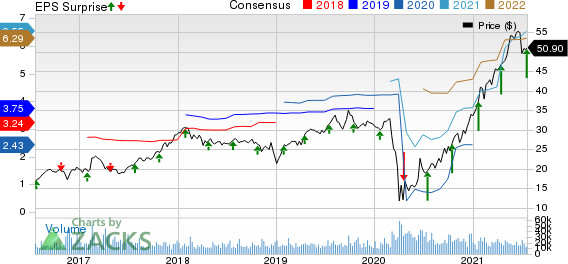 Ally Financial Inc. price-consensus-eps-surprise-chart | Ally Financial Inc. Quote
Currently, Ally Financial carries a Zacks Rank #2 (Buy). You can see the complete list of today's Zacks #1 Rank (Strong Buy) stocks here.
Earnings Release Dates of Other Consumer Loan Providers
Capital One COF and Navient Corporation NAVI are scheduled to report quarterly results on Jul 22 and Jul 27, respectively. Enova International ENVA will report results on Jul 29.
Breakout Biotech Stocks with Triple-Digit Profit Potential
The biotech sector is projected to surge beyond $775 billion by 2024 as scientists develop treatments for thousands of diseases. They're also finding ways to edit the human genome to literally erase our vulnerability to these diseases.
Zacks has just released Century of Biology: 7 Biotech Stocks to Buy Right Now to help investors profit from 7 stocks poised for outperformance. Our recent biotech recommendations have produced gains of +50%, +83% and +164% in as little as 2 months. The stocks in this report could perform even better.
See these 7 breakthrough stocks now>>
Want the latest recommendations from Zacks Investment Research? Today, you can download 7 Best Stocks for the Next 30 Days.
Click to get this free report
Capital One Financial Corporation (COF): Free Stock Analysis Report
Ally Financial Inc. (ALLY): Free Stock Analysis Report
Navient Corporation (NAVI): Free Stock Analysis Report
Enova International, Inc. (ENVA): Free Stock Analysis Report
To read this article on Zacks.com click here.
Zacks Investment Research