Sanofi, J&J Join Forces With BARDA for Coronavirus Vaccine
Sanofi SNY is the latest to join forces with Biomedical Advanced Research and Development Authority (BARDA), a division of the U.S. Department of Health and Human Services to quickly develop a vaccine for COVID-19, the disease caused by the novel coronavirus, also called 2019-nCoV.
Sanofi will advance the development of the COVID-19 vaccine by leveraging work on a pre-clinical vaccine candidate for SARS (severe acute respiratory syndrome). COVID-19 and SARS are both coronaviruses that can cause respiratory diseases. It will now freshly investigate an advanced pre-clinical SARS vaccine candidate, which it had started to develop when the SARS coronavirus emerged in 2002. The funding from BARDA is likely to help quickly advance a potential coronavirus vaccine candidate.
Shares of Sanofi were up 2.4% on Tuesday in response to the news. Sanofi's shares have outperformed the industry in the past year. The stock has risen 21.3% in the said time frame compared with the industry's increase of 9.2%.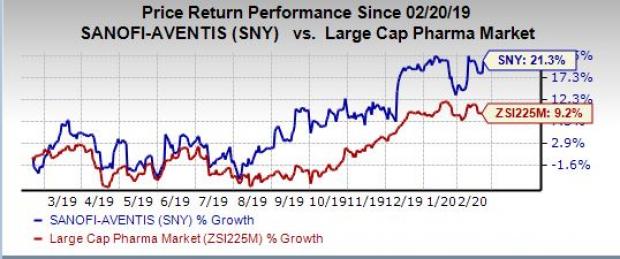 J&J JNJ also expanded its partnership with BARDA to accelerate development of potential treatments for COVID-19. Following this partnership, J&J and BARDA will mobilize resources to screen potential compounds with promising antiviral activity against 2019-nCoV. To do so, J&J will work with the Rega Institute for Medical Research in Belgium. Earlier this month, J&J had said that BARDA will share the R&D costs and provide funds to rapidly advance its COVID-19 vaccine development program into phase I clinical studies.
In January, J&J had announced plans to develop a 2019-nCoV vaccine with multi-pronged approach. The company has already initiated a process to identify compounds with antiviral activity against 2019-nCoV. The expanded partnership with BARDA builds on J&J's multi-pronged approach.
J&J's shares have also slightly outperformed the industry in the past year. The stock has returned 9.4% in the said timeframe compared with the industry's increase of 9.2%.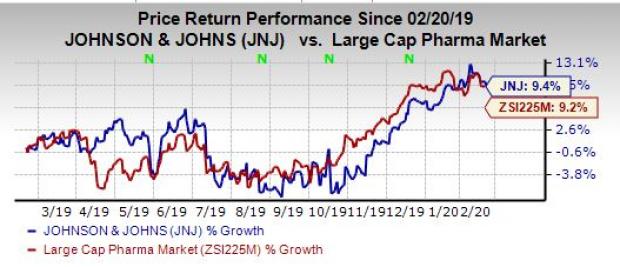 Several other drugmakers are working on making vaccines or antivirals to help those infected with this deadly disease, which has ravaged Wuhan in China and has spread to more than two dozen countries globally in the past two months. Coronavirus has already claimed more than 1800 lives and infected more than 7000 people in China.
Earlier this month, Regeneron Pharmaceuticals REGN also entered into an expanded agreement with HHS to develop a 2019-nCoV vaccine. Moderna and Inovio Pharmaceuticals have received grant from CEPI, a public-private nonprofit organization, to develop a similar vaccine. Moreover, Glaxo GSK is making its established pandemic vaccine adjuvant platform technology accessible to CEPI to develop a 2019-nCoV vaccine.
Both J&J and Sanofi currently carry a Zacks Rank #3 (Hold). You can see the complete list of today's Zacks #1 Rank (Strong Buy) stocks here.
Free: Zacks' Single Best Stock Set to Double
Today you are invited to download our latest Special Report that reveals 5 stocks with the most potential to gain +100% or more in 2020. From those 5, Zacks Director of Research, Sheraz Mian hand-picks one to have the most explosive upside of all.
This pioneering tech ticker had soared to all-time highs and then subsided to a price that is irresistible. Now a pending acquisition could super-charge the company's drive past competitors in the development of true Artificial Intelligence. The earlier you get in to this stock, the greater your potential gain.
Want the latest recommendations from Zacks Investment Research? Today, you can download 7 Best Stocks for the Next 30 Days.
Click to get this free report
Johnson & Johnson (JNJ): Free Stock Analysis Report
Regeneron Pharmaceuticals, Inc. (REGN): Free Stock Analysis Report
Sanofi (SNY): Free Stock Analysis Report
GlaxoSmithKline plc (GSK): Free Stock Analysis Report
To read this article on Zacks.com click here.
Zacks Investment Research